: : Social network : :
: : News MFA : :
: : All Tags : :
: : Archive material : :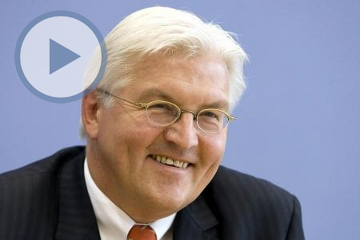 top: 0px; width: 1px; height: 1px; overflow-x: hidden; overflow-y: hidden;">Further efforts to cut weapons should aim at the complete elimination of sub-strategic nuclear weapons as a remnant of the cold war. From the military point of view, these weapons have outlived its usefulness. Isn´t it high time for giving a fresh impetus to the conventional weapons control process? We - Europeans, Russians and Americans - need to once again discuss all these subjects with greater intensity.
Frank-Walter Steinmeier,Vice-Chancellor, Minister of Foreign Affairs, Federal Republic of GermanyGERMAN-RUSSIAN RELATIONS have for centuries been those of close asso­ciation, even a symbiotic relationship extending far beyond family relations between the ruling houses. There were, however, periods of coolness and com­plete ruptures.I remember well the brilliant exhibition in the Martin-Gropius-Bau in Berlin last spring entitled "Power and Friendship: Berlin-St. Petersburg 1800-1860." It featured the sometimes forgotten era of the flowering of German-Russian con­tacts in culture. I should only mention the names like Alexander von Humboldt, Vasily Zhukovsky or architects Karl-Friedrich Schinkel and Vasily Stasov.