MFA Russia News
All Tags
Archive material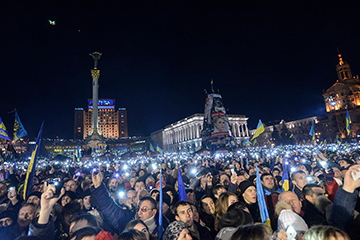 The events in Ukraine are not covered properly by Western media.
First and foremost, Western media avoid mentioning the fact that many members of Ukrainian ultranationalist organizations now have positions in the official power system, as well as in the army and police. This fusion of Ukrainian nationalists, the military, and pro-governmental paramilitary groups is not spontaneous but a deliberate plan.
During the so-called Orange Revolution in 2004, the pro-Western candidate and Ukrainian nationalist Victor Yushchenko won the presidency against then-Prime Minister Victor Yanukovich. Yushchenko was swept into power by a wave of people`s dissatisfaction with problems in the the socio-economic situation in the country. However, the dissatisfaction was sophisticatedly whipped up and directed by foreign strategists, resulting in a political and economical rupture between two potential economic partners – Ukraine and Russia.