: : Social network : :
: : News MFA : :
: : All Tags : :
: : Archive material : :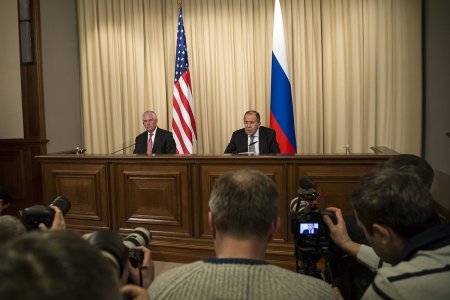 Good evening,
This has been a long day. US Secretary of State Rex Tillerson and I held talks, followed by a lengthy meeting with President of Russia Vladimir Putin, which lasted for more than two hours.
The talks were detailed and frank, covering the whole range of issues that are key to our bilateral relations and interaction on international matters.
It was stated that the current stage in our bilateral relations and in the international situation is quite unstable. There are many issues, including those left by Barack Obama's administration as delayed action mines. We are realists and understand that serious efforts are needed to overcome these barriers. We are clearly committed to undertaking these efforts, while expecting our US colleagues to do the same. Today, President of Russia Vladimir Putin once again reaffirmed our unwavering commitment to moving in this direction.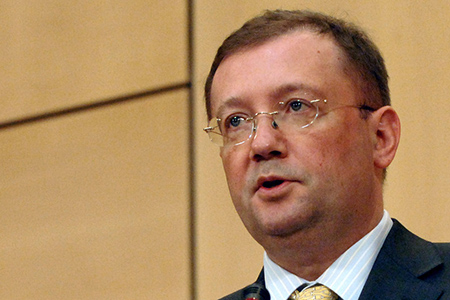 1. Theresa May said today (Thur) that Russia was on the "wrong side of the argument" when it comes to Syria, what is your response to that?
Answer: With all my respect for Prime Minister Theresa May I've got to say that the opposite is true. Even former British Ambassador in Damascus Peter Ford (on the BBC the other day) said that there is no moderate opposition alternative to the present government is Syria. That's why there is urgent need for lasting ceasefire and political process among the Syrians, so that they can decide for themselves. It seems that our Western partners don't like this approach and want to decide for the Syrians who will take part in the political process and who shall not. I think the reason is they know well what the choice of the Syrians is going to be after the 6 years of civil war.
Category: Actual |
Date: 18-04-2017, 16:37
Views:

48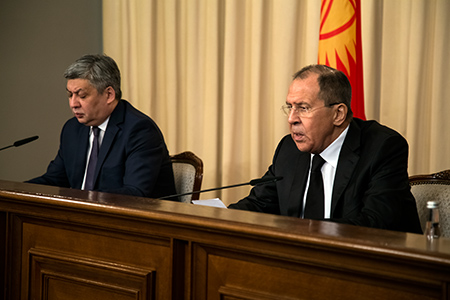 We have held very good and meaningful talks with Foreign Minister of Kyrgyzstan Erlan Abdyldaev. We had a frank exchange of opinions, as befits friends, strategic partners and allies.
We pointed out that our relations are based on the feeling of friendship, sympathy between our people, shared interests and the fundamental principles of equality and mutual respect and advantage.