MFA Russia News
All Tags
Archive material
---
NATO's 15 Years in Kosovo. Part 3
7-07-2014, 09:32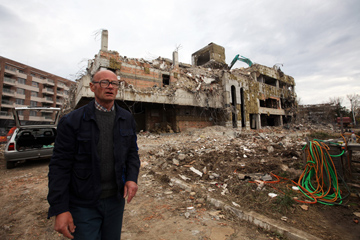 The Generosity of Hashim Thaçi
Thefriendshipof formerUS Secretary of State Madeleine Albright and former NATO Balkan mission commander Gen. Wesley Clark with Hashim Thaçi and the warmest feelings of the two towards the Kosovo guerrilla commander-turned-premier are an open secret. Admittedly, both  Albright and Clark have never had any regrets about the NATO decision to pound Yugoslavian cities and villages with the stated goal of saving Kosovo Albanians from alleged persecution. Albright had to reply a number of times about her emotions in the course of the Allied Force offensive. She bluntly reiterated in an interview to The Huffington Post her firm belief that everything was done right in March, 1999, and even added a passage about being sorry that the campaign had not been launched earlier.  It is also well-known that no shadow of doubt has ever crossed the mind of Gen. Clark who continues to assert that there could have been no other solution. The actual motivations behind the positions, though, can be discerned only if one takes into account that, while officially enrolled at high ranks of the US hierarchy, both never lost sight of their personal objective to cultivate potentially beneficial connections with an eye to the future.
In her recent book 'Hard Choices' former US first lady and Secretary of State Hillary Clinton revealed the story of the lobbying in favor of General Electric, Boeing, and FedEx during her trips worldwide. It transpired, or example, that Mrs. Clinton managed to talk Algerian president  Abdelaziz Bouteflika into awarding to General Electric an $2.5b contract to help Algeria build six natural gas plants. I have heard it many times from my colleagues in Belgrade that Thaçi engages in business activities quite openly and, in particular, has made several attempts to sell the gold-mining component of the Trepča Mines, a large industrial complex sited in Kosovo. He offered one of the gold mines with a modest price tag of Euro 150,000, while being fully aware that the facility had been flooded during the fighting and can't be rebuilt, and assured potential buyers that it was fully functional and capable of providing fantastic output.
Retired but still influential, Albright and Clark reportedly have vested interests in Kosovo. Recently, Clark submitted a bid to explore the Kosovo coal reserves which are estimated at 16 billion tons and may be Europe's largest. Clark intends to tap into the deposits to produce 100,000 barrels of synthetic diesel daily, which is a more than ambitious plan for a family business. Mrs. Albright already owns Kosovo's second-biggest telecom IPKO NET, and is known to have tried to buy Kosovo Post and Telecommunications, a company catering to a million cell and 100,000 landline phone users. In other words,  serious material interests loom through political declarations, and, having helped Thaçi to grab control and achieve Kosovo independence, Washington expects to rip impressive benefits in return. The approach is completely traditional for the US, and the wars it wages always pursue business objectives. Economists explain with utmost clarity that keeping the US dollar afloat as the currency of global governance takes constantly igniting military conflicts   across the world. Otherwise, the buoyancy of the gigantic aircraft carrier called the US may be at risk in no time. 
Category: ---
Views:

3 330

|