MFA Russia News
All Tags
Archive material
Interview of Russian Foreign Minister Sergey Lavrov for a documentary of Sergey Brilev at TV-channel "Russia 1" dedicated to Viktor Chernomyrdin, 9 April 2013
9-04-2013, 10:21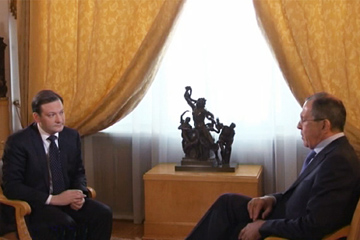 Question: Viktor Chernomyrdin was a Prime Minister of Russia, even an acting President. He was the second, and sometimes the first man in the country. The rank of an Ambassador Extraordinary and Plenipotentiary is a "ceiling" for a diplomat. Incredible as it may seem, for Viktor Chernomyrdin it was a step down the stairs. How did he perceive it? Who was he in the Ministry of Foreign Affairs?
Sergey Lavrov: He was an absolutely natural member of our team. I have known Viktor Stepanovich for a long time, from the very beginning of 90s of the 20th century, when after several attempts (they voted for him at last) he became a Prime Minister. I was a close acquaintance of him even back then, because I accompanied him in 1993 in several trips, including to the USA. He proved himself an excellent negotiator in Washington, the one who can persuade even such people like that time Managing Director of the International Monetary Fund Michel Camdessus. Viktor Stepanovich explained for a long time and at last persuaded him that he needed to secure a credit that would allow us to finance what he called "deliveries to the North". Initially Michel Camdessus could not quite understand what was he talking about, but Viktor Stepanovich explained that the size of the country, its geography and environmental conditions make it necessary to secure deliveries to hard-to-reach areas of the Russian Federation before winter sets in.
I was with him also at the Cape Canaveral, where he discussed prospects of cooperation in the sphere of space with Americans in autumn 1993. Viktor Stepanovich also proved his excellent knowledge of the subject and his ability to line up negotiations. Then we repeatedly turned to him after he left the position of the Chairman of the Government and was appointed a special representative of the President of Russia for settlement of the situation around the Federal Republic of Yugoslavia, working in this capacity from April to October 1999.
That time we heard many criticism in respect of the agreement that was developed by him and his partner, ex President of Finland Martti Ahtisaari. But the result was as it was fixed in the UNSC resolution 1244 that has been like a "Bible" for Serbs for all these years and they constantly refer to it.
Question: What about territorial integrity of Yugoslavia and Kosovo as an integral part of Serbia?
Sergey Lavrov: And enforcement of rights of all ethnic minorities in Serbia in general and in Kosovo in particular.
So we may have different attitude to those compromises any negotiator must make, but the result of the work done by Viktor Chernomyrdin in the Yugoslavian crisis deserves the highest rating.
Later he was appointed the Ambassador to the Ukraine. When I was appointed a Minister, Viktor Chernomyrdin called, came from Kiev on that particular occasion, we had a good talk with him, remembered our joint work on previous positions. The main thing was that he absolutely did not look like a man who was downgraded, removed from some important matters. He was with all his heart, with all enthusiasm and energy in this important, professional affair. Professional indeed. He called himself a "young diplomat", but he in fact was a diplomat with a capital "D". He rooted for Russia-Ukraine relations, and it was noticeable. He frequently visited Moscow, specifically to push these or those proposals he introduced. On all of these occasions beside discipline-specific ministries of economics, trade, industry, finance, he came to the Ministry of Foreign Affairs and not always looked me up, if he knew that I had some other plans.
Question: In other words, he sticked to the hierarchy?
Sergey Lavrov: He visited Deputy Ministers, Directors of Departments and, you will not believe it, the Head of the Department of Ukraine. He never shunned, came at his own initiative, did not invite to his rooms, though he had them in the Kremlin and at the Old Square as well. So he was an absolutely open man, a professional without any arrogance. I keep very bright memories about him. The lessons he taught by his attitude to matters deserve to be used as a guide for the youth.
Question: The Ministry of Foreign Affairs of the Ukraine attempted to announce him "persona non grata". The answer was a furious reaction in the Verkhovna Rada. How did you perceive it?
Sergey Lavrov: Frankly speaking, I did not take seriously the idea put forward by the Ukrainian Ministry of Foreign Affairs. I do not remember who was the Foreign Minister of the Ukraine that time. Overwhelming majority of Ukrainian politicians, deputies, members of the Government and, most importantly, overwhelming majority of the Ukrainian people perfectly understood that sincere, the deepest wish of Viktor Chernomyrdin to advance our relations forward, to do everything in favour of friendship and prosperity of the Russian and Ukrainian people is hidden behind his external acridness, frankness. This is really so. It is difficult to remember our reaction now, but I was convinced that there would be no further development.
Question: Did he ask to be returned to Moscow at the peak of the "orange affairs"? He certainly did not like such radical change of course of Kiev.
Sergey Lavrov: No, he did not "abandon the ship", but did everything for this "ship" not to drown and to patch all its "holes". If we talk about Russia-Ukraine relations, we preserved the foundations and did not let them to squat to the bottom to a large extent due to his sticktoitiveness in its good meaning.
Question: Don't you feel that Viktor Chernomyrdin sometimes really hid, masked behind his tongue-tie. I myself was a witness of situations when he produced complex grammatical alogisms, but a minute later returned to the same thought using good, literate Russian, with verbal adverbs.
Sergey Lavrov: I do not think that he artificially invented any rustic jokes or rustically looking jokes to gain time and then to pass on to serious matters. Everything was natural in him. Nationalism and aphoristic character were deeply rooted in him. I do not see any contradictions that a man may "go out in a limb", sorry for jargon, as a humorous comment, and then lead a serious conversation, when he needed to use political language and terms.