MFA Russia News
All Tags
Archive material
Speech of Russian Foreign Minister Sergey Lavrov at the ceremony of laying wreaths to the memorial plates in the building of the Ministry of Foreign Affairs dedicated to 68 years of Victory in the Great Patriotic War, Moscow, 7 May 2013
7-05-2013, 12:55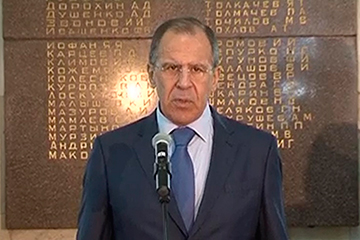 Dear veterans,
Dear colleagues, friends,
I congratulate all of you with the great feast – the Victory Day. Our memory about the Victory, warriors of the Great Patriotic War will never leave us, and we must do everything for our children and grandchildren to keep it. Each and all next generations are deeply in debt to those who have saved our Homeland, Europe, the world from fascism. This memory is Russia's immeasurable spiritual and moral power, the guarantee of might of our state, our people. By celebrating this great feast every year, we emphasize the inadmissibility of attempts to overwrite the truth about the Second World War, to emphasize the heroic deed of all those who have saved the world from fascism.
Today we continue to strive that Russia occupies its justified place in global affairs. Our memory about the Victory in the Great Patriotic War is of great help in this work.
I congratulate all of our veterans once again. I wish them good health, spiritual and physical force so that they longer transfer their valuable experiences to us.
Greetings, dear friends!