MFA Russia News
All Tags
Archive material
Answers to questions from the Russian mass media by Sergey Lavrov summarizing the results of the meeting with the US Secretary of State John Kerry "on the side-lines" of the 68th session of the UN General Assembly, New York, 24 09 2013
1-10-2013, 19:15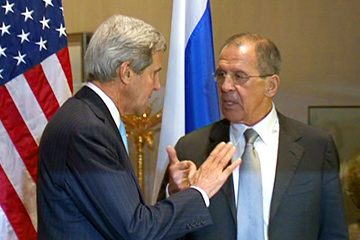 Question: How was your meeting with the US Secretary of State John Kerry?
Sergey Lavrov: The meeting was dedicated to many issues. The main issue was the situation in Syria, primarily from the perspective of the preparation of a decision of the Executive Council of the Organisation for the Prohibition of Chemical Weapons (OPCW) and a UNSC resolution in support of the OPCW document regarding the actions, which should be undertaken to eliminate chemical weapons in Syria. Both the Russian party and the American party highlighted that all the chemical weapons available in Syria should be liquidated, because there are serious threats and evidence that the opposition may have individual components of these hazardous materials.
We proceed starting with facts, and these facts demonstrate that the Syrian government acceded to the Chemical Weapons Convention, expressed its readiness to perform its obligations under this document and provided the OPCW with data about its reserves of chemical weapons and their location.
Our negotiations todaywere very productive. We share an understanding on how to move ahead in the coming days and do it on the basis of the framework agreement, which was reached between me and the US Secretary of State in Geneva on the 12-14 September. We confirmed the relevance of the approaches laid down in it. They have already received the support of the majority of UN member states, and we hope that we will be able to coordinate a UN Security Council resolution without going outside the framework laid down in Geneva, which will be adopted immediately after the member states of the OPCW Executive Council vote in The Hague on the text of their decision, because this Organisation plays a principal role in these issues.
Question: Do the United States continue to insist on the application of Chapter VII of the UN Charter to resolve the Syrian crisis?
Sergey Lavrov: I have already noted that we are working within the framework, which was agreed in Geneva.
Question: How long may the preparation of the resolution of the UN Security Council last?
Sergey Lavrov: I have already stated that we will continue this work in the next few days.