MFA Russia News
All Tags
Archive material
Introductory speech by Sergey Lavrov, and his answers to questions from the mass media during the press conference summarising the results of negotiations with the US Secretary of State, John Kerry, London, dated 14th March 2014
14-03-2014, 09:12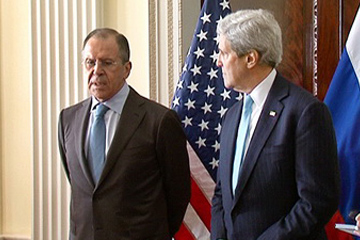 Ladies and Gentlemen,
We had an intensive day of negotiations with the US Secretary of State, John Kerry. We reviewed the situation in Ukraine in detail. We and our American partners are worried about this situation. We stated our well-known position with regard to the events, and its causes, and the measures which must be undertaken by the international community in order to help start a comprehensive national dialogue. Its aim should be one of overcoming the deep split in the society and establishing a constitutional reform which we agree takes into account the interests of all Ukrainian regions.
We expressed our deep concern that no measures are being undertaken to ensure the order of law or any effective actions to stop the illegal activities of radicals who continue to organise provocations (including armed ones) involving violence, and who attempt to influence the events in the country more and more. We also drew attention to the evident violation of provisions of the agreement of 21st February, such as the laying down of illegal weapons, and the liberation of illegally occupied buildings, streets and squares. Our US partners assured us that they also believe that they need to establish order as far as these issues are concerned. They agree that the constitutional reform, which would allow for an overcoming of the split in the society, is quite important.
At the same time, we have no common vision of the situation with regard to the practical measures which could be undertaken by the Western partners of Ukraine. We have disagreed in places. However, this talk was certainly valuable for enabling a better understanding of how well we understand each other in the general context of the wide spectrum of issues that are discussed within the framework of Russia-US relations. These talks were valuable in this respect.
We discussed Crimea as well, of course. We confirmed our position (as was stated many times by the Russian President, Vladimir Putin) that we will respect the will of the Crimean people during the forthcoming referendum of 16th March.
Question: Will the Russian Federation agree to the establishment of a contact group involving Russia, the United States and European states, as well as sending an OSCE mission to Ukraine?
Sergey Lavrov: I have already had the opportunity to comment on this topic. The contact group – as it is currently proposed by our Western partners – envisages that the goal of this multilateral process must be contribution to a direct dialogue between Ukraine and the Russian Federation. It seems to us that this is an open substitution of notions – Russia was not culpable in this crisis. We issued many warnings – and to our European partners, primarily – that we should not make a false choice out of Ukraine; for this was done during the preparation work of the association and free trade zone agreement between this country and the EU to be signed. As it is known, this whole process started when the President of Ukraine, Viktor Yanukovych, announced his decision to postpone this procedure (as we had outlined it), and he mentioned how we warned against the inception of illegal unconstitutional manifestations, in particular those based on illegal armed formations.
The international community, if it is serious about the fate of Ukraine and the Ukrainian people, must, first and foremost, insistently appeal that the process of constitutional reform be commenced immediately. The Verkhovna Rada might well initiate such a process, inviting all regions to participate and ensure their equal places at the negotiation table.
Russia has a proposition, which was transferred to its Western partners a week ago. We were later able to explain our vision of the international support process to the mass media. I repeat that the main thing is that we do not need any international structure to review Russian-Ukrainian relations, because they have never stopped. We started to have some problems after the events in Kiev, when the lawfully elected president was removed. However, the President of Russia, Vladimir Putin, instructed members of the Russian Government to work on resolving everyday issues with their partners in the current Ukrainian authorities, who include ministers in the energy, economical and other sectors. Our contacts within the ambit of foreign ministries and various profile agencies have never stopped. For this reason, all the questions our Ukrainian colleagues ask us, must be asked directly.
In this regard, I will mention that the head of the Ukrainian party, which is currently the CIS President, proposed to hold the CIS FMC in Kiev in the near future. We spoke in favour of the organisation of a session of deputy foreign ministers who agreed first and foremost with the rules of the CIS procedure, and to hold it in the CIS headquarters in Minsk. Unfortunately, our Ukrainian colleagues refused to do this.
We do not shun this dialogue. The role of the international community involves encouraging all Ukrainians to start a dialogue on constitutional reform, with an understanding that long periods of inactivity and long-lasting encouragement of the movement of Ukrainian leaders to head in the direction in which they were heading, led to the decision of the Supreme Council of Crimea to hold a referendum, the results of which we obliged to respect.
Question: Are Russian armed forces ready to enter the territory of Eastern Ukraine? We have noted a significant consolidation of armed forces on the Russian-Ukrainian border. The Russian Ministry of Foreign Affairs made it clear that Russia is ready to defend Ukrainian nationals in light of the events in Donetsk last night.
Sergey Lavrov: The Russian Ministry of Foreign Affairs has already commented on the events in Donetsk, and you can study this text. These events are outrageous. Armed militants arrived in Donetsk from other regions and started to attack people engaging in a peaceful demonstration who had issues with their leaders in Kiev.
The Russian Federation has no and can have no plans to invade the South-East region of Ukraine. We believe that the rights of Russians, Hungarians, Bulgarians, and, of course, Ukrainians, must be defended. The fact that everybody sees no serious violations of law in Crimea is conditioned by the adoption of additional measures: popular self-defence units were supposed to prevent a repetition of the events on Maidan, where one can still find tent camps – it is in the centre of a European city!
We have no plans not to ensure transparency of our actions. I will provide an example: a few days ago Ukraine asked us to initiate an emergency procedure within the framework of the Open Sky Treaty – to make an urgent excursion of the Russian territories where military training was being carried out. They received such a permit immediately.
Question: Why do some Western countries admit that some people, like the population in Kosovo, have the right of self-determination while at the same time denying it to the Crimean people? How do your Western colleagues answer this question?
Sergey Lavrov: We certainly discuss this topic. They usually reply that each case is a special case. And that is all. I am convinced that, if Kosovo is a special case, then Crimea is no less special.
Question: Did the US Secretary of State, John Kerry, bring up an issue of sanctions, or did he threaten to introduce them? What is your opinion regarding prospects of the introduction of sanctions, including trade sanctions, against Russia?
Sergey Lavrov: The US Secretary of State, John Kerry, did not issue any kind of threat to Russia. As far as prospects of sanctions are concerned, we are living in the information age: we read, hear and know what they discuss in Washington and Europe. Please believe that our partners also understand that sanctions are a counter-productive instrument. If Western capitals make such a decision, it will be their decision. It is a fact that it will not contribute to mutual interests, business and the development of our partnership in general.
It is senseless to guess in politics, there is no "if".
Question: Do you expect Crimea to become independent or part of the Russian Federation after the forthcoming referendum on Sunday? Wouldn't it be an unacceptable annexation in the case of the second scenario? As a foreign minister, aren't you concerned that this may lead to a significant long-term aggravation of relations between Russia and the West?
Sergey Lavrov: As to the Sunday referendum in Crimea, we will use the words of the President of Russia, Vladimir Putin, to say that we will respect the choice of Crimean people. We will express our attitude to the referendum's results after they are known. The Crimean parliament has already adopted a declaration in which it announced its independence and expressed a hope that Crimean people will confirm this at the referendum. It is senseless to speculate any further. We need to wait for its results. I already mentioned the statement of our Western partners about how such a step is unacceptable. We believe that nobody terminated the right of people to self-determination. This is one of the goals of the UN Charter. There have been many cases of people using their right to self-determination, including in contemporary history.
I will provide an example. Everybody is talking about Kosovo; however, there is another state – the Comoro Islands, where there was a referendum on the issue of independence from France at the end of the last century. One of islands was against it. On these grounds, France insisted that the votes needed to be recounted in such a way where what was considered was not the total number of voters from the Comoro Islands in general, but the number of voters from each individual island. For this reason, Mayotte Island remained part of France first as a colonial territory – back then it was included in the French Republic as department with some number. I do not know whether this was annexation or self-determination. The UN and the EU have not recognised such a decision with France, but the European Union is living with it quite well.
As for the reaction of our Western partners, I repeat that this will be their decision. The President of Russia, Vladimir Putin, maintains constant contacts with the US President, Barack Obama, the Chancellor of Germany, Angela Merkel, the Prime Minister of the United Kingdom, David Cameron, the French President François Hollande and other Western leaders, as well the President of the People's Republic of China, Xi Jinping, and the Prime Minister of Turkey, Tayyip Erdogan. I have phone conversations and personal meetings with my colleagues every day. We do not hide our position, we discuss it, and we do not avoid questions which others ask us. The main thing is to discuss everything honestly.
Question: Do you think that the last chance for a political and diplomatic resolution of this crisis has been lost, given that the referendum will be held on Sunday but that a meeting between foreign ministers of EU countries is scheduled for Monday to discuss a "range of serious" measures against Russia (as they put it)?
Sergey Lavrov: I cannot answer this question. We never avoid diplomatic co-operation. If our partners do not wish it, we cannot make them to do it. I hope that they are aware (and we feel it in private talks) that this case cannot be viewed separately from history. Regardless of the existence of any precedents in international law (and such precedents do exist), I state this out of a sense of responsibility: everybody understands what Crimea means for Russia and that it is much more important than what Comoros means for France or what the Falkland Islands mean for the United Kingdom.