MFA Russia News
All Tags
Archive material
Speech by the Russian Foreign Minister Sergey Lavrov and his answers to questions from the mass media summarising the meeting with EU, Russian, US and Ukrainian representatives, Geneva, 17 April 2014
22-04-2014, 00:30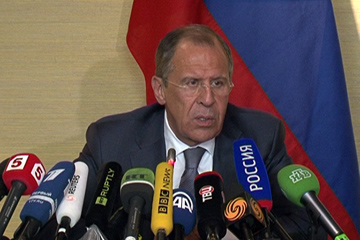 Good evening, Ladies and Gentlemen!
We have ended our meeting on the situation in Ukraine, which continued the series of contacts between the US Secretary of State, John Kerry, and me. This time we gathered together with the High Representative of the Union for Foreign Affairs and Security Policy, Catherine Ashton, and the Acting Ukrainian Foreign Minister, Andrii Deshchytsia. Like during our meetings with John Kerry in the bilateral format, our partners prefer separate press conferences. Therefore, I am alone with you, but they will tell about their impressions about the results of this meeting individually.
We approved a document – Geneva Statement of April 17, 2014, in which we agreed that we need to take primary and specific steps to de-escalate tensions and restore security of all Ukrainian nationals. We agreed that all sides must refrain from any violence, intimidation or provocative actions. We strongly condemned and rejected all expressions of extremism, racism and religious intolerance, including anti-semitism. These are very topical requirements in terms of the events in Ukraine in the last months.
We appeal to take the following steps: all illegal armed groups must be disarmed; all illegally seized buildings must be returned to legitimate owners; all illegally occupied streets, squares and other public places in Ukrainian cities and towns must be vacated; amnesty must be granted to all protestors, with the exception of those found guilty of capital crimes. It was decided that for the implementation of the entire set of these measure, we appeal to the OSCE Special Monitoring Mission, which is already working in Ukraine, and according to its mandate is entrusted to settle different situations and reduce tensions between the conflicting parties, to play a leading role in assisting Ukrainians – the Kiev authorities and local communities – in the immediate implementation of these de-escalation measures. Of course, Russia, the United States and the EU are already participating in the monitoring Mission, the composition of which will be extended according to the decision earlier taken by the OSCE Permanent Council. We will support the work of this Mission in setting up a dialogue between the parties, to unblock different situations step-by-step, in their totality and reciprocally.
We also adopted an important appeal that the immediate establishment of a broad national dialogue within the framework of the constitutional process, which should be inclusive, transparent and accountable, is required. These are three important characteristics, which are currently not seen in the current efforts of the Kiev authorities, which have created a respective group on the constitutional reform in the Verkhovna Rada. It was emphasised that all the Ukrainian regions and political forces should be involved into this dialogue, consideration of comments and amendments to the constitution under development should be ensured.
We underlined the importance of economic and financial stability in Ukraine, which is seriously disrupted right now. We expressed readiness to continue discussing the support of efforts to restore stability in the economy along with the implementation of the steps, which I have mentioned.
This is the nature of our todays, compromise-based agreements. The main thing for us is that participants of these negotiations recognise the irrevocable fact that this crisis, in terms of immediate stop of the conflict related to the detention of protesters, occupation of different buildings and squares and long-term plans to start a true constitutional reform, must be settled by Ukrainians.
As you know, when this meeting was being prepared, Russia proposed that main Ukrainian opposition forces, which do not agree to the events in Kiev on the 22 February and doubt the legitimacy of the Kiev authorities, were represented at this meeting. Along with that, because of organisation causes, we have not managed to invite representatives of the opposition, mainly from the South and the East, here. At this meeting we presented and distributed the documents adopted by the Praesidium of the Party of Regions, Lugansk Regional Council and the newly created movement "South-East of Ukraine".
They primarily concerned measures to de-escalate the situation, avoid use of force or threat of force to resolve different disputable questions and, the main thing, the vision of provisions to the included into the new constitution by the South-East: primarily, these are decentralisation, significant extension of authorities of regions, including their right to elect their own legislative and executive bodies, ensuring of the proper role of the Russian language in the Ukrainian community. Ukrainians should decide whether it will have a state or official status, but the decision must be acceptable for all the regions and political forces. We will contribute to the development of such a dialogue in a constructive way, because it is a ticket to stability of the Ukrainian state with full respect for all historical, cultural, language and other peculiarities of different regions of this country.
We agreed to continue our meetings in different formats. I hope that our colleagues ensuring the work of the OSCE Mission in Ukraine will perceive our appeal (this is only an appeal – we cannot decide for the OSCE) that this Mission takes into consideration and uses its authorisations to settle different hotbeds of tension. We will try to achieve its honest and objective work, so that it targets its efforts at all the aspects mentioned in our statement, including the aspects, which (in our opinion) are the most important, – the task to free the persons, who were arrested for participation in political actions (we especially underlined the fate of the popular governor of the Donetsk Region, Pavel Gubarev) and decisive stop of any expressions of extremism in any of its forms.
Question: You said about disarmament of illegal armed formations. Do you mean the self-defence units of the South-East, including Donbass militia? Did you discuss the sanctions, which Ukraine has introduced today against males from the Russian Federation aged from 16 to 60, having actually banned them entry to its territory, at this meeting?
Sergey Lavrov: The measures, which we listed as propositions after our meeting today are related to each and all Ukrainian regions and expression of one or another problem issues. You know that the Agreement, which was signed on the 21 February, formalised the issues of disarmament of illegal formations. Little has been done since then. Only few of them were disarmed. The Right Sector continues to function, refuses to lay down weapons, stating arrogantly that they will fulfil functions of the Ukrainian army, if it is helpless. Our Statement "covers" all these aggressive expressions.
We believe that Ukraine should come to a point, when each and all regions live according to common rules accepted in a civilised community: only security forces, police and army should have weapons and use them according to international norms rather than against own people, as it is envisaged by the order, which was signed by the current Kiev authorities to suppress mass protests. All this should be applicable universally and equally and can be done only reciprocally.
It is impossible to resolve the problem of unblocking illegally occupied buildings in any Ukrainian region, when illegally occupied buildings are not freed in other regions. I repeat this is only a principle which we proclaimed. Ukrainians should settle all these issues on site in each particular case. We have especially emphasised that for this it is necessary that first those, who seized power in Kiev as a result of a coup (if they believe that they represent interests of all the Ukrainians), should show the initiative, give their hand to regions, listen to their concerns, sit together with them and start agreeing about resolution of specific security problems in one or another city, village or populated area, and (I especially underline this) about a true constitutional reform.
We drew the attention to the decision by the Ukrainian authorities to discriminate Russian males of certain age in terms of their ability to visit Ukraine. This is outrageous and is contrary to spirit, which our western partners wished to create at this meeting. Despite this explicitly discriminating and unfriendly act, we do not dismiss the opportunities, which opened up at the meeting today. We have a hope, because it seemed to us that the United States and the European Union show sincere interest to trilateral cooperation with Russia to convince all the Ukrainians and, primarily those, who seized power in Kiev, to sit at the negotiation table (our western partners promised this to us), to show responsibility for the destiny of their country and resolve any issues taking into consideration opinions and interests of all regions of the country.
Question: Is there understanding between Russian, Ukrainian and US colleagues with regard to the non-aligned status of Ukraine? How will this status be formalised? Do you mean only military or also political neutrality? What is Russia's position on the possible accession of Ukraine to the EU?
Sergey Lavrov: Firstly, there is a law in military and political neutrality in Ukraine. In our discussions we stated firmly that the change of this Ukraine's status will disrupt all the efforts to set up cooperation and constructive interaction on the issues related to the extension of the current crisis in Ukraine.
Frankly speaking, I do not know what political neutrality is, I am not convinced that it can exist separately from the military neutrality. Military and political neutrality in the political and diplomatic glossary means membership in military blocs. NATO is a military and political bloc, there are other unions in other parts of the world, primarily with United States' participation. I believe that the fact that Ukraine chose neutrality and formalised it in its law should be respected by everybody, and there should be no attempts to doubt it or wash it out.
We drew the attention to the unacceptable statements from Brussels and the NATO Secretary General, Anders Fogh Rasmussen, and his First Deputy Alexander Vershbow, who keep telling that nobody should force Ukraine be neutral so frequently, that we believe that so consistent efforts should be targeted to more productive goals. We asked our western colleagues and NATO leaders directly to become aware of their responsibility for the escalation of this topic in the period, when it can disrupt all the efforts to settle the crisis in Ukraine and around it.
Question: Ukraine is in condition of partial military mobilisation right now. It is known that about 40 thousand Russian military persons are on the eastern border of Ukraine. We also receive messages about the increase of numbers of military personnel in Crimea. Today, the President of Russia, Vladimir Putin, has said that he hopes that he will not need to break into Ukraine. Can Russian troops be introduced into Ukraine, if this country does not hold a constitutional reform according to the vision of the Russian Federation?
Sergey Lavrov: First of all, what concerns Russian military personnel, they are in our territory, but your military personnel, which is being mobilised, do this in their territory. The only difference is that our military personnel do not go against their own people, while yours are mobilised by an illegal order to suppress mass protests.
Crimea has nothing to do with this, because it has made its choice, we admitted it and respected the opinion of the overwhelming majority of Crimeans. Numbers of our armed forces are not growing. There is a Russian base there, where there are so many military and marine officers and seamen, which is required for its normal functioning. If there are any messages that the number of military personnel has grown, this can be related to the fact that the majority of military personnel of the Ukrainian Black Sea Fleet bases chose Russian citizenship and the issue of their further service will be decided. I assure you that we have no spare armed forces in the territory of Crimea or any other region of the Russian Federation, which would be contrary to Russia's international obligations, and we will not have them.
As to your last question, I am not sure, whether we understand it correctly. We do not want to introduce our troops into Ukraine, the territory of a friendly state, where fraternal people live. This is contrary to the primary interests of the Russian Federation. We certainly are extremely concerned about the discriminatory attitude of the current authorities to Russian and Russian-speaking population, Russian language and culture. The parliament make absolutely disgusting statements, when members of the party included into the ruling coalition, publicly call Russian-speaking persons "beings" and announce that those who speak Russian should be liquidated. This is one of many examples.
We have not heard any statements from coalition leaders, which would reject or condemn such statements. Therefore, I believe that we will all contribute to the change of this situation. I have no doubt that there will be a constitutional reform. Our US partners, who have decisive influence on the current Kiev authorities, assured us of this. We have understanding that the task of holding the reform will be fully completed and rights of all regions, ethnic groups, language minorities will be fully ensured.
Question: You spoke of the constitutional reform and rights of regions. Please give an update whether there is a term "federalism" or "federalisation of Ukraine" in the documents, which you discussed today, or it is outside their framework.
Sergey Lavrov: We did not use any terms – they can be different: this can be a federation, which respects its of constituent entities, it can be a formally unitarian state, where authorities are decentralised so much that even some federations can envy them.
I repeat, we believe that the main conceptual foundation of the today's meeting is that all its participants came, because they believed that it was necessary to send a signal to all Ukrainian parties that they are responsible for exit from the current crisis. If they sit and agree on the number of authorisations, which will be left with regions and which will be transferred to the Centre, that each region can protect its culture, history and language, how equal rights for minorities can be ensured in their territories, then Ukraine will be a strong state, which we all want to see, it will be a link, a bridge between the West and the East, which will help to significantly heal the atmosphere in the entire Euro-Atlantic region on the basis of respect for legal interests of all the states located in this region.
I already mentioned that today I have transferred documents sent to us by representatives of the South-East – the Party of Regions, Lugansk Regional Council and the newly created movement "South-East of Ukraine" – to our US and European colleagues. They state the vision of the South and the East about reflection of regional interests in the new constitution. The statement, which has been adopted today, contains a point that a dialogue in the context of the constitutional reform should be started immediately so that regions could bring their wishes, which already started to come. Now it is up to the Kiev authorities, which must ensure an inclusive, transparent and accountable constitutional process.
Question (translation from English): What is Russia's attitude to the elections in Ukraine, which are scheduled for the 25 May? How can the world trust your words, if a week ago the President of Russia, Vladimir Putin, said that Russian authorities did not support Crimean separatists, but now he is says that you did? How can we trust you?
Sergey Lavrov: The President of Russia, Vladimir Putin, have never said that there is no Russian military personnel in Crimea – we had and still have military personnel in Crimea at the military and marine base of the Russian Federation (that time it was Ukrainian territory). This base has always been absolutely legitimate. When popular protests started, and the Right Sector and other bandits attempted to enter Crimea and wanted to repeat the events of "Maidan" there, our military personnel was on advanced alert. That time they were ready to prevent the implementation of such plans. However, self-defence units were able to deal with them themselves, they did not let extremists into Crimea. And that is all.
As to Ukraine – without talking about Crimea – as Vladimir Putin said several weeks ago and he repeated it today as well, there has been no and are no our military personnel agents or any saboteurs there.