MFA Russia News
All Tags
Archive material
Speech by the Russian Foreign Minister, Sergey Lavrov, at the ceremony of laying wreaths to the memorial plates in the building of the Ministry of Foreign Affairs on the occasion of 69 years of Victory in the Great Patriotic War, Moscow, 7 May 2014
15-05-2014, 16:35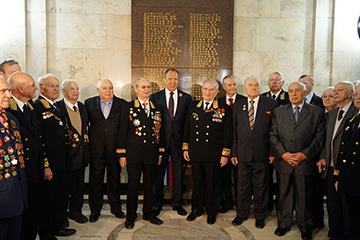 Veterans, friends,
According to our tradition, we give tribute to the memory of the employees of the Ministry of Foreign Affairs and the former Ministry of Foreign Trade, who have laid down their lives for freedom and independence of our country.
The day, which is celebrated as a Victory Day all over the world is sacred for us. The significance of this memory and celebration is growing years after year: human memories, sense of gratitude and inexpiable owing are supplemented by practical tasks to prevent the revival of the fascist ideology in Europe and in the world. For many years, the European continent has been closing eyes as this ideology finds supporters, but its leaders recruit new followers, organise marches in honour of former SS warriors, who were recognised as criminals at the Nuremberg Trials. The events in these days are not just marches with slogans singing Nazi criminals; they are a living manifestation of fascism.
The events in Odessa on the 2 May were an explicit fascism. We will not allow to "sweep the facts under the carpet" as the ruling coalition is now attempting to do turning a blind eye on the investigations by the community. We will pursue truth and seek that all the evidences presented by eye-witnesses and telling about conscious hiding of the scale of this tragedy by the Kiev authorities, and all the particles of truth are investigated and made public.
Our celebration today is full of specific content, which is directly related to foreign policy activities. I congratulate our dear veterans on this Holiday. On behalf of the employees of the Russian Ministry of Foreign Affairs of Russia I would like to assure you that we will not allow another attempt to revive fascism in Europe, and yet more so in the Russian Federation.
Congratulations! I wish you good health and all the best!