MFA Russia News
All Tags
Archive material
Comment by Foreign Minister Sergey Lavrov on the sidelines of the International Conference on Peace and Security in Iraq held in Paris on 15 September 2014
17-09-2014, 16:37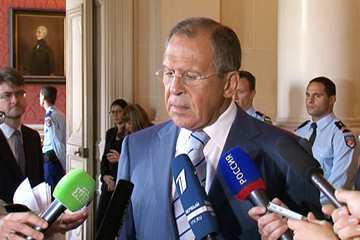 A conference on peace and security in Iraq attended by foreign ministers from about 30 countries has opened in Paris. The participants include top officials from countries of the region, such as Iraq (President Fuad Masum and Foreign Minister Hoshyar Zebari), and representatives of states that are cooperating with Iraq and other states of the Middle East and North Africa in combating the terrorist threat. We have drawn the attention of the participants to the fact that we have been talking for a long time about terrorist manifestations that have become markedly more frequent in the Middle East and North Africa after the Arab Spring, when the aim of overthrowing regimes was raised above the common goal of preventing the spread of the terrorist threat. We have done this not for the sake of allocating guilt, but only in order for the world community to fully consider the lessons of the past in planning future actions. It is essential to realise that there should be no double standards in the fight against terrorism. There are no "good" and "bad" terrorists. It is necessary to be consistent and not to make one's own priorities more important than the common goal of fighting terrorism.
We have emphasised that for all the common importance of the immediate task of suppressing militants from the Islamic State who are trying to seize large territories in Iraq and Syria, it is vital that a broader perspective also be maintained. In addition to the Islamic State, al-Qaeda also remains strong. There are groups such as Jabhat al-Nusra, and several extremist groups, that are united into the Islamic Front. We have suggested that the Security Council should launch preparations for a practical, deep and comprehensive analysis of the situation.
We hope our voice will be heard. At the very least, many of my colleagues, including representatives from the region, have also spoken about this. Arab countries have also said that the issue of terrorism requires a comprehensive approach, and that it is essential to consider all of its aggravating factors without exception. They include, in part, flows of money and weapons, and terrorist organisations that occupy oil fields and are calmly able to sell oil through their channels. This oil is purchased, and proceeds are funneled back into spreading terrorism further.
Special attention was paid to the efforts to prevent the expansion of the terrorist internationale. Young people are easily recruited into extremist ranks because of despair and a lack of socioeconomic prospects. Terrorist also use the Palestinian problem, which has remained unresolved for decades, as a recruiting tool. This is also a factor that terrorists are exploiting by pointing to the unfair attitude toward Arabs in the Middle East. In this way they are trying to form new teams of jihadist fighters who are against the current Arab rulers. This is a very important and urgent problem.
We have welcomed France's initiative to hold the conference. We have spoken about our contribution to supporting the Iraqi Government, to increasing its capabilities in fighting terrorism and ensuring security. Russia is rendering military and other forms of assistance to Iraq to strengthen its ability to ensure security. We are also granting military and other aid to Syria and other countries of the region that are faced with a perhaps less immediate, but still very serious terrorist threat. These include our partners in Egypt, Lebanon, Yemen and Jordan. We have something to contribute to the common efforts to ensure security in Iraq by consolidating and mobilising society for the struggle against terrorism and extremism. But let me repeat that we will be doing this in parallel with promoting a broader goal: the start of a comprehensive and deep analysis of all aspects of terrorist threats. This should be done with firm reliance on the UN Charter. We should make full use of the UN's counterterrorism instruments that are already available.