MFA Russia News
All Tags
Archive material
Foreign Minister Sergey Lavrov's remarks and answers to media questions at a news conference following the ministerial round of talks on Iran's nuclear programme, Vienna, July 7, 2015
7-07-2015, 12:05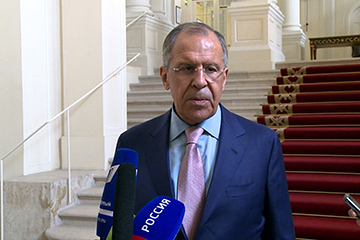 Sergey Lavrov: Another round of ministerial talks on Iran's nuclear programme has come to a conclusion. We compared our notes, noted substantial progress and singled out eight to nine issues that need to be finalised. We issued instructions to our deputies/policy directors, who will follow up on this work over the next couple of days. In the end, I believe that this meeting, just like our meeting in Lausanne, was the right thing to do. The closer the finish line, the more stakeholders are tempted to bargain for more concessions from the other side. This is natural. It happens all the time at any and all multilateral meetings and discussions. Today, we can state the following result — we have come closer still to a final agreement. Clearly, everyone is interested in reaching it. We decided not to set any artificial deadlines for ourselves.
There were previous discussions about July 7 or 9. Nobody is talking about this now — everyone is focused on achieving a quality agreement, and there is every reason to believe that we will get there.
Question: How much time is needed to resolve remaining issues? Do you have a plan?
Sergey Lavrov: No, as I said, we have no artificial deadlines. We agreed to resolve about a dozen issues that will be satisfactory for all parties. Our experts are working on this.
Question: Are you going to return to the talks?
Sergey Lavrov: I think that whenever there is a need to speed up the process, the ministers will return.
Question: Could you tell us about the key issues that remain unresolved?
Sergey Lavrov: All of the technicalities involved in eliminating the risk of the proliferation of weapons of mass destruction, and the technology involved in the military dimension of the nuclear industry – all of this has long been resolved. Now, the issue concerns the processes and procedures for taking certain steps, in case anyone has any suspicions regarding the bona fide performance of the other party. The issue now for each party is to make a politically advantageous "wrapping" of the agreement using the proper wording, so that they can show their actual achievements. However, this is all done in a spirit of goodwill and mutual respect to ensure that the final product doesn't look like anyone's victory or loss. This is important.
Everyone wants to come up with a package of documents that will be our common achievement and contribution to strengthening the non-proliferation regime and normalising relations with Iran by those countries that are still holding these relations "on ice" and, of course, stabilising and improving the overall environment in the region.
It is essential to reach an agreement on lifting the arms embargo as soon as possible, which we never stop talking about. It is also important because uniting the region's efforts to fight terrorism is generally recognised as a top priority. From this perspective, lifting the ban on supplying Iran with weapons that are needed to combat terrorism is a very important task.
Question: Have the Americans changed their approach to lifting the sanctions?
Sergey Lavrov: We are negotiating this issue collectively as six countries together with Iran. There is an understanding that the bulk of the sanctions will be lifted, but certainly not on the first day following the adoption of the resolution. There will be a sequence of steps, which is what the phased-in and reciprocal approach is all about. These steps have been outlined, and I can assure you that there is only one major problem left regarding the sanctions — the arms embargo. I have already explained our approach towards this issue. As we agreed earlier, a special framework will be created at the UN Security Council that will deal with complaints regarding inadequate compliance with commitments by a particular side. Such a possibility is also provided for. This is a detailed and specific document. I think it won't be long before you get a chance to look at it.