MFA Russia News
All Tags
Archive material
Foreign Minister Sergey Lavrov's address at the opening ceremony of the new Russian embassy complex in Ashgabat, Ashgabat, January 27, 2016
27-01-2016, 17:37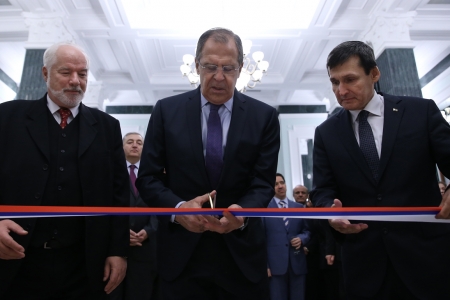 Mr Meredov, Mr Blokhin,
Friends, ladies and gentlemen,
Your Excellences,
We are attending a wonderful event, the official opening ceremony of the new Russian embassy complex in Turkmenistan. Foreign Minister of Turkmenistan Rashid Meredov and I have briefly toured the complex. It has all the right conditions for work and recreation, as well as for raising children and engaging in sports activities.
It's nice that the capital of Turkmenistan, the beautiful city of Ashgabat,   will have one more architecturally distinct building, which makes us proud and inspires us to new heights In my opinion, an important element of this event is that these buildings symbolise the long-term nature of relations between Russia and Turkmenistan, relations of strategic partnership that have been sealed in fundamental documents signed by our leaders – Russian President Vladimir Putin and President of Turkmenistan Gurbanguly Berdimuhamedov.  Our leaders reaffirmed the inviolability of this course at their meeting in Tehran in November 2015. During tomorrow's talks in the capital of Turkmenistan, we will discuss concrete issues pertaining to the implementation of our presidents'decisions.
It was moving to hear beautiful children's voices sing the national anthems of our countries. These talented children sang absolutely wonderfully. It's great that they have become part of our friendship, our strategic partnership and the future that our peoples are building under the guidance of our presidents.
I'd like to once again express our gratitude to the leadership of Turkmenistan and Ashgabat for their contribution to the implementation of this project. Our thanks also go out to all those who played a part in its completion. . And we wish Russian Ambassador Alexander Blokhin happiness in his new home.