MFA Russia News
All Tags
Archive material
Foreign Minister Sergey Lavrov's opening remarks at talks with President of Turkmenistan Gurbanguly Berdimuhamedov, Ashgabat, January 28, 2016
28-01-2016, 17:39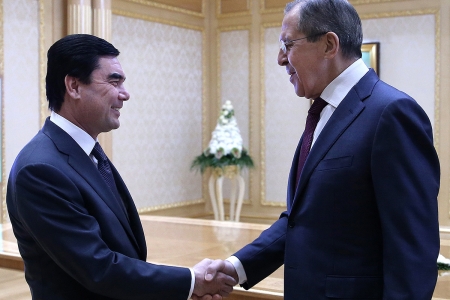 Mr Berdimuhamedov, thank you for the hearty and warm welcome and your traditional hospitality, which we always associate with Ashgabat.
President of Russia Vladimir Putin sends his warm regards. He has asked me to convey his pleasure about the meeting you had at the summit of the gas exporting countries in Tehran in late November and to tell you that he looks forward to future meetings, all the more so since you stated that some elements of the nascent positive trends in our relations should be strengthened.
The Intergovernmental Commission has got down to work very actively. The Russian co-chairman and his Turkmen colleague have established, with your blessings, a High-Level Group that is composed of representatives of all the key ministries and departments. Relevant meetings have been held in Moscow and we now see, as you said, positive changes in industry, agriculture, healthcare and other sectors. The upcoming meeting of the Intergovernmental Commission will be held this year after a meeting of the working group and expert consultations. In other words, we have created a streamlined system for the commission's smooth operation.
The Minister [Foreign Minister of Turkmenistan Rashid Meredov] and I also discussed the upcoming economic forum yesterday, and today we are coordinating the details. These meetings will be held in the first half of this year and they will definitely boost our trade and increase opportunities for investment cooperation, especially considering the number of large Russian companies interested in improving ties with their Turkmen partners.
As for cooperation between our foreign ministries, which you mentioned, today we plan to sign a cooperation programme for 2016, which will include all the main issues, namely bilateral cooperation, Central Asia and the adjacent regions, and cooperation in the UN and other international organisations.
Mr President, we appreciate your personal attention to humanitarian and cultural ties between our countries. You provided impressive figures to characterise our relations in education. I'd like to say a few words about the development of the Pushkin School, our joint project, which has quickly become one of the best general schools, not only in Turkmenistan but also in the region. This is the general opinion, and we are very pleased with it.
On the international plane, we are interested in coordinating our efforts on issues related to fighting against the terrorist threat, drug trafficking and other forms of organised crime. We appreciate the role Turkmenistan plays as a neutral state in ironing out the wrinkles and in promoting constructive cooperation, including as the host country of the UN Regional Centre for Preventive Diplomacy for Central Asia. The centre is an important element of international diplomacy, which we wholeheartedly support.
I hope that during this visit we will be able to continue the trend of consistent development of our relations in all spheres of cooperation.