MFA Russia News
All Tags
Archive material
Foreign Minister Sergey Lavrov's remarks and answers to media questions following talks with Deputy Chairman of the Cabinet of Ministers and Foreign Minister Rashid Meredov of Turkmenistan, Ashkhabad, January 28, 2016
28-01-2016, 17:41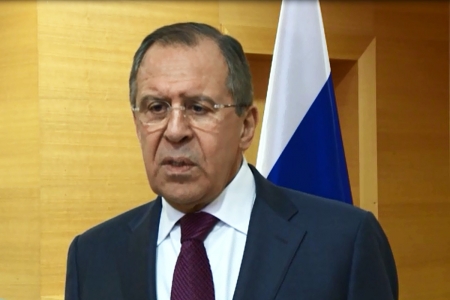 We have completed the working part of our visit to Turkmenistan, which included a lengthy discussion with Turkmenistan's President, Gurbanguly Berdymukhammedov, as well as detailed and meaningful talks with Deputy Chairman of the Cabinet of Ministers and Foreign Minister Rashid Meredov of Turkmenistan.
Let me emphasise right away that all the meetings here were focused on further strengthening the strategic partnership between Russia and Turkmenistan. The two countries' presidents discussed this matter not so long ago during their meeting on the sidelines of the Gas Exporting Countries Forum in Tehran in late November 2015. We have noted that concrete results in implementing the arrangements reached back then have been achieved during the three months that have passed since that meeting,. The Intergovernmental Commission (IGC) has been revitalised by appointing new members to its Board. The IGC has already held a meeting and agreed on creating a very important mechanism – a High-Level Group for Trade and Investment Promotion, which will be manned with representatives of all agencies in charge of specific aspects of our economic cooperation. Concrete projects are in the pipeline, and some of them are already being implemented in such areas as industrial development, agriculture, medicine, transport and others. A schedule of consultations and talks on specific issues has been established for the first six months of 2016, including expert meetings, sessions of the High-Level Group and the Intergovernmental Commission, co-chaired by Foreign Minister Rashid Meredov and, on Russia's side, Deputy Prime Minister and First Deputy Chief of the Government Staff Sergei Prikhodko. These are major and important results in terms of promoting economic cooperation. It was also noted that even though our cooperation has been diminishing in monetary terms, which is understandable given the current situation on the global markets, physical volumes have been steadily rising. Once the energy markets go through expected readjustments, this will be inevitably reflected on physical volumes in  value terms.
The second major block was our humanitarian cooperation, a multi-faceted affair based on systemic agreements between the respective agencies in charge of education, science and culture. As President Gurbanguly Berdymukhammedov said today, there are over 16,000 students from Turkmenistan in Russia. Of this total, fifteen hundred benefit from government scholarships, while others have enrolled into higher education institutions of their choice on their own. Turkmenistan consistently attaches increased importance to supporting the Russian language and culture. We highly appreciate this commitment. The Pushkin Secondary School in Ashkhabad is literally the best school in Central Asia, and is hugely popular.
We also take note of the fact that the people of our countries are eagerly looking forward to visits by Russian cultural figures to Turkmenistan and vice versa.
Let me also highlight the opening of the new building of the Russian Embassy in Turkmenistan, which was a highly symbolic moment of our visit. This building has remarkable architecture that blends into Ashkhabad's modern cityscape. Yesterday's reception was held in a warm, comradely and friendly atmosphere, but was also very solemn, and will be certainly remembered as an important milestone in strengthening our strategic partnership and making it a lasting and sustainable relationship.
During today's talks at the Foreign Ministry, we paid special attention to the planned cooperation between the two foreign offices. Mr Meredov and I have just signed a Cooperation Programme for this year. We have also discussed the practical aspects of bilateral cooperation, including the situation in Central Asia and the risks and threats emanating from Afghanistan, such as terrorism and drug trafficking. We have specific plans for promoting effective cooperation between our foreign ministries, national security agencies and security councils' staff so that they can fend off and prevent these threats.
We have also discussed issues related to the Caspian Sea. Today, Ashkhabad hosts a meeting of a working group to draft a convention on the Caspian Sea's status. Russia and Turkmenistan's approaches to coordinating the outstanding issues in this respect either converge or coincide. We want the Caspian Sea to be a sea of peace and good-neighbourly relations and to provide for transparent and reasonably sufficient military organisational development.  Caspian countries should decide, on their own, any issues related to the use of this basin.
We also share similar approaches regarding the need to institutionalise structures that will be in charge of promoting pentalateral Caspian economic cooperation and dealing with transport issues and logistic problems with an eye to developing trade, economic, investment and infrastructure ties and making them more efficient.
We have also discussed general international issues related to our cooperation within the UN, where we have quite a few joint initiatives, including in the area of long-term sustainable energy use. Backed by Russia and Turkmenistan, sustainable energy has become part of the UN's 2030 Agenda on sustainable development. We have also agreed to coordinate our actions within UN bodies such as the Economic and Social Council, the UN Human Rights Council and other agencies, in which Russia and Turkmenistan are represented.
All in all, I'd like to say that we are quite satisfied with the results of these talks, and our Turkmen friends share this perspective. I'm confident that this visit will enable us to continue advancing towards fully implementing the arrangements reached by our presidents.
Question: Could Russia help Turkmenistan tighten security on its border with Afghanistan? Is Turkmenistan ready to accept such kind of assistance?
Sergey Lavrov: Assistance is offered, when it is needed.
Today, we were informed of additional measures taken by the Turkmen leaders to use state-of-the-art technology to secure their borders. If Russia's assistance is needed with respect to these endeavours, it goes without saying that it will be in our interests to provide it. Let me reiterate that today our Turkmen friends provided us with a detailed insight into their efforts to reliably protect the border with Afghanistan. It is from this premise that we will proceed.
Question: The German Foreign Minister, Frank-Walter Steinmeier, had some harsh words to say about your reaction to the "Lisa case," arguing that by commenting on this case at the annual news conference you have interfered into Germany's internal affairs. Do you agree with this assessment?
Sergey Lavrov: First, I can't agree that Frank-Walter Steinmeier's reaction to my comments was strong-worded or harsh. He said that we needed to wait for the investigation results and refrain from fomenting a media propaganda campaign. This is what we are actually asking for: to make sure that the investigation results are released as soon as possible. But this is not the only thing we call for. Since the person in question is a Russian citizen, we have every right under all the applicable norms accepted in the civilised world not just to wait for the investigation to be completed, but also to be informed of incidents involving Russian citizens, something that has not been done in a timely manner in this case. It is for that reason that diverging interpretations of this situation emerged. I strongly believe that if the relevant German authorities share the necessary information, there will be less of a misunderstanding. In this case, however, we were tipped off, not by the German officials, but by the Russian diaspora, and later by the family lawyer and Lisa's parents. I am certain that the more transparency and information we have regarding Russian citizens who find themselves in non-standard situations, especially when it comes to serious incidents like this one, the better it will be for our relations, and there would be no questions as to what is propaganda, and what is interference in internal affairs.
Russia does not interfere in internal affairs of other states. But no one has ever regarded comments on a human rights situation as interference in internal affairs. This provision is enshrined in international conventions on human rights and on protection of rights and freedoms. Our German friends regularly comment on various aspects of Russia's domestic affairs, much more frequently than we do, and their comments often touch upon not just human rights, but other areas as well. When someone gets angry, this means that there's something wrong with his reasoning.