MFA Russia News
All Tags
Archive material
Foreign Minister Sergey Lavrov's remarks on the outcome of his talks with President of Turkmenistan Gurbanguly Berdimuhamedov, Ashgabat, January 28, 2016
28-01-2016, 10:43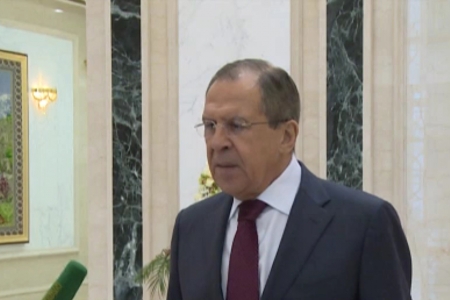 I'd like to say that I'm satisfied with the talks I had during my meeting with the President of Turkmenistan, Gurbanguly Berdimuhamedov. We discussed all the fundamental aspects of our ongoing cooperation and the agreements reached by the presidents of Russia and Turkmenistan, including those secured at their meeting in Tehran in late November 2015. We pointed to the major progress that has been achieved in bilateral trade and economic cooperation in terms of their results and, most importantly, their potential.
Our agenda will also include meetings of the Intergovernmental Commission and the High-Level Group, which was established to prepare proposals on the commission's activities. There will be also meetings between Russian and Turkmen business leaders. Both sides agree that we should do our best to promote these trends.
During our meeting, President Berdimuhamedov highlighted the development of cultural relations and reaffirmed the Turkmen government's consistent policy of supporting the Russian language and promoting cultural and educational ties with Russia. He also spoke about the growing number of Turkmen citizens who receive their education in Russia. We are actively encouraging this trend.
Speaking about international issues, we discussed the drafting of the convention on the legal status of the Caspian Sea, which is presently underway in Ashgabat. We also spoke about the risks to Central Asia coming from Afghanistan. We agree that a political solution must be found for the remaining problems in that country in order to make Central Asia a region of peace and neighbourliness.
We also reaffirmed our countries' close cooperation in the UN and other international organisations, where we hold similar views on a majority of issues, in particular on Russian and Turkmen initiatives regarding international affairs. I'm referring to initiatives on energy transit, international cooperation in transport and many other matters.
I'd like to once again express my gratitude to Turkmenistan's authorities for their hospitality and the hope that the upcoming in-depth talks with Foreign Minister of Turkmenistan Rashid Meredov will enable our ministries to further develop our cooperation. We also plan to sign a programme of cooperation between our foreign ministries today.
In short, we have a packed agenda, and the weather is fine. Thank you.