MFA Russia News
All Tags
Archive material
Foreign Minister Sergey Lavrov speaks and replies to questions at a joint news conference with his UAE counterpart Abdullah bin Zayed Al Nahyan and Secretary-General of the Arab League Nabil al-Arabi, Moscow, February 26, 2016
28-02-2016, 01:40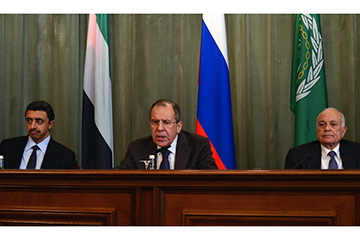 Ladies and gentlemen,
Today we held the third session of the Russian-Arab Cooperation Forum that was established in 2009. 
We endorsed a detailed statement that will be published and a plan of action to implement the principles, goals and tasks of the Russian-Arab Cooperation Forum in 2016-2018. In these documents we set forth the joint approaches of Russia and the Arab League to the most urgent international issues, primarily, the crises in the Middle East and North Africa.
We paid special attention to international terrorism. We share the view that we should conduct an uncompromising struggle against this absolute evil through military action, in part, by shutting down the channels that fund the Islamic State and other terrorists, and fight against the dissemination of extremist and terrorist ideology.
Our statement supports the initiative of Russian President Vladimir Putin on forming a broad anti-terrorist front based on international law and under UN aegis. We welcome the anti-terrorist efforts of the CSTO, CIS and SCO and the measures undertaken by the Arab League to counter anti-terrorist propaganda and prevent conditions that allow terrorism to take root in more countries.
To be continued...