MFA Russia News
All Tags
Archive material
Foreign Minister Sergey Lavrov's interview with Algerian newspaper L'Expression published on February 28, 2016
29-02-2016, 17:32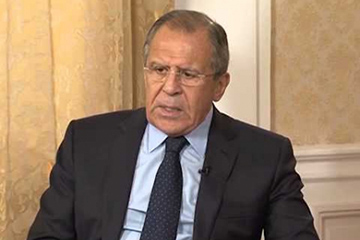 Question: Algeria is a top consumer of Russian arms. In 2006, it concluded a contract worth $7.5 billion on the supply of different types of armaments. However, our civilian economic ties have never reached a comparable level. The share of Russian investors in Algeria remains insignificant. How can you comment on this fact?
Sergey Lavrov: Military technology cooperation remains a driver of cooperation between our countries. The Mixed Russian-Algerian Intergovernmental Commission on Military and Technical Interaction is in charge of our work in this area.
As for the overall state of our trade and economic ties, Algeria has traditionally been Russia's leading partner in Africa and the Arab world. In more than 50 years of fruitful cooperation we have managed to achieve substantial results in such fields as power engineering, mining and metals industries, machine building and water management. Some of the best examples of this include the facilities built in Algeria with Russia's cooperation such as a metallurgical complex in Al-Hajar, a metallurgical enterprise in Annaba, the Jijel Thermal Power Plant, the Alrar–Tin-Fouye–Hassi Messaoud gas pipeline and the Beni Zid dam.
Bilateral trade indicators look good today: the turnover grew 2.2-fold last year to almost $2 billion.
What is important, and we are on the same page with Algerian partners, is not to rest on our laurels and to constantly search for new promising sectors for cooperation. We have great potential for this, including a well-oiled mechanism of a bilateral business partnership – the Mixed Intergovernmental Russian-Algerian Commission for Trade and Economic, Scientific and Technical Cooperation. Its eighth congress, whose timeframe is being agreed upon, is to take place in Algeria. Another reliable basis for deepening ties is the Declaration on Strategic Partnership signed in 2001 during the visit of Algerian President Abdelaziz Bouteflika to Moscow.
There is a solid foundation in industrial and civil construction, irrigation, transport infrastructure and high technology.
We believe agriculture is also a promising sector for developing the Russian-Algerian business partnership. There are some good opportunities opening for increasing export volumes of Algerian agricultural products to Russia, including in the context of Russia's counter-measures in relation to the EU states and Turkey.   
Our two countries' business communities are making an important contribution to this joint work. We were very satisfied with the results of a recent trip by an Algerian business group headed by Chairman of the Algerian Chamber of Trade and Industry Mohamed Laid Benamor to Moscow. A bilateral economic forum, where several hundred Algerian and Russian business leaders took part, was successfully held as part of the visit.
I would also like to highlight the activity of the Russian-Arab Business Council and Russian-Algerian Business Council, which organise regular fairs of Russian goods and services are held. 
Therefore, we are very optimistic about the future.
Question: During President Abdelaziz Bouteflika's his visit to Moscow in 2001, he and President Vladimir Putin spoke out for long-term cooperation in power engineering. In order to prepare for the "post-oil age", Mr Bouteflika admitted the need to build a nuclear power plant, which was supposed to be commissioned by 2018. Could you tell us about the level of Russian-Algerian cooperation in power engineering?
Sergey Lavrov: As I have said, cooperation in power engineering is an important component of our bilateral trade and economic ties. Leading Russian companies, including Gazprom, Rosneft, Stroytransgaz and Technopromexport, have been successfully working in Algeria in cooperation with state-owned oil and gas corporation Sonatrach for a number of years. Other major Russian companies have been showing interest in entering the Algerian market. We highly value our cooperation with Algerian colleagues as part of the Gas Exporting Countries Forum (GECF).
A bilateral intergovernmental agreement on cooperation in the peaceful uses of nuclear energy was signed in September 2014. A session of a bilateral committee for coordinating peaceful uses of nuclear energy is set to be held in Algeria on March 1-3 as part of the agreement's implementation. The session's agenda will include such issued as the possibility of building a Russian-designed nuclear power plant in the People's Democratic Republic of Algeria, development of Algeria's nuclear infrastructure, and non-energy use of nuclear technology, for instance, in medicine.
Question: Russia, like Algeria, stands against Islamic terrorism especially the phenomenon of radicalisation via social networks. Are there any special cooperation mechanisms between the two countries to combat this global phenomenon?
Sergey Lavrov: Terrorism is a global threat that has become a key priority in ensuring international security. As Russian President Vladimir Putin said in his speech at the 70th session of the UN General Assembly, the atrocities perpetrated by ISIS and similar extremists desecrate the great religion of Islam and pervert its true values.
A series of heinous terrorist attacks has not only become a demonstration of the barbaric essence and practice of the so-called Islamic State, but has shown that the desire to create separate "security oases" and fence oneself off from unrest in the neighbouring regions is impracticable in the modern interdependent world.
Effective counterterrorism efforts are only possible when acting together, on a firm basis of the international law, with the UN's central coordinating role and without double standards. Today, we must set aside our own ambitions and disagreements, and unite without any reservations or preliminary conditions in order to defeat ISIS and other extremist groups threatening all of humanity. That is the main reason behind Vladimir Putin's initiative to form a broad counterterrorist front.  Naturally, civil society should also energetically join in the comprehensive and universal efforts.
Our states, which understand the terrorist aggression from experience, have a great deal of practical knowledge in this field. We are satisfied with cooperation in this field between the corresponding Russian and Algerian agencies. In particular, a bilateral inter-departmental working group on combating terrorism and organised crime, whose fifth session was held in Algeria in February 2013, has been functioning under the auspices of our Foreign Ministries. We aim to further develop cooperation in this sphere. I am convinced that our joint work with Algerian partners on the counterterrorism track is bound to make a useful contribution to common efforts of the international community.  
Question: Slowly but steadily, the idea of setting up a gas cartel is gaining momentum. How do you see the "gas OPEC"? What do you think about concerns regarding this initiative by many countries due to the fact that Algeria and Russia cover 40 percent of Europe's gas needs?
Sergey Lavrov: The GECF member states have about 60 percent of proven world reserves of natural gas and have a unique opportunity to produce clean and safe energy in volumes necessary to satisfy the growing needs in energy all around the world. Thus, in terms of its potential in the natural gas production and export, the GECF is comparable with OPEC's resources in the oil sector.
At the same time, countries participating in the Forum's activity including Russia and Algeria, do not set the goal of turning the GECF into a "gas OPEC". The membership in the forum does not stipulate any obligations regarding gas production and sale, which is why it cannot be equated with OPEC. Thus, the consumer countries' concerns that the GECF will be dictating its rules on the gas market are groundless.  
Cooperation and coordination between the GECF member states is carried out via an information exchange on the gas industry and best practices, as well as through joint steps to encourage the use of natural gas. Our countries see the role of the Forum as promoting an open and constructive dialogue with natural gas importers as part of international and regional energy organisations and forums, including regarding demand for natural gas and development of a necessary cross-border gas infrastructure. We are talking about a fair distribution of risks between suppliers and consumers of natural gas via implementation of a predictable and non-discriminatory tax, trade, energy and environmental policy in accordance with national legal and political frameworks.
I am convinced that the Forum has good prospects, despite the current complicated economic situation. The third GCEF summit, which was held in Tehran in November 2015 and which was attended by Russian President Vladimir Putin and Algerian Prime Minister Abdelmalek Sellal, confirmed this in part. That meeting served to highlight the common views on the gas industry's development against the backdrop of new challenges connected with instability on the international energy market, as well as the importance of wide use of natural gas.
 Such key provisions, both for Russia and Algeria, as sovereignty of the GECF member-states over their natural resources, the fundamental role of long-term contracts on gas supply in financing large-scale gas projects have been fixed in the summit's final Declaration. We are confident the results of the summit will facilitate stable development of the international gas market.