MFA Russia News
All Tags
Archive material
Foreign Minister Sergey Lavrov answers media questions on his talks with Special Envoy of the Secretary-General for Syria Staffan de Mistura, Geneva, March 1, 2016
2-03-2016, 13:55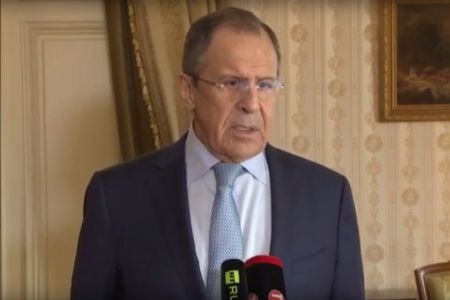 Question: What can you tell us about the meeting?
Sergey Lavrov: Our working day in Geneva ended with a meeting with Staffan de Mistura, Special Envoy of the Secretary-General for Syria, in the course of which we continued coordinating the specific steps that are being taken by the International Syria Support Group (ISSG), co-chaired by Russia and the United States, including at the Geneva-based UN Centre.
Our shared opinion, which coincides with that of our US colleagues, is that we are on the right track. The ceasefire is taking effect and becoming more stable. There are some violations, but neither our UN colleagues nor our other partners are inclined to dramatise them. There are no ceasefires without separate incidents or excesses. We are satisfied with the way the military is working together with their UN colleagues.
We are satisfied with the fact that shifts for the better have emerged on the humanitarian front with regard to lifting the blockade on more population centres and humanitarian supplies – foodstuffs and medications to the people who need them. In January, there were no talks as such, and we are satisfied with the fact that all parties seem to support the start of these talks – the start of a real negotiating process that will involve all Syrians, especially at a stage when the country's future will be decided and constitution reform will be discussed. Mr de Mistura confirmed that he will hold these talks in the first half of March.
Question: US Secretary of State John Kerry said today that Russia and the United States have finally coordinated a mechanism to monitor ceasefire violations. Is this happening here in Geneva and how does it work?
Sergey Lavrov: There are several communication hotlines. There is a hotline between the military in Moscow and in Washington. There is a UN-based joint centre that facilitates the efforts not only of the co-chairs but also of the ISSG as a whole. A communication channel has also been established between our military base in Hmeimeem and the US military officials who represent the command of the US-led coalition in the region.
Regarding the procedure for monitoring incidents and violations of the ceasefire, it is specified in the agreements that were achieved within the ISSG framework, approved by the Russian and US presidents and subsequently incorporated into UN Security Councilresolutions. They spell out in detail the procedure for establishing, verifying and confirming facts. If violations are confirmed and are systematic, the violating party will be excluded from the ceasefire regime. This is what it looks like in general. Specific technical aspects of this process are being harmonised within the framework of the procedure that will be applied to this area of activity of the ISSG and its co-chairs.