MFA Russia News
All Tags
Archive material
Foreign Minister Sergey Lavrov's interview with Rossiya Segodnya, May 4, 2016
5-05-2016, 21:49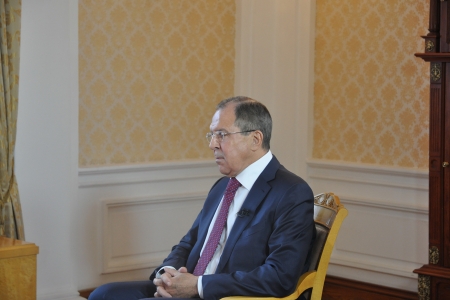 Question: Yesterday you met with Special Envoy of the UN Secretary-General for Syria, Staffan de Mistura. US Secretary of State John Kerry met with him shortly before. Active diplomatic work is underway. What can you tell us about the next steps and dates of new meetings on Syria at the Geneva talks and with the involvement of the International Syria Support Group (ISSG)?
Sergey Lavrov: I believe the Geneva round will be resumed this month. At any rate, this is what Staffan de Mistura is planning, and we are actively encouraging him to do so. After the January round was effectively disrupted, the opposition calling itself the High Negotiations Committee (HNC) slammed the door, because its ultimatum on the premature decision on the resignation of Syrian President Bashar al-Assad was not carried out. The implacable opposition, represented by the same committee, put to the test the April round as well. They said again that they have nothing to discuss until it is clear when exactly Assad will leave. Importantly, this time Mr de Mistura displayed restraint and wisdom and did not say, as in January, that the round will be closed early and that the sides will meet later. He continued the talks with the remaining Syrian opposition groups, which behaved appropriately, unlike the HNC that I mentioned, and conducted a full-fledged round of talks as scheduled.
As I said, the next round is expected to take place this month. The participants will consider areas of discussion formulated by Mr de Mistura. He summarised fairly well the ideas expressed by the delegations of the Government,  of the opposition groups that met in Moscow, Cairo and Astana, and of the so-called domestic opposition, the Hmeymim group. Now he will continue synthesising responses to his conclusions and questions during the next round. Probably, this dialogue will still be indirect, although it is clear that it is possible to start real work only when all Syrian parties gather at one negotiating table. The conditions for this are not yet ripe, primarily because the self-proclaimed HNC is too capricious, under the negative influence of foreign sponsors, first and foremost Turkey. This is abundantly clear and is common knowledge. Turkey is single-handedly blocking full-scale involvement in the talks of the Democratic Union Party, one of the largest Kurdish parties, which is fighting against terrorists and is controlling a large portion of Syrian territory. Without this, it is pointless to discuss the Constitution and even some steps on forming transitional structures from among the members of the Government and the opposition, which will be authorised to draft a Constitution. The Turks are single-handedly preventing the party from joining the talks.
I often hear our American partners, speaking through their official White House or State Department representatives, calling on us to step up our work with Bashar al-Assad. However, he is not our ally. We support him in his fight against terrorism and in his efforts to preserve the Syrian state, but he is not Russia's ally in the sense that Turkey is an ally of the United States. Washington is in quite a position to demand that its NATO allies comply with the resolutions, which clearly state that all groups of Syrian society must be involved in the talks. Likewise, it should also be in a position to keep its long-standing promise to draw a line between the US-backed so-called "moderate opposition" and Jabhat al-Nusra and ISIS, but above all, Jabhat al-Nusra, because it has positions, around Aleppo in particular, which are interspersed with moderate, "good" opposition units that the Americans have taken under their wing. I even have the impression that it is not so much about the United States as it is about its allies in the region, such as Turkey, which became notorious due to numerous instances that are indicative of its dubious links with ISIS and Jabhat al-Nusra. I have a sense, which is confirmed by reports that are thus far unverified, that these groups are remaining at Jabhat al-Nusra positions so as to make sure that the organisation itself remains out of anyone's reach. If this is the case, then the situation with the Americans providing unending justifications as to why they are unable to keep their promise and pull out the so-called "good" opposition units from Jabhat al-Nusra's positions becomes clear. Probably, the supporters of this group bet on a failed ceasefire and a subsequent military solution, which is totally unacceptable. We will also pay attention to this from now on, not only as part of the Russian-American dialogue, but also within the ISSG. I believe that in the coming weeks we will be able to convene a ministerial meeting focusing on who is complying with the earlier adopted two UN Security Council resolutions, and how. This roadmap covers three areas: the ceasefire and the cessation of hostilities, the humanitarian aid and the political process.
I mentioned the political process to you. It is imperative that the opposition, calling themselves the High Negotiations Committee, stop their sabotage and strictly comply with what is outlined in the resolution: Syrians themselves should sit down and determine the future of their country. The talks must include political reforms and a transitional period to a new constitution. However, all parties to be involved in the political transition should be mutually agreed upon by the Syrian government and the opposition. This is what the UNSC resolutions say. Therefore, when someone starts to act up and claim that they are not going to talk to anyone until Assad goes, then those who provide the funding, support and provide cover to such opposition groups, should either force them to do exactly as agreed, or they themselves should be harshly criticised and come under pressure from those who can influence them.
There is significant progress on the humanitarian track, although a number of towns remain blocked by government troops and, in most cases, by opposition forces. Turkey's continued ban on the use of a checkpoint near the town of Al-Qamishli is not helpful in resolving humanitarian issues, since it was used by humanitarian aid convoys. Despite all the calls to the contrary, the Turks refuse to open this checkpoint to traffic. Speaking about the general state of affairs, the positive trend towards expanded access for humanitarian aid to various Syrian regions remains strong. The track, which called for immediate actions and is associated with the ceasefire, is bringing results. No one expected the level of violence to decline that much.
We are satisfied with the joint work performed by the Russian and the US military. Daily video conferences are held between the head of the Russian Reconciliation Centre in Hmeymim and his American counterparts based in the Jordanian capital. A Joint Centre for Rapid Response to Ceasefire Violations will start operating in Geneva today or tomorrow. It will be an ongoing shoulder-to-shoulder 24/7 operation. US and Russian information sources will provide real-time data to this centre. The officers working at this centre out of Geneva will have an instant and objective picture and, most importantly, a common view of the situation.
There is no shortage of those wishing to disrupt the ceasefire. I have already referred to the game that is being played around Jabhat al-Nusra. I will also mention the problem related to the Turkish border, which, unlike the border-crossing point for humanitarian aid that the Turks have closed, otherwise remains porous to the transit of arms and militants in the direction of Syria, and the smuggling of oil, artefacts and other goods from Syria to Turkey. After our Aerospace Forces started targeting smugglers and then the US-led coalition began to attack oil smugglers, this stream declined, but it still remains and continues fueling terrorists.
To reiterate, progress has been made in each of the three areas. It is rather fragile but we are doing all we can to stabilise in all areas. The most important thing – when we meet on a ministerial level within the framework of the ISSG – is to urge all those who are obviously not doing enough to improve as a matter of urgency and take all the necessary measures to ensure the implementation of the UN Security Council resolutions and not let terrorists off the hook.
Question: Is it known where this meeting will take place?
Sergey Lavrov: We usually meet in Europe, but we have not yet discussed this.
Question: You have mentioned the situation around Aleppo, which has for many months remained the most strained in the overall context of hostilities. Is it possible to establish a silence regime there, modeled on the arrangements achieved in other provinces?
Sergey Lavrov: The silence regime has been in effect for several days in Latakia and in Eastern Ghouta, a suburb of Damascus. The ceasefire has been agreed to for three days there and I hope that it will eventually become indefinite. Today, as I hoped, a ceasefire in the city of Aleppo was to be announced. However, I have not yet heard this announcement. The Syrian government has stated that the opposition continues fighting. We will check with our military, which, to reiterate, are in direct contact with the US command of the antiterrorist coalition in the capital of Jordan, Amman. At least, we should do our best to enforce this ceasefire. Everything has been coordinated between Russia and the coalition. The Syrian government has supported all provisions of the agreement.
It is noteworthy that during the ceasefire coordination process on Aleppo (to reiterate, its modalities were determined the day before yesterday and it should be brought into effect as soon as possible), our US partners attempted to define the boundaries of the "silence zone" so as to include a significant part of the positions held by Jabhat al-Nusra. We managed to exclude this as absolutely unacceptable.
However, again, this suggests that someone wants to use the United States (I do not believe that it is in the US interests to shield Jabhat al-Nusra) to take the heat off this organisation. In this context, I should mention what I referred to earlier, i.e., the information pointing to the unseemly connections between the Turkish leadership and ISIS and Jabhat al-Nusra.
Question: You are talking a great deal about Turkey. Could Turkey or, say, Saudi Arabia launch a ground operation in the north of Syria? Militants have obviously stepped up their activities there. Probably, the withdrawal of a part of the Russian Aerospace Forces group could create an illusion that someone may have been "set loose"? Is there a threat of Turkish troops invading Syria?
Sergey Lavrov: The Russian Aerospace Forces have operated in Syria since late September 2015 upon the invitation of its lawful government and in full conformity with international law. The tasks that were set forth for them by President Vladimir Putin at the first stage were to support the Syrian army's fight against terrorists from the air and facilitate the conversion of opposition groups into advocates of the anti-terrorist coalition that we have been trying to form from among members of the Government, the Syria-based Kurdish militia and members of the Syrian opposition that understand that the primary goal now is to prevent Syria's seizure by terrorists and the destruction of its statehood.
When we launched this assistance, Jabhat al-Nusra and other similar terrorist groups were practically at the threshold of the Syrian capital. Now they have been thrown away and dealt a heavy blow. This caused a change in the situation "on the ground," which prompted President Putin to make a decision on the partial withdrawal of our contingent of the Aerospace Forces. We still have a fairly serious air grouping in Syria: the Hmeymim base and the Tartus naval base via which we supply our grouping and assist the Syrian army.  Needless to say, the Russian Supreme Commander-in-Chief made the decision based on the appraisal of the situation and preserved a contingent that is required for the current assignments. I don't think that someone may risk playing a dangerous game or stage provocations due to the presence of the Russian Aerospace Forces there. We already faced one provocation. Our assessment is absolutely clear: the Turkish leaders made a crime and a mistake, which may be worse than a crime. Now this is no longer possible because all measures to prevent any accidents have been taken and the Turks are aware of this.
At the same time, as for the positions occupied by the Syrian forces, Turkey does not conceal their regular shelling because it considers Kurds to be terrorists, thereby single-handedly preventing them from joining the talks, and continues talking about various "security zones." Regrettably, the Turkey-blackmailed EU is also starting to accept the concept of "security zones." At any rate, when German Chancellor Angela Merkel said that "we support the idea of 'security zones'" at a news conference in Hannover, US President Barrack Obama publicly disassociated himself from the idea there and then, but the statement was indicative.
Needless to say, there are appeals for a military invasion, but in order to prevent it (that is, a direct aggression) it is necessary to work with those who are trying to push through this option. I don't think they have any substantiation or excuse as the truce is becoming stronger. The actions of Turkey as the main instigator of this talk about "security zones," plan B and other aggressive aspirations betray expansionist motives not only as regards Syria. The Turks are still staying in Iraq and have a troop contingent there without the consent of and contrary to the demands of the lawful Iraqi government. They are saying that they have introduced their troops in Iraq to consolidate its sovereignty and territorial integrity. What can one say to this? There is nothing to comment on. These neo-Ottoman aspirations – to spread one's influence and absorb territories – manifest themselves fairly strongly.
In general, this is brazen conduct. Do you know how many times the Turks violated Greek airspace last year? About 1,800 times, and over 200 times in April 2016 alone. Nobody in Brussels and no NATO commanders ever mentioned that a NATO member regularly violated the airspace of another NATO member. Such connivance at this clearly expansionist conduct may have a bad end.
 Question: Do the Americans hear our signals? How seriously do they perceive Turkey as a factor that can further destabilize the situation?
Sergey Lavrov: I think they understand everything perfectly well but "of course, he is a son of a bitch, but he's our son of a bitch." This is how they regularly describe their friends that are not famous for good behavior. Obviously, they do not want to bring the quarrel out of the NATO cottage although this is a huge problem.
Question: Announcing his decision to partially withdraw the Russian Aerospace Forces from Syria, President Putin said they might be brought to the former level any moment. Is this likely to take place if, say, the truce fails?
Sergey Lavrov: First, we don't want to allow the truce to fail. Second, your question is hypothetical. The decision on a Russian presence in Syria depends on the situation "on the ground" there. It is much more stable now and it is developing in the right direction, though I reiterate, some people are out to put the ceasefire to test.
Question: You said that Russia would support whatever form of government the Syrian nation agrees to. In particular, you did not rule out the possibility that the country might be federalised, including granting autonomy to the Kurds. Who else, do you think, may lay claim to this prospect?
Sergey Lavrov: You say we don't rule out federalisation and Kurdish autonomy. That is not quite true. We hold a simple position: we support everything the Syrians agree to. This is the same position as that of the UN Security Council. However, when we are asked whether we will support federalisation, we say that we will support everything the Syrians agree to among themselves. Will we support Kurdish autonomy? We will if all Syrian sides agree to it. It's possible to enumerate a great many elements of state structure, in the form of questions addressed to us. But afterwards one should not say that we will support whatever decision, federalisation, autonomy, etc. We will support any decision the Syrian parties make. That is what our position boils down to. They should conduct the talks independently, for which they have a framework outlined by the UN Security Council, and the available experience of the coexistence of Syrian ethnic, political and religious groups.
Question: Nagorno-Karabakh is yet another dramatic conflict that has been rekindled near our borders. Both parties have exchanged harsh statements recently, with Armenia hinting that it could hypothetically recognise the Nagorno-Karabakh Republic and Baku responding. Tensions are rising. Is Russia planning to take new steps to calm things down?
Sergey Lavrov: We are continuously in contact with both parties. President Vladimir Putin personally joined this effort when the violence surged. I spoke on the telephone with my counterparts. We talked about this with Secretary of State John Kerry, because Russia, the United States and France co-chair the OSCE Minsk Group engaged in the settlement of the Nagorno-Karabakh conflict. We discussed this topic in Moscow with French Foreign Minister Jean-Marc Ayrault, as France is a member of the Three. To be sure, the most important thing is to avoid any new casualties, stop any violations of the ceasefire, and develop effective measures and mechanisms for this. The presidents of Armenia and Azerbaijan subscribed to this five years ago, when then President, Dmitry Medvedev, gathered them together. They spoke in favour of creating a mechanism for investigating incidents and for confidence-building and instructed the OSCE to do this. The OSCE drafted a project with various options. But regrettably it stalled at this stage in 2012. Today we would like to the parties to revert to the project discussed back then.
The OSCE's German presidency is willing to present an initiative and we encourage their desire. I think that today the OSCE's erstwhile effort to develop investigative and confidence-building mechanisms, an effort approved by the presidents of Armenia and Azerbaijan, is as vital as ever. We'll be focusing on this.
Of course, we shouldn't forget about the political process either. Perhaps, it will take some time for passions to calm down – this is clear. But there is no alternative to the political process and a settlement. The parties have discussed certain ideas. I'm still confident that these could be transformed into documents that would be acceptable to all sides. This is difficult but possible.
As far as discussing the recognition of Nagorno-Karabakh is concerned, it is not Armenia that is discussing it. This is a proposal by two members of Parliament. Under the law, the Government of Armenia, as they explained to everyone in an effort to mitigate the passions, must provide an analysis for this bill. I wouldn't ring the alarm at this point or panic. Yerevan clearly confirmed its commitment to a peaceful settlement when I visited Yerevan, spoke over the telephone with my Armenian counterpart Edward Nalbandyan, and discussed the issue in Moscow after the events that occurred in early April. This means that Nagorno-Karabakh's status will be defined as part of a general agreement, not unilaterally.
Question: Are you planning new meetings in the near future?
Sergey Lavrov: Yes we are, because this matter requires increased attention. I believe we'll coordinate the next meeting soon.
Question: Will these be trilateral or bilateral contacts?
Sergey Lavrov: Naturally, they will involve the co-chairs and the parties. This requires a collective format.
Question: Another issue of major concern around the world is Russia's cooperation with Iran, including military and technical cooperation. Iran has recently demonstrated elements of the S-300 air defence systems at a parade. It is unclear how many such systems Russia has sent to Iran, how many more it plans to send, and when the contract will expire.
Sergey Lavrov: This process takes time. Under our contract with them, the number to be supplied for the defence of Iran's airspace is absolutely adequate for its legitimate security interests. We are supplying component parts and deliveries will be definitely completed this year.
As for the global concern you mentioned in this context, there is nothing to be concerned about because these are purely defence systems. They have not been prohibited by any UN Security Council resolutions. We suspended their delivery as a gesture of goodwill and so as to urge the Iranian authorities to move in the right direction, following which they agreed to compromise in order to settle the issue of their nuclear programme. This goal has been achieved, and a comprehensive agreement has been signed with Iran and approved by the UN Security Council. In short, our influence on Tehran has produced the desired effect.
When the United States lifted its unilateral sanctions against Iran but at the same time expressed concern over Russia's lifting its restrictions and resuming deliveries of the S-300 systems, this was very American like. The Americans believe that just because they act in a certain way does not mean that other countries have to follow suit. But we in Russia have our own policy and our own views on with whom we should cooperate and in what manner, while observing international law, of course. By the way, restrictions on the delivery of certain armaments to Iran, such as tanks, armoured personnel carriers and combat aircraft, have been lifted and deliveries will be permitted for the next five years. So Iran is free to express its interest in acquiring these weapons. If it asks us to deliver them, we will take a closer look at this request, of course.  
But then again, the delivery of the S-300 systems has never been prohibited, alongside many other types of small arms and light weapons. We are free to act in this respect. As for those cases when permissions must be issued by the UN Security Council on a case-by-case basis, the necessary procedures will be observed, that is if and when Iran expresses interest in buying weapons from this category. 
Question: Does Iran intend to withdraw its lawsuit against Russia for the non-delivery of the S-300 systems?  
Sergey Lavrov: This lawsuit will be withdrawn as we implement the S-300 contract. The procedure has been coordinated.
Question: You often talk with US Secretary of State John Kerry and even call him a friend. Do you plan to make an official visit to Washington soon? It could be a symbolic moment in the history of Russia-US relations. Since Mr Kerry has been to Moscow, can we expect you to travel to the United States?
Sergey Lavrov: I stay in close touch with US Secretary of State John Kerry. He was in Moscow twice over the past few months – in December 2015 and March 2016, and before that he went to Sochi in the spring of 2015. This year alone, we have met four times and spoke on the phone at least 25 times, including three times this past week. So there is no lack of interaction between us, and there is no feeling of isolation about which our partners like to talk so much.
Despite this frequency of interaction with us, the Americans quietly caution other countries against travelling to Russia. The media have reported that the Americans tried to dissuade Japanese Prime Minister Shinzo Abe from visiting Russia. We often learn about such actions from other partners, who come to Russia and tell us that they had to refuse US requests to cancel their visits to Russia.
I often talk with US Secretary of State John Kerry. But I don't plan to go to Washington, let alone on an official visit, especially now, at a time when what we need is not more officialdom but rather more practical, roll-up-our-sleeves work, which we can accomplish more effectively during working meetings, just as we have been doing all along.
Question: You are monitoring the situation in the United States, where the presidential race is underway. We would like to know your views on the possible development of Russia-US relations after the presidential election.
Sergey Lavrov: Making predictions is absolutely pointless. First, these elections are an internal matter for the Americans, the American people, but no matter whom they elect this person will be our partner in the United States. We hope this partner will be able to reach agreements with us, will act more consistently, and will not try to combine his desire to cooperate with us on many international issues that the Americans know cannot be settled without Russia, while at the same time  presenting Russia as the US's biggest threat, erecting barriers to impede our involvement in the global financial and currency systems and outright urging other countries to emulate the US policy against Russia. We hope there will not be any inconsistency. As for whom the Americans eventually choose, we will certainly respect their will.
It would be useless to try to predict which scenario would benefit or damage Russia-US relations. We had good and not very good relations both with Democratic and Republican administrations. So we need to patiently wait for the end of this campaign, which is very interesting in its complexity. The entire election system is very cumbersome. Take, for example, the founding fathers' idea that some states get as many electors as the percentage of votes a candidate receives in a given state, while other states have the winner-gets-all rules. I believe you can write a thesis about the US electoral system and still not understand how people become president.
I don't want to interfere in US internal affairs. When I cited the example of George W. Bush, who became US President even though he received fewer votes than Albert Gore, to US Secretary of State Condoleezza Rice, she told me that this is not good, but it is their problem and we shouldn't get worked up over this, as some young people say.
We are sometimes criticised for having so many filters that one must pass through, such as having administrative resources and so on. The United States has only one filter – money. If less than $1 billion is spent on two parties there, this may be considered strange and ridiculous. But even if only $1 billion is invested in the election race, this means that sponsors have a direct interest, because they are not philanthropists at the end of the day. Some donations are made by people in all sincerity, but a huge part of the money comes from corporations. And all these donations are recorded, of course.
We will wait [for election results], and will work with any US leader, with the hope that this leader will be aware of the importance of Russia-US cooperation for settling many global problems, the quantity of which has not diminished over the past eight years.
Question: One of the most difficult problems in our relations with the EU is gas distribution. The South Stream project shutdown, followed by the deterioration of relations with Turkey, created a sort of vacuum in the understanding of what will happen with gas distribution in the southwest. Do we have any idea about the future of South Stream?
Sergey Lavrov: South Stream was closed by the European Commission, by shamelessly putting pressure on one EU member, Bulgaria. By the way, Turkey had nothing to do with it, although at the time Turkey refrained from formally authorising the use of its exclusive economic zone for the project, because their  government was in the process of formation then. But it was the European Commission that closed South Stream. Still, we haven't given up on south-bound gas shipments as a bad concept. In February 2016, Gazprom along with Italian Edison and the Greek company Depa signed a Memorandum of Understanding on natural gas supplies from Russia along the Black Sea bed via third countries to Greece and from Greece to Italy. Clearly there has to be a third party – Greece does not have access to the Black Sea coast. If our partners confirm this interest and translate it into practice, Gazprom will be prepared to proceed.
We are certain that Nord Stream-2 will also enhance Europe's energy security and energy supplies. A purely commercial project, it brings together a number of Western companies including E.ON, Engie, and Austrian OMV. Any attempts to block it will be purely political in nature. This is something the Americans are doing through their close friends in NATO, trying to create problems. But again, this is a purely commercial project, something the German leadership has confirmed – a country whose companies are directly interested in this project. Shell, by the way, is also part of this group. The European Commission even recognised Nord Stream-1 as a priority at the time. So it is very difficult for them to assume a different position. For south-bound exports, there is a plan to use the interconnector between Greece and Italy, and that, too, has already been included by the European Commission in a list of national interest projects. So here too, it will be difficult for them to avoid if the southern route takes ​​practical shape.
Question: And we are discussing these initiatives with potential third countries?
Sergey Lavrov: This is Gazprom's business. First of all, they need to take into account the purely commercial aspects and logistics and how it can be done most effectively.
Question: Do you see the European Commission as a threat to Nord Stream? Can it block the Nord Stream-2?
Sergey Lavrov: I repeat – they have no arguments yet, but for political purposes, something can always be found. There are a number of outspoken members in the EU, as well as in NATO, who represent the Russophobian minority; they are currently insisting that troops be deployed in their territories that border on Russia, and the Americans are planning to do so. By the way, they say Germany has agreed to send troops to the Russian border in the Baltic countries and Poland. There will always be people who will say these things. They will invent stories about Russia planning to "close the valve," although this has never happened except with Ukraine, when they started stealing transit gas. So we wait. I think that national interests in Europe and European interests should prevail, especially in a situation where Europe is determined to prove that it is capable of helping to resolve the Ukrainian crisis, together with Russia and without intervention from overseas. I think that Europe is gradually acquiring more autonomy, something already happening, by the way, at the Transatlantic Trade and Investment Partnership talks. Attempts to "quietly" sign the agreement have failed, and European leaders were under public pressure to admit that the current version didn't suit them. We'll wait and see, and rely on common sense.