MFA Russia News
All Tags
Archive material
Foreign Minister Sergey Lavrov's interview for Channel One's production dedicated to Fidel Castro's 90th birthday, Moscow, August 13, 2016
23-08-2016, 14:12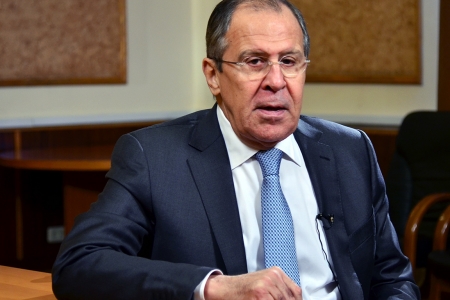 Question: Cuba and Russia have experienced various periods in their relations, including a romantic perception of the Cuban revolution, followed by the Caribbean Crisis that cooled off bilateral relations somewhat. From what we were told, Fidel Castro was offended when his opinion was not sought as Nikita Khrushchev and John F. Kennedy made decisions. Khrushchev tried to patch up relations during Castro's visit to the Soviet Union in 1963, and then relations began to develop more or less normally. Russia was struggling in 1991, but so was Cuba. What is happening today?
Sergey Lavrov: Our relations have always been special, during all the events you mentioned. Our relations have been marked by sincere friendship, strategic partnership and of course, tremendous sympathy between the people of this country and Cuba. I believe this never changed, even during time-serving political considerations, or aggravated global situations, including the Caribbean Crisis you mentioned. There were probably some ups and downs in relations between leaders, partially due to some of Khrushchev's personality traits that affected his leadership. But the people of our countries continued to maintain fraternal relations during this entire period. This is probably the right word for describing our relations. Certainly, the process continues today.
After the Soviet Union's collapse, Russia itself had to concentrate on and understand how to continue. Russia ended up with long borders with the newly independent states, an empty national treasury and many social problems. Bilateral relations were eventually restored as Russia started to overcome this crisis in the early 2000s.
President Vladimir Putin has visited Cuba many times, including the summer of 2014. As Foreign Minister, I have also visited "Freedom Island" several times. It's possible that Cuba was upset to some extent that Russia did not consider Cuba a major foreign policy priority after the collapse of the USSR. But it remembers the USSR's contribution to Cuban statehood, to Cuban economic development and the creation of a very substantial social infrastructure. All these years, the Cubans have appreciated our cooperation internationally and Russia's solidarity with Cuba in its efforts to secure the right to live just like its people wanted to live.
Question: Did the renewal of diplomatic relations between Cuba and the US in 2014 spur Russia into greater activity in this area?
Sergey Lavrov: The renewal of diplomatic relations between Cuba and the United States took place at a time when Russian-Cuban relations had become a lot more active. The normalisation of relations between Cuba and the US does not really affect our ties with Cuba. Let me say again that we see our relations with Cuba as a genuine value in themselves. We certainly welcomed the steps that Washington was finally obliged to take to normalise relations with Cuba. Throughout the decades of embargo and the bans on practically every aspect of relations between American citizens and Cuba, we made efforts, including at the UN, to have America end its attempt to isolate Cuba. Ultimately, the attempt to isolate Havana resulted in leaving the Americans themselves isolated on this issue. Most countries in the world voted every year to end the embargo and showed solidarity with Cuba. The US was joined in these votes by only three or four other countries that had never been known for pursuing an independent foreign policy in the first place. I therefore think this step certainly represents a victory for the Cuban people. Think of the United States' size and influence compared to little Cuba. You have the most powerful country in the world, and a small nearby island whose GDP and population does not match even a single US state or larger city, and yet the Cubans stood firm and showed to the world that they would stand up for their right to choose their own development, and we will support them in this.
Fidel and Raul Castro have made a tremendous personal contribution to forming their country's national character and genetic code. We should not forget this. I saw reports from the Cuban Communist Party's last congress and saw the reception Fidel and Raul were given and how the new generation showed their loyalty to these traditions. Let me say again that these traditions do not at all imply confrontation with the United States or with anyone else. Every time I visited Cuba I was always surprised by how positive the Cubans are towards others, including the United States. The circumstances we know left the island with a lot of vintage American cars. No spare parts have been delivered to the island since relations were fully broken off in the 1950s, but these cars are in great shape. Models and toys of old American cars are one of the most popular souvenirs in Cuba. The Cuban people's openness speaks volumes. These are not people living in a besieged fortress blocked from all sides, but are a truly free, open, kind-natured and hard-working people.
I hope very much that Washington will continue the steps it has begun because the most important thing now is to lift in full the trade, economic and financial embargo. I think that resorting to such methods of putting pressure on entire peoples is a disgrace for civilisation. I think people in the US should realise this. They have already admitted the inability of the illegal methods of unilateral pressure to force the Cuban people into changing their choice. This is already a milestone.
Question: I'd like to ask you about Fidel Castro. When you met him, did it feel like meeting a legend?
Sergey Lavrov: Certainly. I met with him several times. We met for the first time in September 2004, when as a minister I paid an official visit to Cuba ahead of a UN General Assembly session. During the visit there were energy distribution interruptions caused by some accident in Cuba, and Fidel Castro spoke on TV for 90 minutes live describing the government's efforts to overcome the aftermath of the accident. Our meeting was postponed for a couple of hours. We met and spoke for about 90 minutes late in the evening, about 11 pm. He was energetic and cheerful; he completely handled the situation both in his country and in regional and global issues. I noted the same deep knowledge of reality two years ago, when I visited Cuba again.
In July 2014, Fidel Castro, who had already retired, received guests, as well as President Vladimir Putin in his private home, which is quite modest and small. He told us that he had learned a lot about climate change issues. It was clear that he was eager to find ways to implement expeditious methods to fight global warming before many of the Earth's common processes had a negative effect. If you looked into his eyes: they were bright, these were the eyes of a young, not to say very young, pure and convinced person. Certainly, he is not in the same physical shape he once was. But again, this man has great spiritual strength.
Question: What is so special about Fidel Castro that has made him Cuba's spiritual leader for so many years, although he dramatically changed the life of Cuba so close to a powerful neighbour, when everyone else was against it? He uses neither concentration camps nor repressions to make them follow the ideas that he has brought to Cuba.
What is so special about him that he could do all this?
Sergey Lavrov: He is an example. He is a patriot of his country, a true son of his people. I believe that he was born to be a leader who asserted the right of the Cuban people to live as they wanted. He asserted this right and he inspires huge respect by the whole world. The Cubans love him.