MFA Russia News
All Tags
Archive material
Foreign Minister Sergey Lavrov's remarks at a celebration of the 90th birthday of Fidel Castro, Moscow, September 13, 2016
21-09-2016, 13:01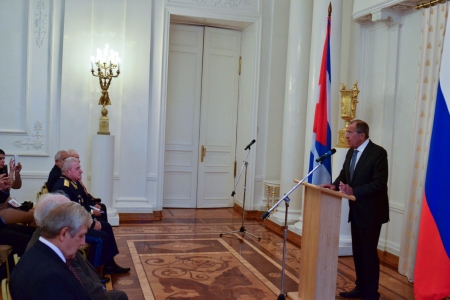 Mr Ambassador, Mr Kurinnoy, Mr Leonov, friends,
I am pleased to welcome all the guests of this celebration of an important date − the 90th birthday of the leader of the Cuban Revolution Fidel Castro. First of all, I would like to express my gratitude to the Russian Society of Friendship with Cuba and the Cuban Embassy in Moscow for their assistance in organising this event.
On the occasion of the 90th birthday of the leader of the Cuban Revolution, President Putin sent a message in which he emphasised that Fidel Castro is an outstanding statesman who dedicated his entire life to serving the people of Cuba. He is a vivid example of dedication, perseverance and courage in the fight for freedom and the right to self-determination. The Comandante's efforts to improve Cuba's international positions are widely recognised. He did so at a time when the island was under siege. It is not surprising therefore that Comandante Fidel enjoys unquestioned authority in his homeland, and is highly respected in Latin America and around the world, including, of course, Russia.
For Russia, it is particularly important not only that Fidel Castro opened a new era for his country, but also that he was at the forefront of the current stage of Russian-Cuban relations, which are rooted in the principles of solidarity, friendship, trust and respect. Our ties have reached the level of strategic partnership and continue to develop dynamically for the benefit of our countries and in order to strengthen regional and global security and stability. It is impossible to overestimate the personal contribution of Fidel Castro in this work.
On display here today are unique photos from the archives of the Castro family, the Foreign Policy Archives of the Russian Federation, and materials from news agencies. This is a photo chronicle of the major milestones in the life of the Comandante, reflecting his remarkable and multifaceted personality, and the road he travelled. Photos of Fidel Castro as he travelled across our country show the sincere feelings of affection that link our peoples. These photos are also included in the photo album TheInvincibles published at the initiative of the Russian Society of Friendship with Cuba.
We also have a book authored by Cuban journalist and biographer of Fidel Castro Katiuska Blanco containing conversations with the leader of the Cuban Revolution. This book was published in Russia with the support of the Embassy of Cuba. I am confident that the album and the book will be of interest for experts in international relations and the general public.
I would like to thank you once again for attending this celebration. I wish you all the best and give the floor to Cuba's Ambassador to the Russian Federation.