MFA Russia News
All Tags
Archive material
Foreign Minister Sergey Lavrov's interview for the Rossiya 1 television network documentary entitled "My mind is set: Yevgeny Primakov", Moscow, October 31, 2016
7-11-2016, 20:00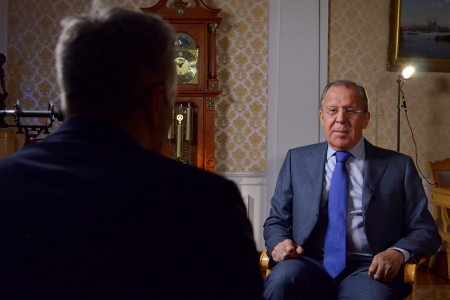 Question: My first question is about Yevgeny Primakov's decision to turn the plane around in mid-flight [over the Atlantic]. I must admit that I don't completely agree with the way we highlight this decision as the focal point and possibly even a symbolic element in his career. What was the meaning behind this turn-around? What did it change?
Sergey Lavrov: Yes, it was a symbol, and a very important one. I believe that any decision should be considered in the context of the situation at a given moment in the life of a person, a country or the world. It was a period in the 1990s, immediately after the dissolution of the Soviet Union, the Warsaw Treaty Organisation and the Council for Mutual Economic Assistance (CMEA), when Russia was trying to find its place in the new situation and see the new boundaries while experiencing major internal pressure for more decentralisation and the drive for sovereignty. You may remember that several new republics were proclaimed, such as the Urals and the Far Eastern republics. It was a very difficult period.
Our partners, as President Vladimir Putin said in his recent statements, saw these developments as their victory in the Cold War and acted as absolute winners, even though they have always rejected this publicly. They were absolutely convinced that from then on Russia was in their pocket, considering Russia's economic and foreign policy leaders at the time. They believed that Russia would obediently do the Western bidding.
When Yevgeny Primakov became a public politician and moved from the Foreign Intelligence Service to the Foreign Ministry and later, when he became prime minister and met with his foreign colleagues, he went with his heart. I believe that after meeting with a great number of his foreign counterparts – the foreign ministers and prime ministers of Western countries – he formed a clear view of what they thought about Russia. Of course, his prestige as foreign minister and a public politician helped change many distorted views of our Western partners. However, their centrepiece idea after the Soviet Union's dissolution, that they can do whatever they want and nobody would stand up against them even if they protested, was still very strong. Mr Primakov knew very well that based on geography, history that was written in the blood of our forefathers, and political culture, Russia cannot be anyone's subordinate in international affairs, and that any belief to the contrary was a short-lived anomaly.
When Yevgeny Primakov, a true patriot, an experienced politician and statesman and a person with a strong intuition, encyclopaedic knowledge and deep perception, learned that the United States had decided to bomb Yugoslavia, he could not carry on business as usual. At that time, he was flying to the United States for important but not extraordinary talks with Vice-President Al Gore. His decision to turn the plane around was a reminder that Russia's only role in the world is to stand up for the truth together with other powers, but exclusively on equal terms and mutually beneficial agreements.
The bombing of Yugoslavia was clearly an act of aggression. It was also the first armed attack against a European state after [the end of WWII in] 1945. Since we are talking about this, I would like to say that the developments in and around Syria have encouraged our Western partners, primarily the Americans but also the British, to resort to public insults against Russia in their hysteria, using such terms as barbarism and war crimes. I would like to remind you that the aggression against Yugoslavia included attacks against very many civilian facilities, including the TV centre of Serbia, passenger railway bridges and many more. Thousands were killed, including several hundred children, and a quarter million people became refugees, but nobody seems to remember about them anymore. If Russia represented by Yevgeny Primakov did not react as it did to that gross violation of international law, we would not have been able to forgive ourselves for this and a very dark page would have been added to Russian history. By taking his decision, Primakov forced Russia to show its mettle and take the only correct stance in that situation.
Question: I'm sure you remember what the Foreign Ministry was like in the 1990s. What has changed since 1996?
Sergey Lavrov: I watched the Foreign Ministry's life after I returned from my mission in 1988, and until 1994, when I left for New York to assume the position of Russia's Permanent Representative to the UN. It may be obvious, but foreign policy is always an extension of domestic policy, and securing a foreign policy is always derivative of how secure a country is internally. The security was weak, if not to say utterly depressing: there was no money and we were deep in debt. This certainly affected the general atmosphere inside the Foreign Ministry: the salaries were low, the maintenance of the building left much to be desired, and the diplomatic profession's prestige was seriously dented. Many diplomats left for the private sector only to become disappointed later, because they took whatever jobs were available. A translator waiting for foreign partners at an airport was paid five to ten times the salary as a second secretary at the Foreign Ministry and was pleased. But several years later the majority of these people came back. They came to see that working as a foreign policy analyst and doing what they had been taught at the Moscow State Institute of Foreign Relations (MGIMO) and other higher educational institutions was better than being a well-paid errand boy. But still there was an outflow of mid-level personnel that was supposed to reinforce the upper echelon. More than that, MGIMO graduates were also reluctant to join the Foreign Ministry, hoping to find employment in other public sectors, or even in business, which had a much greater appeal for them. There wasn't much prosperity. After Yevgeny Primakov came to the Ministry of Foreign Affairs, it became clear that he knew well what needed to be done, as was the case in every job he took – journalism, intelligence, academia, or legislature. Everywhere he instantly spotted the "wheels" that set the team in motion. He was well aware of the undersurface attitude in the team. And he had much trust in people. He never said anything straight from the shoulder, nor staged personnel revolutions. I have talked to colleagues from other agencies where he had worked… It was the same at the Foreign Ministry. He brought along two or three aides, his closest co-workers, who knew how he liked the process of work to be organised. All other employees who conducted the "Primakov-style" foreign policy under him were career foreign ministry officers, whom he hired, instructed and oriented as per his understanding of tasks at hand. In particular, he focused on raising the salaries and providing support for the Foreign Ministry's entire activity. Everyone heaved a sigh of relief, the prestige of the profession grew, and the personnel drain stopped.
Question: Did his appointment give rise to suspicions? A man with intelligence background… Perhaps some people were afraid that they'll have to rebuff imperialists 24 hours a day and perish in the process. Were there any moods of this sort?
Sergey Lavrov: Oh, no. You know, when Mr Primakov was Director of the Foreign Intelligence Service, the Foreign Ministry established close relations with his staff. He was the first to head a service that changed several names during his tenure: the First Main Directorate later became part of the central service, something that made intelligence less hermetic. As I remember, the novelties he introduced included Foreign Intelligence Service reports on most topical issues of the time, such as nuclear arms control. After the nuclear state disintegrated, the problem of nuclear weapons remaining in Ukraine, Kazakhstan and Belarus had yet to be solved, the Foreign Intelligence Service issued a very sound, high-quality report that offered recommendations aside from containing a plethora of data. At that time it was a novelty.
I remember how we cooperated with our colleagues on all these recommendations, preparing them for the report intended for the country's leaders. This is just one example.
Apart from other things, Mr Primakov introduced a tradition of friendly meetings between Collegium members of the Foreign Ministry and Collegium members of the Foreign Intelligence Service. He invited us to the press-service building, if I am not mistaken, in its territory. This was before his appointment to the Foreign Ministry. One of his characteristic traits – his love for life and companionship and his striving to always find like-minded people – has helped him a lot, apart from his working qualities, to strike up a friendship with our staff. This is why he became a natural part of it and its natural leader.