MFA Russia News
All Tags
Archive material
Foreign Minister Sergey Lavrov's remarks at the University of Piraeus, Athens, November 2, 2016
8-11-2016, 12:34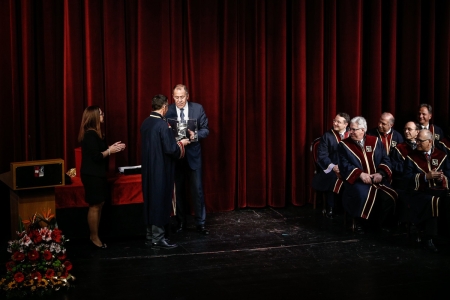 First of all, I would like to thank the leadership of the University of Piraeus for conferring an honorary doctorate upon me. A great deal has been said about me and I have learned a great many new things about myself. Thank you anyway. Your university is known in Russia as one of Greece's leading centres of higher education that trains first-rate specialists. It is all the more flattering for me that your institution has expanded the ranks of its professors emeritus with your humble servant.
We welcome the university's contribution to the overall effort to develop Russian-Greek ties.
Friendship between the people of Russia and Greece has deep roots and is based on Orthodox culture, common spirituality and civilizational affinity. It is encouraging that Athens remembers Russia's contribution to your country's struggle for independence. One of the symbols of our common history is Ioannis Kapodistrias, who for a number of years effectively ran the Russian foreign policy department and subsequently became the founder and first president of the independent Greek state. Naturally, we will always remember our peoples' shared struggle for justice and independence. This was the case more than once in the 19th and 20th centuries, especially when we fought side by side against Nazism.
Today, despite the complicated situation in the world, Russian-Greek cooperation continues to develop steadily in various spheres. A regular trusting top-level dialogue provides a powerful impetus to our joint efforts. Last year, Greek Prime Minister Alexis Tsipras twice visited Russia. In January, President Vladimir Putin hosted President Prokopios Pavlopoulos in Moscow. And the central event of this year's bilateral agenda was Vladimir Putin's visit to Athens and the Holy Mount Athos in May. Following May talks in Athens, a political declaration was adopted and a comprehensive package of documents was signed, including on economic, investment, energy, tourism and agricultural cooperation, as well as on interregional ties.
The joint plan of action for 2015-2016, which was signed by the Russian president and the Greek prime minister in the course of Alexis Tsipras's visit to Russia last year, is being successfully implemented. Cooperation between our MPs is expanding. We are looking forward to Greek Parliamentary Speaker Nikos Vutsis's visit to Moscow before the end of the year.
For reasons beyond Russia's control, our bilateral trade is declining. However, as its value is declining, bilateral trade is showing growth in physical terms. We estimate its volume will increase on average by over 13 per cent. Nevertheless, the situation needs to be rectified. Of course, we can do a good deal more to reverse the trend.
Today, together with our Greek partners, we are taking practical steps, among other things, expanding exchanges between Russian and Greek regions, encouraging direct ties between business communities and implementing investment projects. An important role in this effort belongs to the Joint Russian-Greek Commission for Economic, Industrial, Scientific and Technical Coordination. Its 10th session will open in Athens tomorrow.
For over 20 years, Russia has been a reliable supplier of energy resources to the Greek market, meeting 60 per cent of the need for natural gas and over 15 per cent of the need for oil. Further prospects for expanding cooperation are opening after the signing, on October 10, of an intergovernmental agreement on Turkish Stream, which envisions the construction of a gas pipeline to Greece. Of course, after the bitter experience with South Stream, we will be ready to extend this line to EU territory only after receiving firm, 100 per cent guarantees from Brussels that the project will be implemented. We hope that Brussels will be guided by pragmatic, not politicised considerations.
It is difficult to overestimate the role of cultural and humanitarian exchanges in maintaining trust and mutual understanding between our nations. Bilateral national festivals – the Year of Russia in Greece and the Year of Greece in Russia – have been held under the auspices of the President of Russia and the Prime Minister of Greece. The intensive programme of these festivals features about 170 events in various fields – from culture to economics to the promotion of the Russian and Greek languages. What's more, the geographic base of these events is not limited to Moscow, St Petersburg, Athens and Thessaloniki but also covers other parts of Russia and Greece.
This year, together with our Greek partners, festivities are being conducted on the occasion of the millennium of the presence of Russian monks on Holy Mount Athos.
We note with satisfaction the restoration of tourism from Russia to Greece. In the first six months of the year, it grew by over 20 per cent, year on year. We will support closer people-to-people contact.
Unfortunately, a decline in relations between Russia and the EU, which was not initiated by us, is a serious impediment to the further strengthening of our wide-ranging cooperation. We often have to hear assertions, both at the political and expert levels, that Moscow is supposedly to blame for the current tensions on the continent. This was further evidenced by the results of the strategic review of relations with Russia, which were summed up at a Council of Europe meeting on October 20-21. We would like to reiterate that we have invariably expressed readiness for rapprochement with the EU on a wide range of issues – from visa-free travel to building a real, solid energy alliance. We have put forward concrete proposals, designed to make our partnership truly strategic, which would be in our mutual interests.
Unfortunately, so far there have been no success stories in this area. Our Western partners, who were in a state of euphoria following the end of the cold war, succumbed to the short-sighted course of abandoning equal dialogue, seizing geopolitical space (there is no other way of describing this), and dividing nations into "them" and "us". This course came to a head with the anti-constitutional coup in Ukraine, which was supported by the United States and a number of European states.
NATO's policy of containment toward Russia, which undermines strategic stability on the European continent, is especially disturbing. Military infrastructure and military hardware and troops are being redeployed near our border, and the number and the scale of exercises are growing. The building of a missile defence system continues unabated. Sadly, the NATO leadership is moving away from a professional dialogue with Russia and the CSTO on developing collective measures to counter real, not contrived, shared threats. Under these circumstances, our long-standing initiative to put into practice the principle of equal and undivided security in the Euro-Atlantic region, which was proclaimed at the OSCE and the Russia-NATO Council, is becoming all the more relevant.
We have stated repeatedly that we are not going to slam the door shut. There are no insoluble problems, provided there is good will in our relations with the West on all sides.
To reverse the current negative trend, it is necessary to abandon the vicious logic of zero sum games and stop imposing narrow-minded, selfish agreements and cooperation deals without any consideration for the interests of partners. By the way, we are waiting for a response from NATO to the Russian proposals on fully resuming the work of the Russia-NATO Council. Our proposals on normalising relations with the EU were conveyed to European Commission President Jean-Claude Juncker in June. We are also waiting for a response.
We still believe in the prospect of a unified economic and humanitarian space being created from the Atlantic to the Pacific in the interest of ensuring the sustainable development of the vast Eurasian continent. We are convinced that the complementarity and mutual dependence of our economies and the use of their natural advantages can facilitate the steady unification of markets and make it possible to more effectively address many problems through joint efforts, among other things, making ourselves more competitive in today's complex world. We have been urging the EU to establish dialogue with the Eurasian Economic Union for about a year now.
It would help normalise the situation if the EU reviewed in good faith the reasons for the lack of progress in the implementation of the Minsk Agreements to resolve the internal Ukrainian crisis. The self-proclaimed Donetsk and Lugansk People's Republics are ready, with Russian support, to take consistent steps on their part of the way in keeping with the order of priorities that was agreed on in Minsk on February 15, 2015. However, the Kiev authorities also must honour the obligations they assumed. It is obvious to us that Donbass residents have a right to local self-government, their own language, and their cultural identity – all of these are unconditional European values.
Russia will continue to promote a unifying, forward-looking agenda in global affairs. Our priorities include the fight against international terrorism, protection of peoples' right to determine their own fate without outside interference by relying on the UN Charter and, of course, the peaceful resolution of conflicts by seeking a balance of interests. We continue working to end the bloody conflict in Syria as soon as possible through the good-faith implementation of UN Security Council resolutions and the decisions of the ISSG which was created under the Russian-US co-chairmanship. At the same time we reject attempts to shield armed opposition groups who are refusing to break with terrorists. Today, this is the main obstacle to a settlement in Syria.
My colleague and friend Greek Foreign Minister Nikos Kotzias has mentioned among Russia's diplomatic achievements the signing of an agreement to eliminate chemical weapons in Syria. Indeed, it is a very important joint achievement: initiative was shown by Russia and the United States and then we were supported by the UN Security Council while all parties, including the Syrian government, faithfully cooperated in the agreement's implementation. The OPCW even received a Nobel Prize for its contribution to the implementation of these agreements. If we are not seeing major, spectacular success stories in other areas, I believe the main reason for that is that UN Security Council resolutions are not observed. A resolution was adopted on Syrian chemical weapons and everyone began to implement it strictly in accordance with its timeframe. On the Ukraine crisis, there is also a UN Security Council resolution, which approved the Minsk Agreements of February 15, 2015, but this resolution is not being observed. The same goes for Resolution 2254, which was adopted in January and codified approaches to achieving a settlement in Syria. It provides for a comprehensive approach that envisions the start of a political dialogue, without delay or preconditions, between all Syrian sides: the Syrian government and all opposition groups. It also contains provisions on the need to improve the humanitarian situation and conduct a relentless fight against terrorists. The armed formations that refuse to be associated with terrorists must simply leave the positions held by Jabhat al-Nusra and ISIS. However, this resolution is not being observed either, because someone is strongly against the separation of the moderate opposition and terrorists so that a terrorist group such as Jabhat al-Nusra remains unaffected. This worries us. I have cited this example only to stress that when agreements are implemented (especially when these agreements are formalised as UN Security Council resolutions) this leads to success. However, when an agreement is reached only to buy time and then to pursue one's own hidden agenda, nothing good comes of it. This has been a Russian tradition for centuries: We always keep our word.
As President Vladimir Putin has noted, we are seeking neither global domination nor expansion nor confrontation. We are always open to a mutually respectful dialogue with our foreign partners and their integration associations in all parts of the world. Naturally, this fully applies to EU members and the United States. We still hope that through joint efforts we will stabilise Russian-US ties. This would have a positive impact on the entire range of international issues, considering that our states bear a special responsibility for maintaining global stability and security.
Today, the example of the New START Treaty with the Americans was cited, because the treaty is meticulously observed by both parties, enhancing security and stability in the world as a whole. As President Vladimir Putin said, we will be ready for dialogue with any president who is elected by the American people.
Amid the objectively evolving multipolar world order, the role played by new centres of economic growth and political influence is increasing. So the establishment at your university of a centre for BRICS studies in 2011 was a far-reaching step, making it possible to move in step with the times. BRICS is an association of a new kind, responding to the realities of the 21st century. The group of five, including Russia, China, India, Brazil and South Africa – states with different civilisational and economic models – is confidently asserting itself as an inalienable part of a new, polycentric, democratic system of international relations. Cooperation within the framework of BRICS is based on principles of equality and mutual respect for each other's interests. It is aimed at creating favourable conditions for our countries' comprehensive development and ensuring the wellbeing of our peoples. I would particularly like to note that while developing their strategic cooperation, the BRICS countries are open to cooperation with the outside world, do not shut themselves off from the rest of the world, and do not preach exceptionalism. I am convinced that the package of documents adopted at a recent BRICS summit in India will be of interest to you.
In the near future, today's students, the young people will assume responsibility for the situation in their country – working toward conditions that promote the wellbeing and prosperity of Greece, representing its interests in international agencies, including the UN, the OSCE, the Council of Europe, the EU and NATO, assuming responsibility for foreign relations as a whole. I hope that you will contribute to the steady development of Russian-Greek partnership and strengthen the centuries-old historical solidarity of our peoples and their spiritual and moral proximity that goes back many centuries. This is the most solid foundation of Russian-Greek relations that, I am sure, no one will be able to destroy.