MFA Russia News
All Tags
Archive material
Foreign Minister Sergey Lavrov's remarks and answers to media questions during a joint news conference following talks with Swedish Minister for Foreign Affairs Margot Wallström, Moscow, February 21, 2017
22-02-2017, 12:47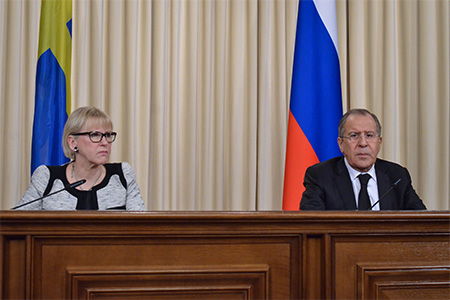 Ladies and gentlemen,
Minister for Foreign Affairs of Sweden Margot Wallström and I have had a positive conversation.
Of course, the relations between our two countries are not at their best, and the reasons are well known, so I will not repeat them. However, today we reaffirmed our shared belief that differences on a number of foreign policy matters should not stand in the way of progress in building mutually beneficial trade, economic and cultural relations, and promoting people-to-people contacts.
We noted that Swedish companies continue to operate in the Russian Federation and have increased investment in the Russian economy. Some 400 Swedish companies are present in Russia. In order to keep up this momentum in the business community, we agreed on the importance of reviving the Intergovernmental Supervisory Committee on Trade and Economic Cooperation that has not met over the past three years.
We reviewed the situation in Northern Europe and in the Arctic, reaffirming the support by Russia and Sweden of various multilateral formats, including the Arctic Council, the Barents Euro-Arctic Council and the Council of the Baltic Sea States. We coordinated steps to prepare ministerial events within these frameworks.
We also strongly believe in the need to keep up efforts aimed at ensuring security and promoting cooperation in the Baltic Sea region. Various confidence-building initiatives are being developed in this region, including those spearheaded by President of Finland Sauli Niinistö. We confirmed our readiness to contribute to these initiatives.
Russia reiterated its praise for Sweden's as well as Finland's non-aligned status. We view this policy as an important prerequisite for stability in the Baltic region, as well as in Europe in general.
We discussed a number of urgent matters on the international agenda. I think that we will step up our contacts and consultations on these issues, especially taking into account that Sweden will be a non-permanent member of the UN Security Council in 2017-2018.
We are on the same page in our commitment to stepping up counter-terrorist efforts and enhancing their effectiveness, being proactive in settling conflicts in the Middle East and North Africa and the Israeli-Palestinian conflict.
We had a detailed discussion on Ukraine. There is no hiding that we have serious differences regarding the causes of the conflict in Ukraine and the situation on both sides of the line of contact in Donbass. Russia and Sweden stand for the full implementation of the Minsk Agreements, which shows yet again that there is no alternative to this essential document. Let me remind you that it was approved by the UN Security Council, and a resolution to this effect was adopted unanimously. We also hope that the agreements reached within the Contact Group regarding the ceasefire that was announced yesterday and supported by the Normandy Four will be respected, and that the withdrawal of military equipment will resume as per earlier agreements. I would also like to note the positive stabilising role of the OSCE Special Monitoring Mission, which includes both Swedish and Russian nationals.
In connection with questions asked by Foreign Minister of Sweden Margot Wallström regarding the situation in Crimea, we invited our Swedish colleagues (politicians, journalists and experts) to visit this Russian region as part of both official and unofficial visits in order to see how things are with their own eyes.
The overall conclusion that I can make following these talks is that contacts are beneficial. We should not and cannot turn our back to each other, since we are neighbours. There are too many things that connect us in both economic and cultural terms. It would be wrong to ignore this and detrimental to the objective interests of our respective countries and peoples.
Question (for both ministers): States aspiring to participate in decision-making on key Arctic issues recognise the Arctic Council countries' jurisdiction and yet are lobbying for an international agreement that would introduce an international mandate for the Arctic. How do you assess the danger of these efforts for the Arctic Council and the Arctic region as a whole? What is the Russian and Swedish stance on this issue?
Sergey Lavrov: Decision-making on key Arctic issues is the Arctic Council's prerogative. States wishing to cooperate on Arctic affairs are entitled to apply to the Arctic Council for observer status. The Arctic Council spent a long while coordinating the observer invitation rules. Now these rules have been finally approved. Relevant countries and organisations can use them and some have already obtained this status. I haven't heard of any serious attempts to lobby for an international agreement on the Arctic; this means that these attempts don't deserve our attention.
The Arctic Council drafts international legally binding instruments on key issues involved in the development of this most important region, including on preventing pollution of the marine environment, organising search and rescue cooperation, and other things. Any issues related to continental shelf delimitation are successfully addressed under the 1982 UN Law of the Sea Convention and its mechanisms.
Today Swedish Minister for Foreign Affairs Margot Wallström and I have reaffirmed our common position that neither the Arctic, nor the Barents region, nor the Baltic Sea present problems that call for a military solution or a buildup of military presence. Therefore, I don't see any need for an international agreement on a mandate for the Arctic either from the infrastructural and economic or security point of view.
Question: Relations between Sweden and Russia have been rather tense for a number of years. Time and again we hear the Russian authorities say that it is the Swedish side that is to blame for this. Foreign Minister Wallström has come here, demonstrating with this step a desire to start a dialogue with Russia. What do you think of this? Although Sweden still maintains its critical attitude to Russia's actions, such as those in Ukraine, what vectors in Russian-Swedish cooperation do you see?
Sergey Lavrov: I broached this subject in my opening remarks. But I'd like to correct you: We never said that Sweden was to blame for the present state of relations. We simply stated that ceasing cooperation on a number of practical projects and putting a freeze on the functioning of bilateral mechanisms came at our Swedish colleagues' initiative. We accused no one of anything, we just stated the fact. We never took offense at what others did because a similar picture emerged in our relations with a number of other Western countries. We always said we would be ready to resume cooperation and the use of some or other mechanisms as soon as our colleagues decided that they could do that as well. We can now see this trend in our relations with a number of European partners. They are interested in returning, albeit step-by-step, to normal relations and the normal use of the trade, economic, investment and humanitarian channels that were established in the past and acquitted themselves well. As far as the reason for this rethinking is concerned, I think there are two main factors involved: The desire to prioritise their own national interests and – no offense meant – the understanding that dawned on them during the past few years that the so-called European values professed by the current Ukrainian leaders are not something for which national interests should be sacrificed. Let me reiterate that we will always be ready to normalise relations and get rid of things that have been artificially introduced into them and hampered their development.       
Question: Could you comment on the critical remarks made by officials in Ukraine and a number of Western countries following Russia's recognition of passports and other documents issued by government agencies in the self-proclaimed Donetsk and Lugansk people's republics? Officials at the German Foreign Ministry, the EU and the OSCE stated that this is in conflict with the spirit and purpose of the Minsk Agreements. Ukraine's President Poroshenko said this is a violation of international law.
Sergey Lavrov: Regarding the president's executive order on the temporary recognition of documents issued to residents of eastern Ukraine, a lot has already been said by the Kremlin, the Foreign Ministry and the media, which have given wide coverage to the issue. I can only confirm that this order is completely in people's interests and was dictated by humanitarian considerations. It lays the groundwork for human rights and freedoms in a situation where it is impossible to meet these international standards due to a reason that you know very well. The Ukrainian authorities continue doing all they can to make living in these territories as difficult as possible and to impede the implementation of inalienable human rights and freedoms as much as possible. It is difficult and sometimes even impossible to enjoy these rights without documents that identify a person or certify a person's birth or marriage. Generally, the enjoyment of these rights is impeded in a situation where a vast territory with a population of several million is cut off from citizens' status registration offices. Another reason is that the attempts by some Donbass residents to receive corresponding services on the left side of the line of contact are becoming practically impossible because the number of border crossing points is negligible and there are queues extending for many kilometres, which puts them off limits to children, women and elderly people. This problem has been repeatedly highlighted, among others, by the OSCE, but the Ukrainian authorities want to control this flow of their own citizens very tightly. Naturally, artificial obstacles like that, together with continuing attempts to cut off water, gas and power supplies, the imposition of a total blockade of railway services and the threat of blocking road traffic create conditions whereby the humanitarian situation produces enormous tensions. There is nothing to talk about here. You know all this very well.
Another important aspect that was addressed during the coordination of the Minsk Agreements is the fact that Donbass residents have no access to banking services. All of these troubles befell southeastern Ukraine for only one reason: because the residents of these regions refused to recognise the coup. By the way, with regard to banking services, when the Minsk Agreements were being developed, the subject of organising mobile banking services was discussed on Germany's and France's initiative. The French and Germans volunteered to deal with this problem. Two years have passed but there are no results. This is another comment on the implementation of the Minsk Agreements.
As for whether what is going on corresponds to the spirit and purposes of the Minsk Agreements, I will say that it corresponds not only to the spirit but also to the letter of the Minsk Agreements, which state in black and white that it is necessary to resolve all humanitarian problems in this part of Donbass. What's more, international law does not prohibit the recognition of documents issued by internationally unrecognised authorities to ensure rights and freedoms. This is the practice of the International Court and the ECHR.
Finally, I would suggest that we not forget that in other parts of Ukraine, which have not been blocked and where artificial, unbearable conditions are not being deliberately created for people (I'm referring to western Ukraine), Romanian and Hungarian passports and Polish IDs are being issued hassle-free to all those wishing. We have not seen any negative reaction to that.
In addition to the quotes made, I will cite yesterday's statement by OSCE Secretary General Lamberto Zannier, who expressed regret over the Russian President's executive order. Mr Zannier said that by recognising these documents, the Russian leadership has also recognised the leaders of armed groups in the self- proclaimed republics who issued those documents. I'd like to explain to Mr Zannier and all those who are lamenting the alleged violations of international law that the leaders of the self-proclaimed republics were recognised with the signing of the Minsk Agreements that were approved by a UN Security Council resolution, which was passed by consensus. They are recognised as a party to the conflict. In this capacity, they are working to implement the Minsk Agreements. Given that there is no progress, largely through the Ukrainian authorities' fault, they simply have no right to ignore what is going on in these territories. We will do our utmost to help them.
Question: Ukraine has blocked the adoption on the UN Security Council President's statement on the death of Vitaly Churkin. Can you comment please?
Sergey Lavrov: I know how the work of the UN Security Council is organised. I am almost sure that Ukraine's Permanent Representative to the UN Vladimir Yelchenko would not have done this on his own behalf. In other words, he was instructed to do this. This is not a Christian deed; in fact, it is over the top, but the current Ukrainian authorities have shown us that this is how some people in their country treat Russians and those who refuse to dance to the neo-Nazi tune. The Ukrainian authorities keep silent when neo-Nazis say on television, in social media and in squares that Moskali [a derogatory term for Russians used by Ukrainians] must be treated harshly and rejoice when the defenders of the Russian language and culture in Ukraine are killed or die. Those who want to help the Ukrainian state normalise the situation in the country are threatened, like the writer Zakhar Prilepin. This is barbarous and inhumane behaviour, but it's no longer surprising in terms of what's happening in Ukraine.
Question: My question concerns me personally and my work in Russia, where I have worked as a journalist for a long time. About a year ago, I was attacked and severely beaten by Russians in the south of the country. We have learned recently that the investigation into that crime has been suspended. Are the Russian authorities responsible for the safety of foreign journalists accredited in Russia? How can you explain the decision to suspend the investigation into my case? Is this evidence of the Russian law enforcement authorities' incompetence, police officers' fear of the country's real rulers, or that there are "no go zones" in Russia which journalists should avoid?
Sergey Lavrov: It is regrettable that you have chosen to adopt the same tone you no doubt use in your reporting. However, I can assure you that the investigation into your case has not been suspended. As soon as we learned about an attack on a group of journalists – I believe there were nine of them, including you, Moscow, including the Kremlin, issued a harsh statement condemning such offences as unacceptable, an investigation into this case was opened and it has not been suspended. I would like to apologise to you once again on my own behalf and on behalf of the Russian authorities. The case is in very good hands, and we hope that the culprits will be identified and called to account. I assure you that the Russian authorities are very much concerned about the safety of journalists no matter where they work. Some of our journalists have died in the line of duty, including in Yugoslavia. There have been several such cases in Ukraine recently. I believe that discussions on journalists' safety, especially in a conflict environment, which are also underway at the OSCE, are important and that we must do our best to conclude them with the adoption of a code that will be binding on all states. Of course, such protection cannot be fail-safe, and life has shown us that the professions of journalist and diplomat are not at all safe.