MFA Russia News
All Tags
Archive material
Foreign Minister Sergey Lavrov's remarks and answers to media questions at a joint news conference following talks with Foreign Minister of Kyrgyzstan Erlan Abdyldaev, April 4, 2017
5-04-2017, 16:02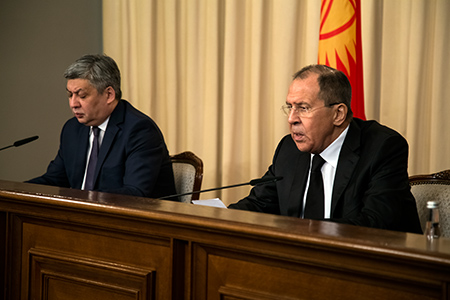 We have held very good and meaningful talks with Foreign Minister of Kyrgyzstan Erlan Abdyldaev. We had a frank exchange of opinions, as befits friends, strategic partners and allies.
We pointed out that our relations are based on the feeling of friendship, sympathy between our people, shared interests and the fundamental principles of equality and mutual respect and advantage.
We observed that much has been accomplished in our modern history in the 25 years since the establishment of diplomatic relations. We have boosted our ties to a fundamentally new level. These include an intensive political dialogue, including between our presidents, trade, economic, investment, military-technical and humanitarian cooperation, as well as contacts between our people.
We discussed the implementation of the agreements reached during President of Russia Vladimir Putin's Bishkek visit on February 28, 2017.
We focused on the goal of promoting economic integration in Eurasia. We discussed the situation that has developed after Kyrgyzstan joined the Eurasian Economic Union (EAEU) as a full member. We agreed that Kyrgyzstan's accession to the EAEU opened up new opportunities for strengthening interaction.
Our bilateral trade has declined due to external factors, but the volume of Kyrgyzstan's exports to Russia increased nearly 40 per cent last year. The export of foodstuffs and agricultural raw materials grew even more, 60 per cent. This trend fully meets the interests of our Kyrgyzstani friends. We have confirmed our assistance in helping Kyrgyzstan adjust its economy to the EAEU rules and standards. Of the $200 million that has been allocated for this purpose, $145 million has been put to use.
We expressed satisfaction that the new Russian-Kyrgyz Development Fund is operating successfully. $200 million have been allocated from the Fund's initial capital, which constituted $500 million, to finance some 650 projects in Kyrgyzstan.
We'll also continue to provide humanitarian assistance to our Kyrgyzstani friends.  
We addressed cultural ties. This year, in honour of the 25th anniversary of diplomatic relations, a series of events have been planned. Today we unveiled an exhibition of photo and archival documents. We are making preparations for the Kyrgyz Culture Days Festival in Russia. We would like it to be a wide-ranging and memorable event. It comes by way of reciprocity following the Russian Culture Days Festival in Kyrgyzstan last year.
We considered in depth our cooperation on international and regional issues. We praised our combined efforts at the UN, the CSTO, the CIS, the SCO and the OSCE.
Special attention was given to security and stability in Central Asia, primarily the situation in Afghanistan, which is not getting any better, and the related threats of terrorism and other forms of transborder organised crime.
We once again expressed our appreciation to our friends for the solidarity that they showed following yesterday's terrorist attack in St Petersburg. We discussed the measures that will be taken by our foreign policy agencies both at the bilateral level and in the context of our cooperation within the framework of the CSTO and the CIS, which, in our view, makes it possible to intensify our collective efforts to counter any terrorist threats.
On the whole, we were satisfied with the results of the talks. We hope that all of our agencies will work closely together to implement the presidential agreements and prepare new summit meetings.
Question: According to European media outlets, in particular Politico, on Friday, during a lunch with his NATO colleagues, responding to a comment regarding relations with Russia to the effect that it takes two to tango, US Secretary of State Rex Tillerson reportedly said you can dance with Russia and you might also gain something out of it. But for sure you cannot tango with Lavrov. Could you comment on this?
Sergey Lavrov: My mum also forbade me to dance with boys. I heard about this purported conversation at a meeting of NATO foreign ministers on Friday. If this is indeed the case and if Mr Tillerson feels he cannot dance at all we are willing to help. He is a very experienced man and he will learn quickly.
We are still expecting his visit, as announced previously. I am sure that we will talk frankly on all issues of our bilateral agenda, international issues, the current worsening problems in the Middle East and in other parts of the world, in particular in Europe, on which it is impossible to make progress if Russia and the US do not establish practical dialogue. So far the protracted process of staffing the State Department and other agencies is not particularly conducive to this. To reiterate, we expect a frank and useful conversation in the spirit of the fundamental intentions that our presidents expressed in the course of their telephone contacts, including yesterday.
Question: Some Western media outlets have suggested that yesterday's terrorist attack in St Petersburg was a kind of revenge on Russia for its participation in the military operation in Syria. Could you comment on this?
Sergey Lavrov: First, I entirely agree with what my colleagues and friend Mr Abdyldayev said: Terrorists and terrorism have no nationality. It is unacceptable to look for any connection with a person's background and his religious faith. Terrorism is a crime against mankind and against all world religions without exception. I am sure that the solidarity that we have seen not only from our allies, the CIS countries, but also on the part of practically all other states in the world reflects a shared understanding that it is crucial for us finally to work together, not try to use some extremists for achieving narrow, selfish geopolitical goals as, unfortunately, is sometimes the case.
As for the suggestions made by certain media outlets you mentioned to the effect that this terrorist attack is an act of revenge on Russia for our policy in Syria, this is cynical and ugly. I will not even try to characterise such allegations. Sadly, this is not just a fabricated news story. Some figures in Barack Obama's administration shared similar notions with the world public, including Pentagon officials, when they said that if we came to Syria to help the Bashar Assad government we should expect coffins with the bodies of our servicemen to come pouring into Russia. I believe this is unworthy of politicians. I hope that in the present situation, where terrorism is threatening all countries without exception, there will not be such double standards and that politicians will act responsibly in this regard. Of course we hope that, while understanding that part of the journalism profession is sensationalising stories for readers and listeners, the media will also act with the utmost responsibility. I know that journalists work out voluntary codes of conduct at international meetings. Today, such responsible approaches are more relevant than ever. 
mid.ru