MFA Russia News
All Tags
Archive material
Foreign Minister Sergey Lavrov's opening remarks at the Russia-ASEAN Ministerial Meeting, Manila, August 6, 2017
9-08-2017, 12:08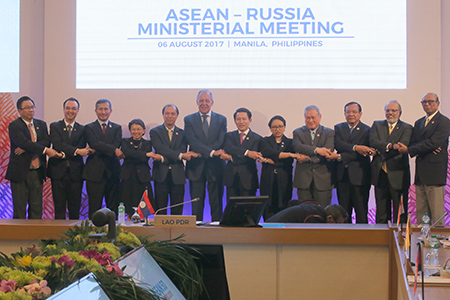 Mr Co-Chair, colleagues, friends,
Before all, I would like to thank our Philippine colleagues for the warm welcome and excellent organisation of our event. I also want to express my gratitude to Laos as the current coordinator of the ASEAN-Russia Dialogue Partnership for ensuring well-coordinated teamwork.
This year, ASEAN marks its 50th anniversary. I cordially congratulate you on this remarkable date. Russia is one of the counties behind the UNGA resolution on this anniversary, which was unanimously adopted on July 19, 2017.
This anniversary is an important historic milestone for the entire region. ASEAN has established itself as an authoritative regional association, one of the centres of an emerging and stable polycentric world order. We are confident that implementing the ASEAN Community development plans to 2025, and strengthening internal interconnectedness will help consolidate the positions of the ten ASEAN Member States as a core element of a ramified system for regional integration mechanisms.
We hope that today's meeting will give an additional boost to implementing the agreements that were reached during the Sochi ASEAN-Russia Summit in May 2016, that were designed to take our relations to a strategic level.
We note with satisfaction that we managed to achieve tangible progress in meeting the goals set forth in the leaders' declaration and the Comprehensive Plan of Action to Promote Cooperation Between the Association of Southeast Asian Nations and the Russian Federation (2016-2020). Our political contacts have intensified, economic cooperation is progressing, and our humanitarian exchanges are on the rise. Today, we consider it important to try to outline additional steps in all these areas.
We are interested in maintaining a dialogue with ASEAN on international issues. We suggest concentrating on those areas where we can coordinate our approaches on the most pressing issues on the global and regional agenda, including building the security and cooperation architecture within the APR, and building up joint work to counter numerous challenges and threats.
Thank you.
mid.ru