MFA Russia News
All Tags
Archive material
Foreign Minister Sergey Lavrov's remarks and answers to media questions at a joint press conference following talks with Foreign Minister of Bolivia Fernando Huanacuni Mamani, Moscow, August 16, 2017
21-08-2017, 16:14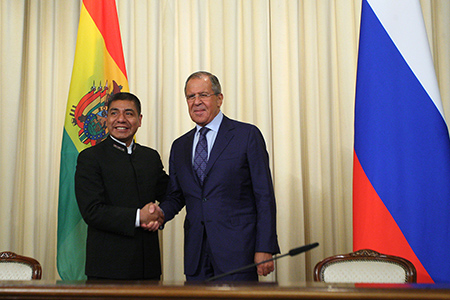 Ladies and gentlemen,
My Bolivian colleague, Foreign Minister of Bolivia Fernando Huanacuni Mamani, and I had constructive and intensive talks.
The minister of the multi-ethnic state of Bolivia conveyed the message of the president of that country Evo Morales to President Putin. We reiterated our countries' commitment to expanding our partnership across all areas.
We discussed the state of our bilateral relations. We have a rich and multifaceted agenda. We noted the very good dynamics of the political dialogue, and the successful implementation of the agreements reached last year during the visit to Russia of Mr Mamani's predecessor as foreign minister of Bolivia. Everything that the presidents discussed, and everything we agreed upon between our respective foreign, economic, and social ministries, as well as our companies, is being implemented at a fairly steady pace.
Our economic ties have good potential. All existing opportunities, as well as the projects that we need to implement, were reviewed during a meeting of the Intergovernmental Commission on Trade and Economic Cooperation. The participants noted good prospects in the field of energy, which in fact we confirmed today. In July, Gazprom signed a letter of intent with the national oil and gas company of Bolivia. Rosatom and Bolivia are finalising a number of contracts and a programme for strategic cooperation in the sphere of nuclear energy for peaceful purposes, including the construction of a nuclear research centre using Russian technology. Our energy companies are interested in supplying equipment for the thermal power stations and hydroelectric power stations being built in Bolivia, and upgrading the existing ones. Considering that Bolivia's development plans provide for an increase in the share of new energy sources, including geothermal, solar and wind power, RusHydro is ready to provide the corresponding technology. We discussed this today as well. We believe that our specialised departments and companies have something to work on specifically in this field.  
Speaking of energy, we discussed multilateral dimensions of our interaction, primarily within the framework of the Gas Exporting Countries Forum, the next summit of which will be held in Bolivia in November. We will do our best to help our Bolivian friends make this summit a success, clearly formulating a further programme of actions aimed at ensuring an equitable balance of interests of gas producers and consumers. 
We see an increase in mutual interest in investment projects in the petrochemical, agricultural, transportation and other spheres. Contacts between the regions of Russia and Bolivia are getting stronger. Today, we spoke about good prospects for deepening military-technical cooperation. An intergovernmental commission is also operating in this area, which will meet in Moscow this month.
There is mutual interest in developing contacts in the humanitarian and cultural spheres. Our Bolivian friends are interested to prepare their specialists at Russian universities. Such cooperation is developing. Experts are being trained both in civil and law enforcement specialties, primarily in the sphere of combating terrorism and drug trafficking. On a separate note, training of nuclear energy personnel will expand.
We discussed international problems and stated our identical positions on the overwhelming majority of these urgent matters on the international agenda. Both of our countries are consistent advocates of a just and stable polycentric global arrangement on the basis of international law and the world's cultural and civilisational diversity. Russia and Bolivia are united in denouncing the attempts to undermine the objective process of shaping a multi-polar world by renouncing multilateral cooperation, to resort to unilateral and illegitimate measures, including interference in domestic affairs by military and other means. We are opposing such attempts by our commitment to multisided cooperation in full conformity with the principles of the UN Charter and a search for generally acceptable solutions of any problems on the basis of an honest balance of interests.
Speaking about regional issues, we expressed gratitude to our friends for their invariable support for the development of the contacts between the Russian Federation and Latin America and its structures, including the Community of Latin American and Caribbean States (CELAC), Southern Common Market (MERCOSUR), Union of South American Nations (UNASUR), and Bolivarian Alliance for the Peoples of Our America (ALBA).
We considered it particularly important to confirm our position on the situation in Venezuela. We are united in realising the need to promptly overcome contradictions in that country exclusively by peaceful means, via national dialogue and without any outside pressure not to mention unacceptable threats of armed interference in the country's domestic affairs, which have already been strongly condemned by the overwhelming majority of Latin American nations.
In conclusion I would like to emphasise that we highly appreciate coordination of our actions at multilateral platforms, primarily in the UN Security Council. This year and in subsequent years, Bolivia will be a non-permanent member of the UN Security Council. We are closely coordinating measures on all problems that are submitted to the UN Security Council. Bolivia is supporting Russian initiatives reviewed by the UN.  These  are international information security, consolidation of confidence-building measures in space, renunciation of unacceptable glorification of Nazism, and appeals to all states to assume commitments not to be the first to deploy weapons in space, not to resort to illegitimate forms of cooperation in the world arena, not to interfere in internal affairs of other states, not to extrapolate their domestic actions abroad and not to recognise coups d'etat as a legitimate form of changing power. Every year all of these provisions and principles are subjected to voting in the UN General Assembly. Like the overwhelming majority of other states, Russia and Bolivia invariably support them.
I think we had very beneficial talks that reaffirmed our attitude towards comprehensively deepening our cooperation in the interests of our countries and peoples. I am grateful to my colleague, Bolivian Foreign Minister Fernando Huanacuni Mamani, for today's interaction.
Question: In a conversation yesterday with your Chinese colleague, Wang Yi, you again noted that it would be unacceptable to use force to resolve the crisis on the Korean Peninsula and stressed Moscow's readiness to strengthen coordination with Beijing in the settlement process. Does this coordination imply certain economic steps, or is it just about diplomatic steps?
Sergey Lavrov: With regard to using our influence on Pyongyang in order to make it comply with the well-known UN Security Council resolutions, we are deeply convinced that the economic pressure has practically run its course. We cannot support the ideas that some of our partners continue to nurture, which literally seek to strangle North Korea economically with all the negative, tragic humanitarian ramifications for the people of the DPRK.
We operate on the premise that all of the UN Security Council resolutions without exception, which have already introduced serious economic measures, contain the Security Council's obligations to continue supporting the process of returning to political talks and seeking a peaceful diplomatic settlement on the Korean Peninsula. All economic measures of influence imposed by the Security Council for several years have been implemented by the UN member states, and the UN Security Council's call and commitment to the parties concerned to pay attention to the political track has, in fact, been ignored. Russia and China believe that this is wrong, and even harmful and dangerous.
So, we have come up with a joint initiative that includes the well-known "double freeze" principle: North Korea will not test nuclear weapons and missiles, and the United States and the Republic of Korea will not conduct large-scale exercises in this region. I am aware of the US response to this "double freeze" principle. They believe that legal cannot be exchanged for illegal. However, this is not about getting stuck in being right or thinking about certain falsely understood issues of prestige, but about the future of this region and hundreds of thousands of people who, according to experts, may be affected in case of hostilities, which Washington or Pyongyang never stop threatening. Recently, this rhetoric has somewhat subsided.
Perhaps we should at least hope that the hotheads calm down a little. In conjunction with the People's Republic of China, we will push for compliance with the UN Security Council resolutions, which talk about the need to return to the political process. The UNSC economic measures have never been taken in isolation from the recognition of the need for a peaceful settlement. Our joint proposals with China are included in the joint statement of July 4, which deals exclusively with political and diplomatic steps.
Question: What can you say about Iranian President Hassan Rouhani's statement that Tehran may walk away from the nuclear programme agreement if Washington continues to put Iran under pressure? What is Moscow's attitude to Iran's decision to increase its missile programme budget?
Sergey Lavrov: The missile programme budget is basically Iran's business.  It is not prohibited from having this programme. There are no legal bans in UN Security Council resolutions on this issue.
 As for Iranian President Hassan Rouhani's statement that Tehran may quit the Joint Comprehensive Plan of Action (JCPOA) that was concluded to resolve the situation around Iran's nuclear programme, I hope this won't take place. I also hope the United States will not violate its JCPOA commitments, either.
As is known, in line with the periodic reviews mandated by US law, the United States has certified that Iran is meeting its commitments under the JCPOA. However, in parallel Washington has imposed new unilateral sanctions on Iran. It explained that these sanctions do not concern Iran's nuclear programme or the JCPOA but reflect US discontent with Tehran's actions in other areas, including human rights and its conduct in the region. There may be only one response to this. Unilateral sanctions are unacceptable in principle and irresponsible if they are used to change in one's favour a well-calibrated balance (as is the case with the Iran nuclear deal) because they may upset this balance. One shouldn't resort to such provocations because the matter deals not even with national interests of a country but with an enormous region where we are interested in ensuring a nuclear-free status.
Now I would like to make the second point in this context. We have suggested reaching an honest deal more than once – if a package of economic measures of influence on any country be it the DPRK or Iran is being agreed upon in the UN Security Council and a resolution is adopted, all parties should assume commitments to limit themselves to this negotiated package of sanctions and not to come up with unilateral restrictions so as to make up for what has not become part of the collective package. The Americans are vehemently opposed although it is hard to reject this principle. It will remain an urgent imperative. We will continue upholding it in all subsequent discussions and have already made corresponding statements at the UN Security Council consultations. This is a position of principle shared by many of our partners.
Question (addressed to both ministers): A nuclear research centre is under construction in Bolivia with Russia's support. At what stage is this project now? Bolivia has large energy resources and Russia is interested in helping it develop its hydrocarbon industry. What can Russia do in this regard?
Sergey Lavrov (speaking after Fernando Huanacuni Mamani): As for the nuclear research centre, our state corporation Rosatom and its partners in Bolivia have already signed a contract on preliminary work and are carrying it out. I have just talked with Mr Foreign Minister about how this month we will continue consultations on a master contract. There is every chance to sign it in September, which will allow us to open the centre's first facilities in 2019, as the Bolivian side wants.
mid.ru