MFA Russia News
All Tags
Archive material
Foreign Minister Sergey Lavrov's statement at the 16th Meeting of Heads of Special Services, Security Agencies and Law Enforcement Agencies that are Foreign Partners of Russia's Federal Security Service, Krasnodar, October 4, 2017
5-10-2017, 13:00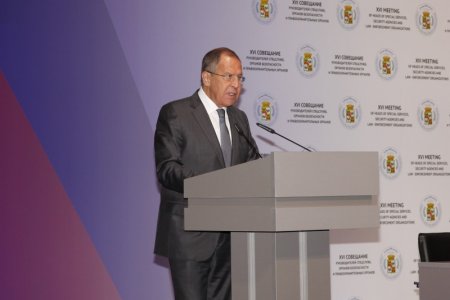 I am glad to have this opportunity to speak at the regular Meeting of Heads of Special Services, Security Agencies and Law Enforcement Agencies that are Foreign Partners of Russia's Federal Security Service.
Joint well-coordinated work is acquiring a special importance today. The situation in the world is tense and is not becoming any easier. The old conflicts are smoldering, there are new threats and challenges.
No doubt, international terrorism is posing the main threat. We have repeatedly spoken about the causes of its unprecedented upsurge. We have warned against any attempts to redraw by force or otherwise the internal political arrangement of other states in line with foreign patterns, impose alien values on them, break their traditions and a system of moral values. Such geopolitical engineering has already undermined statehood, created the vacuum of power as well as wreaked chaos in many countries of the Middle East and North Africa, which extremists plus  terrorists have immediately used.
It is hardly necessary to convince such an authoritative audience that the terrorist activities have acquired a global character. Nobody will manage to hide or adopt the position of a passive onlooker. It is necessary to pool efforts, without any hidden agendas, in order to effectively counter this universal evil. It is essential to give up once and for all a desire to use terrorist groups as an instrument for reaching geopolitical goals. We remember well how such actions invariably turned against their initiators. A stake on mujahideen in Afghanistan gave rise to al-Qaeda that struck out at America on September 11, 2001. The aggression in Iraq, aimed at overthrowing Saddam Hussein, led to the birth of ISIS, while illegal interference in Libya and Syria facilitated the formation of yet another powerful terrorist group – Jabhat al-Nusra that is al-Qaeda's reincarnation. 
Let us not forget that those, who in gross violation of the UN Security Council resolutions were arming the radicals in Libya and using them to eliminate the Gaddafi regime, virtually just several months later faced the need to oppose the same bandits that invaded Mali with the help of weapons they had received from Europe and destabilised the entire Sahara-Sahel region.
It is high time they learned the lessons of recent history. We hope that those who incited the extremists realise the pernicious consequences of their geopolitical adventures and will renounce double standards, at least in the antiterrorist sphere.
President Vladimir Putin's initiative to form a broad counter-terrorist front with the central and coordinating role of the United Nations remains entirely relevant. Making it a reality would involve compliance with the norms of international law, including respect for sovereignty and territorial integrity of states, whose territory is a scene of the fight against terror.
Recently, including due to our country's efforts, heavy losses have been inflicted on the terrorists in the Syrian Arab Republic. Russia continues to step up its efforts in this area while helping the Syrians to address humanitarian problems and launch the process of national reconciliation. The Astana process we have initiated with the participation of Turkey and Iran has made it possible to achieve agreements that resulted in the creation of four de-escalation zones in Syria. In these zones, the level of violence has been reduced dramatically and conditions have been created for the delivery of humanitarian assistance and for socioeconomic recovery, and in time they will facilitate the establishment of peace throughout the country. The main thing now is to encourage the government forces and the armed opposition groups to take advantage of the results of the Astana process to work together to finally eliminate the terrorist hotbed in their homeland. This will be of great help to the intra-Syrian talks in Geneva, whose resumption should not be delayed.       
To be continued...