MFA Russia News
All Tags
Archive material
Foreign Minister Sergey Lavrov's interview with Euronews, Moscow, October 16, 2018
17-10-2018, 16:05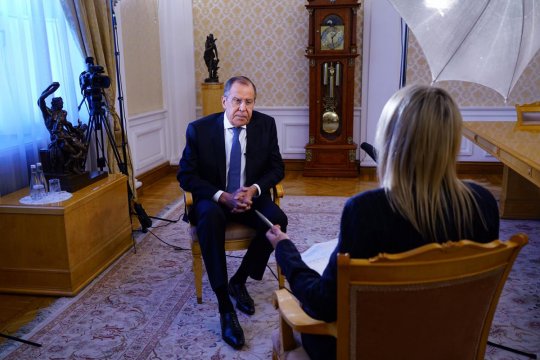 Question:
The issue of Russia's financial contribution to the Council of Europe has long been on the agenda after Russia's voting right was suspended. How important is the Council of Europe to Russia? What, in your view, is the likely solution to this impasse?    
Sergey Lavrov:
The Council of Europe is going through a serious crisis and not because Russia suspended its contribution more than a year ago but due to the reasons you mentioned: because Russia was denied the right to vote. This happened in 2014 as punishment for the free expression of will by Crimea residents, who voted in favour of reintegration with Russia at a referendum. This punishment was imposed on the members of parliament that were elected by the population of Russia and sent as a delegation to the Council of Europe.
The sanctions imposed in 2014 became tougher in 2015. As a result, the Russian members of parliament were stripped of all rights whatsoever and were only allowed to be present at the meetings of the Parliamentary Assembly of the Council of Europe and listen to anti-Russia statements without having an opportunity to answer, which is, strictly speaking, regular practice in any normal parliament where, even if tensions are running high, it is always possible to answer and compare different positions. Our members of parliament were denied this right for three years even though from 2014 until 2017 we made the required contributions. In so doing, we warned that this could not go on forever because without due representation at the assembly and without the opportunity to state its position it would be unwise for Russia to pay for Russophobic activities; the same goes for any other country that might end up in a similar situation for that matter. So we warned everyone that we would be forced to suspend our contributions at some point. We did this in the summer of 2017, making it clear that as soon as the rights of our members of parliament at the Parliamentary Assembly of the Council of Europe were unconditionally and fully reinstated, we would immediately pay our debts.  
I want to stress that our decision on this point has worked. Many sensible MPs and functionaries in the Council of Europe have become aware of the seriousness of the situation. Michele Nicoletti, the then President of the Parliamentary Assembly, and Secretary General of the Council of Europe Thorbjorn Jagland were struggling to find a way out of this absolutely abnormal situation.
As a result of that work, the attention of all members of the Parliamentary Assembly was drawn to the fact that there is a basic document that all bodies of the Council of Europe, including the Parliamentary Assembly, must be guided by in their work. This is the Statute of the Council of Europe – a fundamental document, an imperative, so to say. It says that all Council of Europe member states enjoy equal rights in any Council of Europe format, whether the Parliamentary Assembly, or the Committee of Ministers, or any other organ.
We pointed this out and asked our colleagues in the Parliamentary Assembly to comply with the document they signed when they endorsed the decision to establish the Council of Europe and to honour the terms on which Russia joined the organisation. Once again, I will point out that the term written in the Statute is the complete equality of the delegations of all Council of Europe member states, including in the Parliamentary Assembly.
Instead, a small, but very loud and aggressive group of delegations from countries that are well known to everyone (I won't bother mentioning the names; they have been pushing an anti-Russia stance in the European Union, as well as NATO, the United Nations and the OSCE) set forth the premise that besides the Statute of the Council of Europe there are also the Rules of Procedure for the Parliamentary Assembly. These Rules of Procedure stipulate that decisions be adopted through a vote and by a very narrow majority. The most they were willing to do was to consider whether these rules should be changed to make it harder to restrict the rights of one delegation or another.
Our response was simple and tough. No regulations, rules or procedures can compare in significance with the fundamental document – the Statute of the Council of Europe, which, let me point out once again, proclaims the mandatory equality of all delegations in all structures of the Council of Europe.
Therefore, we will propose that the Committee of Ministers of the Council of Europe pass a resolution confirming the indisputability of this statutory provision – this is its function. If that decision is blocked, it will be a deliberate step by those, who, in their anti-Russia fervour, simply want to "bury" Europe.
Please note that since our MPs were stripped of the right to vote, the Parliamentary Assembly has already elected, if I am not mistaken, 24 judges to the European Court of Human Rights. And the total number is 47. So, the majority of judges in the European Court are judges elected in the absence of the Russian votes.
Similarly, a new High Commissioner for Human Rights was elected without the Russian MPs. Next June, a new secretary general of the Council of Europe will be elected. So, due to the suspension of our right, which is granted to us by the Statute of the Council of Europe, to participate in these votes, the above functionaries of the Council of Europe (the judges, the commissioner for human rights and soon, if this issue persists, the secretary general) will, in fact, not be legitimate for us. Therefore, I do hope that all our partners, including and in the first place those who made this mess, who decided to punish the deputies chosen freely by the will of the people who are residents of Crimea – that they have become aware of the seriousness of the situation and the responsibility that they are taking upon themselves.  
Question: Thorbjorn Jagland said they would make the budget without Russia's funds. Our Russian MPs say that one of the options is leaving the Council of Europe. Is Russia considering this possibility?
Sergey Lavrov
: Thorbjorn Jagland has no other option than to create the budget using the current funding under circumstances where we are not paying our share. We, again, recently stated that as soon as our rights are restored we will pay our dues to the Council of Europe in full. The European Court of Human Rights has been largely formed without our participation, so its legitimacy for Russia is rather dubious, just like the legitimacy of the Commissioner for Human Rights. I have heard the Russian parliamentarians' statements to the effect that if this outrage continues, the Council of Europe will be signing its own death warrant. I do not think that Russia's participation in Council of Europe is more important for Russia than for the European countries. This is my firm conviction. We joined the Council of Europe on the principle that it provides for a pan-European, universal legal and humanitarian space. I am sure that those who have dealt a blow to this space through illegitimate actions that violate the Statute and seek to deprive the Russian delegation of their equal rights, they know what they are signing up for. If they want to push Russia out of the Council of Europe, we won't give them the pleasure; we will leave the organisation ourselves. Let those in the majority, who are aware of the provocative nature of this plan initiated by a small but loud group of countries, work within this group. It is unacceptable to ruin a pan-European organisation to satisfy the ambitions of certain politicians in some European capitals. Everyone is aware of this. I hope that most sensible people will be brave enough to prevent this from happening.
Question: Is Russia doing anything to prove to the West that we are reliable and can be trusted after what has happened to the Skripals and all those hacking attack charges?
Sergey Lavrov: Our Western colleagues are priding themselves on having built a rule-of-law state in their countries; rule of law and the rules-based order are allegedly what the historical West has created as well as what all others should accept and reproduce, including the judicial system. There is English law and there is Roman law, but in both cases for someone to start proving his innocence he should hear the concrete charges. We have not been presented with such charges. We are baselessly being convinced that we have "highly likely" done something unlawful in Salisbury, then in Amesbury, and later we did something unlawful in Catalonia. Allegedly, we have meddled in all these matters. They are also accusing us of having played our sad role in Brexit and of many other sins. But not one single concrete charge has been presented.
Unlike our partners, we did build a rule-of-law state, because we hold sacred our international legal commitments and hope that all others will do the same. We have advised the British Government dozens of times, in keeping with conventions existing in our bilateral relations (the Council of Europe conventions, incidentally), of the need to utilise the mechanism for mutual assistance in criminal cases. After numerous reminders on our part, they replied officially that the British Government could not do that out of national security considerations. As is clear to everyone, this reply lacks substance and is disrespectful of the British legal system, among others. Therefore, as soon as we are presented with concrete facts, we will be ready to sit down and talk. The same goes for allegations that we have meddled in the US elections. Moreover, in both cases, we have long been suggesting – even before Donald Trump was elected president and before the Salisbury incident – that we should start concrete work on cybersecurity, where professionals, first of all, will exchange their concerns and respond to these mutual concerns, and, secondly, devise certain universal rules that will make it possible to rule out or dramatically reduce the abuse of cyberspace, which is used by terrorists, criminals, drug addicts, pedophiles, and many other people, who must be restrained in every possible way. In response, we hear only that Russia should mend its ways, if it wants to be talked to. This is neither serious nor the way adults behave.
Unlike our accusers, we ask some very concrete questions: there is a convention on legal assistance, let us use it; there is the Chemical Weapons Convention, which says that if a state party has questions to ask another state party, the country that has conceived a question must put this question directly in a bilateral format to the country, to which this question is addressed. Nothing of the kind has been done.
Yet another utterly concrete question, which we have been asking for too long now and which is shameful to ignore for much longer, is: where are Yulia and Sergey Skripal? If the evidence we have been presented with includes just the corpses of a cat, a hamster, and a poor, unstably housed woman, as well as a scent-bottle, it all looks grotesque. I don't want to belittle the seriousness of cases involving the use of chemical substances, but if someone wants to gamble on this and put up a show to amuse the public and rally the European community against the Russian Federation, then this is shameful. If someone is seriously concerned about these problems, there is no need to tell the untruth. You should prove your accusations with facts, including by presenting to the public Sergey Skripal and his daughter Yulia. While Sergey has British nationality apart from Russian citizenship, Yulia is just a citizen of Russia. She appeared on television just once, uttered a clearly filmed monologue, and added that she wanted to return back to Russia. No one has seen her since then. Her relative, Viktoria, has failed to obtain a visa. She was harassed at the British Embassy in Moscow, where they repeatedly urged her to change the documents, rewrite the questionnaires or bring new photographs. In the end she was left without a visa. There are many other factors preventing relatives of these people from contacting them. So, we are in favour of legal solutions to any problems. The rabid accusation in the spirit of "highly likely" or "we don't see any other plausible explanation" are just not serious.
To be continued... 
mid.ru