MFA Russia News
All Tags
Archive material
Foreign Minister Sergey Lavrov's remarks at the groundbreaking ceremony for the Russian cultural centre and an Orthodox church in the Republic of Singapore, Singapore, November 13, 2018
14-11-2018, 12:33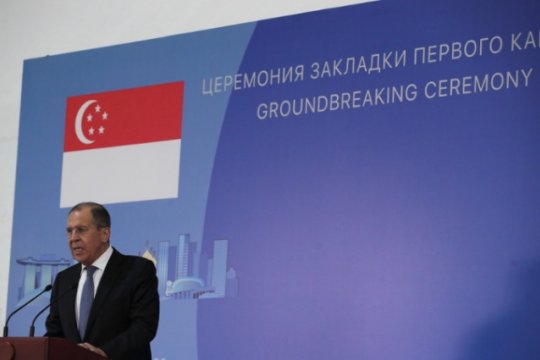 Madam President,
Mr Putin,
Allow me to thank you for your participation in the groundbreaking ceremony for the Russian cultural centre and an Orthodox church. I would also like to express sincere gratitude to the leaders of Singapore for their decision to allocate a site for the construction of this complex in the very centre of your wonderful city.
This year we celebrate the 50th anniversary of diplomatic relations between our countries. During the past half a century, Russia and Singapore have become much closer despite the distance between us. We have amassed unique experience of cooperation in different areas and determined the ways of its further development.
Constructive political dialogue at the top level and regular contacts between the parliaments, ministries and civil society representatives have made it possible to create a firm foundation for expanding the entire range of our ties: from trade and investment to science and education. I would like to emphasise the consistent consolidation of our high-tech cooperation.
Cooperation between our foreign ministries is also making steady headway. We appreciate Singapore's constructive role in developing relations between Russia and the Association of Southeast Asian Nations (ASEAN). Symbolically, the declaration announcing Russia-ASEAN strategic partnership will be approved tomorrow under the Chairmanship of Singapore. Major new agreements have been drafted for the state visit of President of Russia Vladimir Putin, which started today.
We are seeing the growing interest of the Singaporean people in Russia's history and culture. The Russian diaspora in Singapore, which already consists of several thousand people, is playing a tangible role in developing personal contacts. We are happy to welcome its representatives here today. The construction of the cultural and religious complex in Singapore is bound to promote humanitarian ties between our nations.
We hope that the future complex will become a hospitable Russia House for all those who are interested in the history and current life of the homeland of Leo Tolstoy, Pyotr Tchaikovsky and Yury Gagarin. It will become yet another major place of interest of this versatile city.
mid.ru