MFA Russia News
All Tags
Archive material
Interview with Minister of Foreign Affairs of the Russian Federation Sergey Lavrov for the show, Moscow. Kremlin. Putin, Moscow, December 30, 2018
11-01-2019, 12:50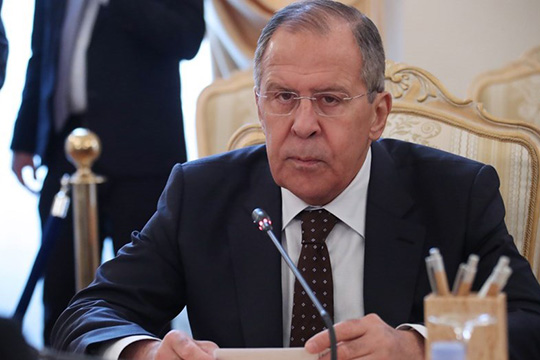 Question: What is the main outcome of the year for you?
Sergey Lavrov: It is difficult to highlight something specific. If we speak about foreign policy, I cannot make an evaluation myself. We have tried to do everything that is necessary in order to fulfill the instructions of President of the Russian Federation Vladimir Putin, to implement the foreign political course set by him. It is not for me to judge how successful we were. This should be left to the people to decide, of course, and to the leadership of the Russian Federation.
Probably there is no need to mention that this was a difficult year. As well as the fact that Russia is under constant pressing by those who consider it a rival for some leading position in world politics. We see an example of this in the actions of the United States. They speak openly about the need to suppress Russia and China. They do not like Iran or North Korea either.
Unfortunately, our European colleagues, whose independence we would like to see in their practical actions, are not too ready for this and follow the USA even in those cases when it contradicts their interests. Let me give an example: voting regarding the Russian resolution in support of preservation of the Intermediate-Range Nuclear Forces Treaty (INF Treaty). We heard most concerns about the United States' decision to unilaterally withdraw from the treaty in Europe. But the entire European Union voted against our proposal, so that the INF Treaty would in fact cease to exist, and that US missiles, prohibited in accordance with the Treaty, would be deployed and this would threaten Europe once again.  The next step, of course, will be counter measures by the Russian Federation. This is not our choice but they must understand in the EU capitals the threat this poses to the Europeans themselves. This is why it is impossible to explain their voting against our proposal by anything but misunderstood solidarity. This is just one of examples. It is the last of the expiring year's events, but a very demonstrative one.
Question: Do you believe there will be useful, full-format talks held with US President Donald Trump next year, which would lead to specific results?
Sergey Lavrov: This question needs to be addressed to Washington. Our President and his representatives have declared many times that we are ready for such talks as soon as Washington will be ready for them, of course, on the basis of equal rights, mutual understanding and the mutual consideration of both countries' interests.
We understand how foreign policy in relation to Russia in America has been taken hostage by their internal political struggle. It is already considered beneficial there to compete against each other as to who will lash out against Russia more in order to win additional electors' votes. We cannot do anything about this, but as always we are ready for an equitable dialogue with any country, including the United States of America.
mid.ru