: : Social network : :
: : News MFA : :
: : All Tags : :
: : Archive material : :
Working in the Flame
31-03-2016, 13:24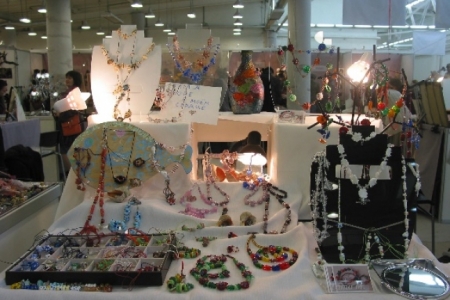 Good afternoon, dear readers!
My name is Mkhitaryan Tatyana or Tata M. (it's my pseudonym). I am engaged in a lampwork, ( in other words, flame work and bead making). This art of fusing beads out of glass in an open fire has come from ancient times. Presently beads are made by putting hot glass into various shapes in the propane-oxygen flame. Later on they are tempered in a muffle furnace for endurance. Such glass jewelry, made by lampwork, is also known as Murano, Italian and Venetian glass.
After getting academic education as economist-statistician, for many years I worked as statistician in the USSR State Committee of Statistics, afterwards in the ACNielsen marketing company and as head of department in Romir Panel. Probably, I've inherited the genes of my grandfather Boris Vitollo, professional artist, so in parallel with my official work, for many years I was engaged in painting Khokhloma items, decorating, stained glass painting and other types of applied arts. My stained glass paintings were even sold in galleries to private customers in Russia and abroad.
Photo 1. Set "Galaxy for two"
Five years ago I learnt of a website where creative people could exhibit their works for sale, and I opened my own shop there. Looking through works by other masters, I saw fantastic beads – glass aquariums, found out that this beauty was lampwork and started the way of embodying my dream - to master this art. I began to attend master classes of Russian and Italian leading lampwork artists, sandwiching training with individual work before a lamp.
Photo 2. Near the lamp in a Art Lampwork studio.
Apart from fusing beads I wanted to design and produce ready-to-wear pieces of jewelry, and the first ones , made by me in 2012, were the bracelets and bead necklaces, I presented to my cousin Katya when visiting her just outside Portland (USA).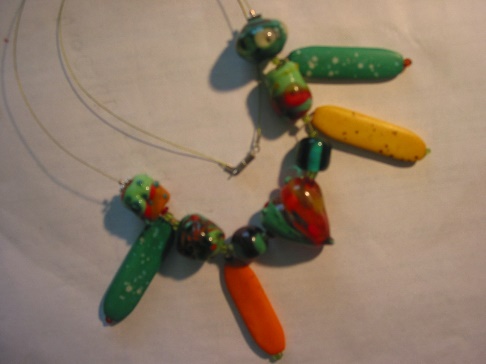 Photo 3.
In 2013 I decided to participate in the first international exhibition "Flame Creations", making bold to exhibit at a high level in one go. In order to be able to participate in the competition of collections at that exhibition, I designed my first collection of jewelry "The Sea in My Heart" which I am proud of till now, though it might sound immodest.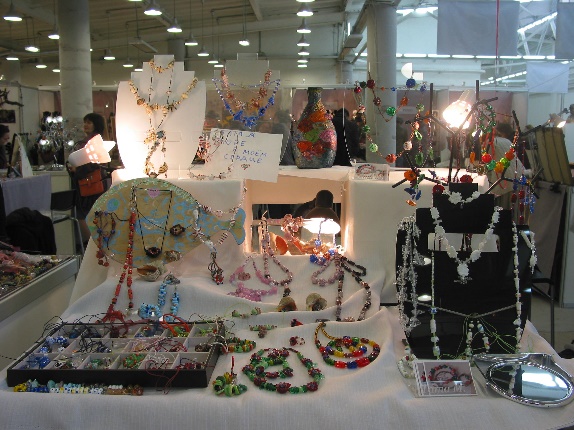 Photo 4. My stand at "Flame Creations", October 2013.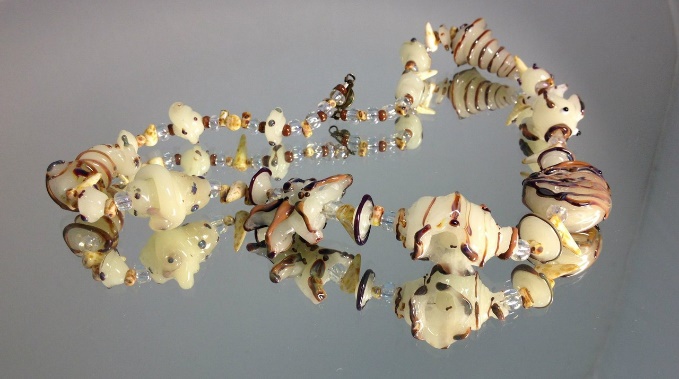 Photo 5. A necklace from "The Sea in My Heart" collection.
Hereafter I worked much, making my favourite glass items, took part in various exhibitions, such as: "Rayskiye Yabloki", "Formula Rukodeliya", "Gifts" in Gostiny dvor, "Flame Creations" (spring and autumn of 2014), "GLASS'N'FIRE ART EXPO" 2015 and others. At these exhibitions for the first time I made a shot at teaching classes "My first bead".
Besides Murano and silver-containing glass jewelry, some time ago I was glad to begin designing jewelry out of leather (bracelets Regaliz), threading my glass beads in them.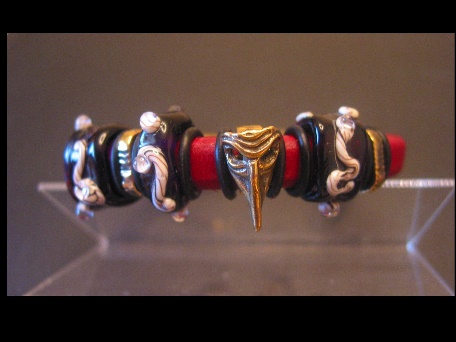 Photo 6. Bracelet Regaliz "Mask of Venice".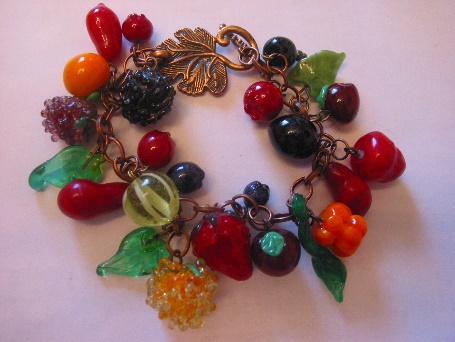 Photo 7. Bracelet "Berry Turmoil".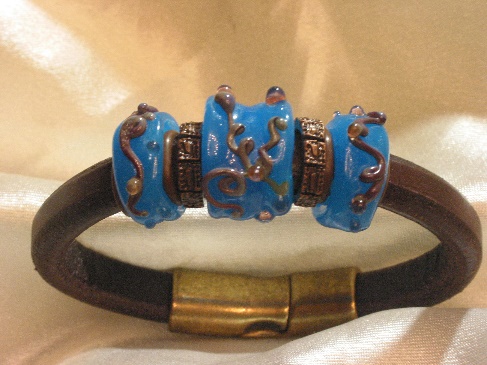 Photo 8. Bracelet Regaliz "Elf Wood".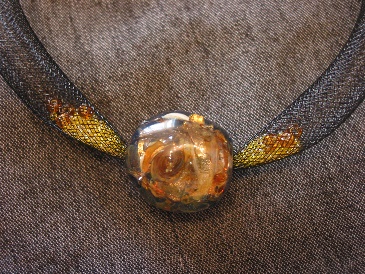 Photo 9. "Golden Galaxy" necklace.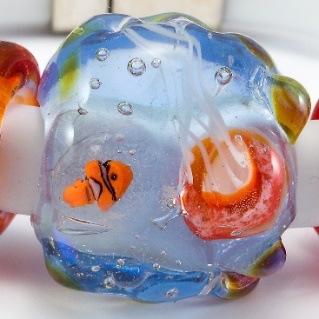 Photo 10. Bracelet Regaliz "Aquarium".
Photo 11. "Green Spheres" necklace.
I also like to participate in competitions, preparations for which inspire my imagination.
At "GLASS'N'FIRE ART EXPO" 2015 my wedding set won the People's Choice Award.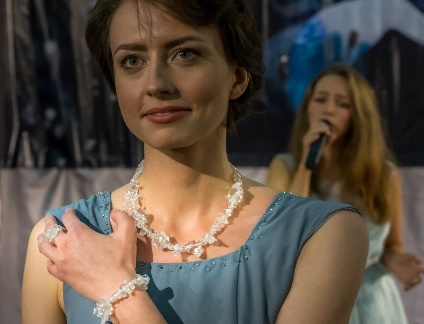 Photo 12.
In spring, 2015 I designed several large figures of animals as friends for tea ceremonies and brought them to a tea club of my acquaintances. Pavel gave me a tour along a very interesting building, called Art Space "Opticheskiy Tsekh" on which territory at present there are located various artistic studios. Thus I met organizers of the Jewelers' Studio "Rostock", who, after a while, have proposed me to teach lampwork at their place. I was very glad to get this opportunity, because I had already been considering the idea to share my knowledge and skills in this beautiful art with others.
And for me there began a period of drawing up plans of courses, purchasing necessary tools and equipment to open the training courses at the "Rostock". And since that fall I started training the persons interested in getting deeply engrossed in the bright and exciting world of fire and glass. Once again I realized that to train other people was not less interesting, than to work by myself. I derive much pleasure, when people learn of this new type of creative work and rejoice at the made-by-them beads (which they carry away) and at the process of glasswork!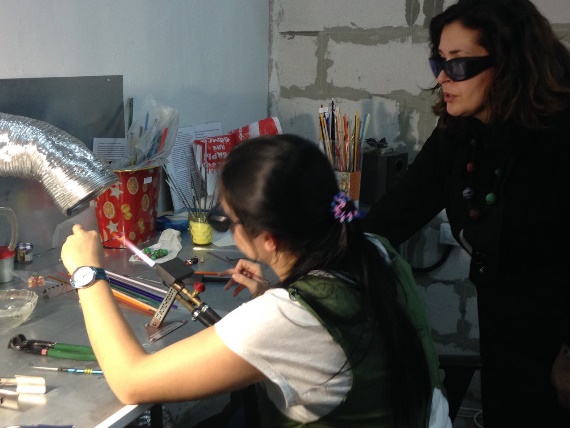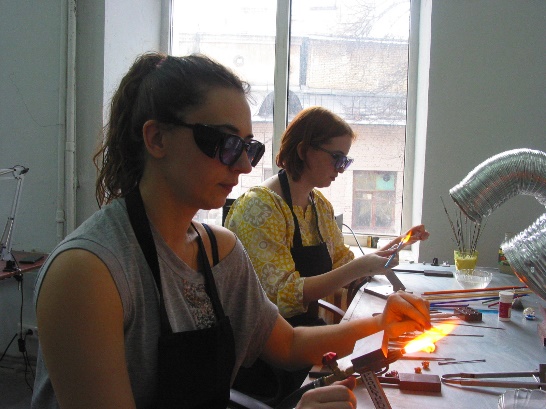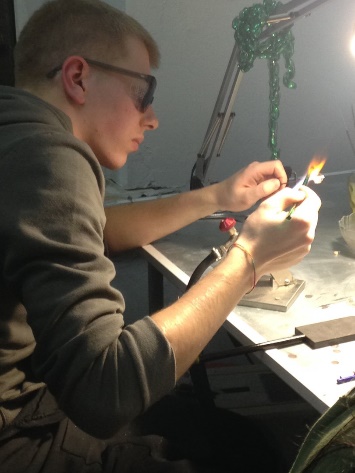 Photo 11-13. In a class room.
Still participating in exhibitions, I showed the interested persons a photo of my workplace with a luminous fire and spread-out multi-colored sticks of Murano glass because I wanted everyone knew what it was "lampwork"! I plan to present this photo at the future exhibition "GLASS'N'FIRE ART EXPO" in October 2016. And in its lead-up some ideas of a new collection are already crossing my mind.
I invite you to my master classes in the center of Moscow. The courses differ by:
· duration (from 2 to 6 hours one master class);
· topics ("My First Bead", "Introduction to lampwork", "Aquarium", "A Hollow Bead on a Mandrel", "Assembly and Design of Jewelry"…);
· complexity level (for beginners or for ones, already working with flame).
But, whatever you choose, I am sure, it will be great!
If you want to get trained in a group, for example, to carry out corporate training, each person of such a group will have an opportunity to make his own bead.
You can learn more details and register for any course by phone: +7 (903) 730 37 81.
The studio is located at the following address: Moscow, Shelaputinsky Lane, 6, Bld. 3,near underground stations "Marxistkaya" and "Taganskaya" (circular).
One can see my works at: http://www.livemaster.ru/tatam?view=profile