MFA Russia News
All Tags
Archive material
Crossroads or a dead end: do Germany and Europe face a triumph of indecision?
9-12-2019, 11:58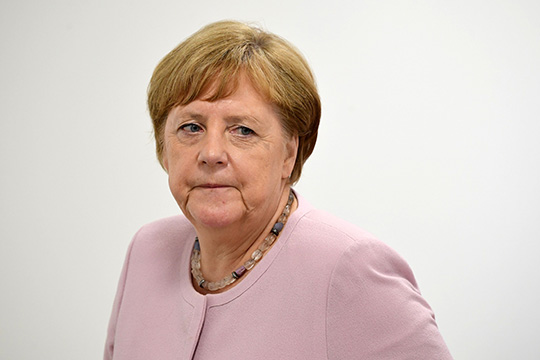 In late November, German Chancellor Angela Merkel made a number of rather controversial statements. On November 26, Germany, together with France, issued a brief "road map" for EU reform. Within the next two ears this plan is to be discussed by the "Conference on the Future of Europe," tasked with working out proposals and drawing up a strategy for "structural reforms" aimed at making the European Union "more united and sovereign." Until recently, analysts interpreted such a tonality in European documents as the leading European countries' readiness for a future, if not without NATO, then alongside it nonetheless. In early November, French President Emmanuel Macron described NATO as being "brain dead," and urged Europe to reassess its foreign policy, including its relations with Russia. However, in her November 27 address to the Bundestag, Angela Merkel said that the EU would not be able to protect itself without NATO and, therefore, should work to keep the alliance in place. Merkel is known for her political pragmatism, but will it be enough to smooth out the growing contradictions regarding the future of the European Union?
It was none other than Angela Markel who, at the close of the May 2017 NATO summit, the first one attended by President Donald Trump, said that Europe could no longer rely on the United States. Since then, she has repeatedly voiced the Europeans' fears that since the end of the Cold War, America's geopolitical interests in Europe have consistently been undermining Europe's global competitiveness. Many representatives of the European and even American in the Atlantic establishment have even discussed the possibility of nominating the German chancellor as an alternative leader of the Western civilization to the increasingly isolationist America. This has made Germany the main target of strong criticism by Washington and accusations of sabotaging NATO's decision to increase the country's defense outlays to 2 percent of GDP by 2024, thus setting a bad example for other EU countries.
At the same time, Merkel has always been well aware of Germany's inability to act as a world leader all by itself. As a result, continued European integration remains a major political priority for Berlin.
Until recently, Berlin's strategy was clearly aimed at strengthening the EU's global role. What is also clear, however, is that US non-participation would effectively deprive NATO of its combat capability, because in terms of security Europe is almost completely dependent on America. This, in turn, objectively undermines any attempts to strengthen the EU's independence even in matters pertaining to the European continent, let alone the world. Over the course of the past two years, the task of strengthening the "sovereignty of Europe" has been topmost on the minds of the EU leaders, with Germany being a prominent advocate of the idea of an "independent and strong Europe," including in matters of security and defense. Indeed, it was Germany, in tandem with France, which, a year ago, pitched the idea of creating a full-fledged EU army.
In her "impassionate speech in defense of NATO" Angela Merkel emphasized that "NATO is more vital now, more even than during the Cold War." [i]
Merkel's demonstrative return to the rhetoric of transatlantic unity could also be a tactical ploy now that the US Congress continues to threaten sanctions against companies building the strategic Nord Stream 2 gas pipeline. While the December 3-4 NATO summit in London was officially held to mark the 70th anniversary of the organization, many Western commentators still predicted a "tense" meeting, primarily because of Donald Trump's well-known criticism of the military alliance, and, above all, of many of its European members. Meanwhile, the influential US publication Foreign Affairs does not rule out the possibility of Trump being removed from office already before this year is out. [ii] In this context, public support for NATO comes as a confirmation of the bloc's commitment to the strategic ties traditionally existing between Europe and America, which are still popular among the Washington establishment. Finally, such a show of firmness could have been just another tactical move by Berlin in the run-up to the December 9 "Normandy Four" meeting in Paris.
At the same time, Merkel's increasingly controversial position on EU-NATO relations may also be dictated by strategic reasons.
 First, there is a growing sense of general uncertainty in Germany, whose economy has barely avoided falling into recession and showed a 3rd quarter growth of just a measly 0.1 percent. It looks like the economic boom of the past few years is now over. Second, Germany remains caught between an objective need to pursue a more "more thorough" defense policy [iii] - so that it is "taken seriously" both in Europe and the world - and fears that any dramatic military buildup could only stoke up fears of a revival of the "German diktat." Without openly disputing Emmanuel Macron's idea that Europeans need to regain their "military sovereignty," Angela Merkel demonstrates either duality or indecision: just a few days ago, she promised to increase the country's defense spending to 2 percent of GDP, which Trump insists on, but not before the start of the 2030s, by which time her term in office will have long expired.
Third, Germany's domestic political prospects are getting increasingly dim as Merkel's CDU party is losing voters in local elections to other parties, including the "far-right" "Alternative for Germany." There is growing discontent within the CDU, including its senior members, who are blaming Merkel for the loss of the party's ideological "face," all of which undermines the Christian Democrats' popularity among German voters. There is a struggle currently going on for leadership both in the CDU and at the very top of the country's political hierarchy. Finally, the media is raising alarm about Germany's "foreign policy paralysis." And this at a time when the country is facing a mounting wave of foreign policy challenges and, according to Die Zeit, "can no longer shy away from defending its own interests." Thus, "expectations of a change of power" within the country coincide with a period of "foreign policy transition when the longtime orientation to America has exhausted itself and a new one is not foreseen." Merkel's critics say that, stunned by the situation of a "double political transition," Merkel "is no longer able and, obviously, does not want to take the initiative." [iv]
The political "stupor" that Berlin has found itself in is negatively reflecting on the European Union, where no reforms are possible without German endorsement. The situation is aggravated by the inevitable "return of geopolitics" to the EU agenda. Many in Europe fear that Brexit could deprive the EU of its "strategic weight," with the European Commission's new head, Ursula von der Leyen, saying that Europe needs to learn to speak the "language of power," and describing the Commission's present lineup as "geopolitical." It looks like maintaining "political unity" is topmost on the EU's mind. The new European Commission has yet to show how far it is prepared to go in an effort to fend off attacks by "populists" in a number of its member states, and counter the general tendency for the fragmentation of the Union. More recently, Emmanuel Macron confirmed EU fears about his claims to supremacy in the community by almost single-handedly blocking negotiations on the start of a new expansion phase, much to the chagrin of many German politicians. This could seriously complicate the distribution of roles both in the "European tandem" and in the EU as a whole.
In mid-November, The Economist outlined his vision of the two most likely scenarios of the future European Union.
In the first, mildly positive, one the EU muddles its way towards a multi-tier structure in which overlapping and concentric circles of states can better co-operate. Different "coalitions of the willing" within the EU emerge to do different things. Militarily adventurous states like France and Italy complement NATO with midsized interventions close to Europe. By the 2030s, Europe emerges as a more hard-nosed figure, with a patchwork of shared interests. Though not comparable in military or technological power to America or China, it is a relevant broker between them, The Economist writes.
In the second, more negative, scenario the EU's relative decline is sharper. Anemic growth sidelines long-term geopolitical and industrial considerations at the expense of short-term fixes and narrow national advantage-seeking. Outside challenges turns states inward and against each other. The EU enters the 2030s in one piece, but divided and less relevant, its high relative living standards fraying as Europe falls behind economic rivals and its population ages and shrinks, The Economist concludes. What is common in both these scenarios is the factor of European division over interests that need to be defended, and also the strategy and resources that need to be utilized, as well as the increasingly difficult task of reaching a consensus on shared goals. [v]
Relations between Europe and Russia offer a good example of a crisis of goals and interests. According to some experts, even in NATO "all members, except Poland and the Baltic countries, see no signs of Moscow planning an offensive." [vi] Besides, it was certainly not Russia, who initiated the scrapping of the INF Treaty, which had for decades benefited the Europeans, even more than it did others. On the eve of the NATO summit, the British media proposed an alliance to "build bridges" with the largest eastern neighbor. [vii] Paradoxically, a trade and economic union, which is exactly what the European Union happens to be, still sticks to the Cold War logic. The fact that "the situation is more complicated" is better understood in Paris. As for Berlin, it seems that it would like to see Europe "tormenting itself" over a dilemma, which is as far-fetched as it is intractable. What is more important for the EU - to avoid "undermining NATO"? Moreover, America's pivot to Asia began already before Trump, and in the long haul "appears irreversible." [viii] Or maintain its status as a subject of global politics? Right now, they view Germany as a threat, someone whose activity or passivity could potentially lead to equally unfavorable results, at least for the pan-European project. And they prefer not to hear those calling for an expansion of the pan-European dialogue.
Europe finds itself in a situation of either stalemate or zugzwang. A potentially stronger EU objectively threatens the future of NATO. Conversely, attempts to reformat, revive NATO could undermine the prospects of making the EU more independent. Meanwhile, critics accuse Merkel and her government of preferring not to deal with issues "where there is no consensus" in order to avoid "disagreement." Germany would have to choose "between the US and France." In the present context, this means a choice between America and Europe. It seems that, sooner, rather than later, such a choice will become practically inevitable both for Berlin and for the European Union as a whole.
The views of the author may not necessarily reflect the position of the Editorial Board.
--------------------------------------------------------------------------------
[i] https://inosmi.ru/politic/20191128/246330275.html
[ii] https://www.foreignaffairs.com/articles/2019-11-25/foreign-affairs-has-always-been-heart-impeachment
[iii] In late November, Der Spiegel obtained documents, indicating that "the Bundeswehr remains plagued with serious operational deficiencies in virtually all of its weapons systems" - https://www.inopressa.ru/article/20Nov2019/spiegel/bundeswehr.html
[iv] https://www.inopressa.ru/article/14Nov2019/zeit/deutschland.html
[v] https://www.inopressa.ru/article/26Nov2019/atlantico/weapins.html
[vi] https://www.inopressa.ru/article/26Oct2018/welt/trident.html
[vii] https://www.inopressa.ru/article/02Dec2019/independent/buildbridges.html
[viii] https://www.inopressa.ru/article/02Dec2019/lacroix/nato.html
[ix] https://www.inopressa.ru/article/14Nov2019/zeit/deutschland.html