MFA Russia News
All Tags
Archive material
Russian-Indian talks
11-12-2014, 16:22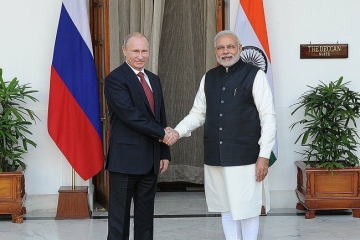 Vladimir Putin had a meeting with Prime Minister of India Narendra Modi in New Delhi. Later, the talks continued in expanded format.
Following the talks, a Joint Statement Druzhba-Dosti: A Vision for Strengthening the Indian-Russian Partnership over the Next Decade was issued. Also, a package of intergovernmental and interdepartmental documents was signed on the sidelines of the visit, including on cooperation in the energy, medicine, investment and humanitarian areas.
Vladimir Putin and Narendra Modi also made statements for the press.
See also:
Joint Statement Druzhba-Dosti: A Vision for strengthening the Indian-Russian Partnership over the next decade
Press statement following Russian-Indian talks