: : Social network : :
: : News MFA : :
: : All Tags : :
: : Archive material : :
Russia and Germany: Common History Never Ends
6-05-2009, 17:57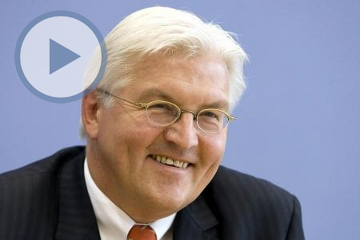 top: 0px; width: 1px; height: 1px; overflow-x: hidden; overflow-y: hidden;">Further efforts to cut weapons should aim at the complete elimination of sub-strategic nuclear weapons as a remnant of the cold war. From the military point of view, these weapons have outlived its usefulness. Isn´t it high time for giving a fresh impetus to the conventional weapons control process? We - Europeans, Russians and Americans - need to once again discuss all these subjects with greater intensity.
Frank-Walter Steinmeier,Vice-Chancellor, Minister of Foreign Affairs, Federal Republic of GermanyGERMAN-RUSSIAN RELATIONS have for centuries been those of close asso­ciation, even a symbiotic relationship extending far beyond family relations between the ruling houses. There were, however, periods of coolness and com­plete ruptures.I remember well the brilliant exhibition in the Martin-Gropius-Bau in Berlin last spring entitled "Power and Friendship: Berlin-St. Petersburg 1800-1860." It featured the sometimes forgotten era of the flowering of German-Russian con­tacts in culture. I should only mention the names like Alexander von Humboldt, Vasily Zhukovsky or architects Karl-Friedrich Schinkel and Vasily Stasov. I will never forget the discovery I made last year in Yekaterinburg: a post office built in the Bauhaus style! This attests to the fact that fruitful cooperation also existed across the Urals.Moscow, 10 June 2009 also existed across the Urals.The first president of the Russian Academy of Sciences at St. Petersburg Laurentius (Lavrenty) Blumentrost, a German born in Russia, embodied this close exchange.Many scientists from Germany as far back as the early 18th century accept­ed invitations to do scientific research and teach in Russia. They contributed to implementing the plans of Peter the Great: to modernize Russia and open it up to Europe. It is they who aroused in Germans interest in Russia and its great cul­ture.For me, German-Russian relations in scientific research are an example of cooperation in many other areas. Pooling their creative forces, Germany and Russia, as well as entire Europe, benefit from it.Whether we want it or not, spiritual and cultural ties continue to be influ­enced by political relations. This is why, to quote from Gerd Koenen´s book "Der Russland-Komplex," we must move by degrees from fear to admiration, from the phobic resistance to keen attention.
We can be confident today that the times of mutual transformation and demonizing are over once and for all. We have learned lessons from history. We know of many things that bring us together. And we frankly discuss the questions on which we are to agree yet. Above all, we realize that we can´t afford not to use the potential of close German-Russian cooperation.Russia and Germany do face the same vital questions. We share the respon­sibility for security and stability in Europe and Asia and, increasingly, for the protection of the environment, energy security and regulation of financial mar­kets.
In these matters, Russia is an indispensable partner for Germany and the EU. But we also can offer to Russia something, namely participation and support on the road to both political and economic modernization.Therefore, I proposed to President Medvedev one year ago German-Russian partnership in modernization. We are keen to expand cooperation in promising strategic areas. They include science and education, environment, power, public health, demography, and logistics, as well as broader cooperation in matters of justice and a rule-of-law state.Our modernization partnership has begun to bear fruit thanks also to active work of the Petersburg Dialogue. Many projects have been either launched or are in the planning stage. We are currently working on arrangements for a German Science and Innovation House, a center in Moscow where Russian and German scientists could meet. This project is expected to bring together many German science organizations.Gathered here today are representatives of science and economy who partic­ipate in the project. My heartfelt thanks are due to the German Academic Exchange Service which supervises the project, the Alexander von Humboldt Foundation, Fraunhofer Society and German Research Foundation. I would like to thank our Russian partners, in particular my Russian counterpart Sergei Lavrov, for their backing of the project.We have scored initial successes in environmental protection and energy. With the aid of our Russian partners and the German Energy Agency (DENA) we will establish a Russian-German Energy Agency (RUDENA) for the efficient use of energy and innova­tions in the sphere of municipal energy supply. These examples show that the German-Russian modernization agenda is very big.I would stress that my idea of our partnership implies more that bilateral cooperation. I see our cooperation in the promising important areas as a contri­bution to the architecture of joint responsibility between Russia, Germany and the EU. We are obliged to bear together the responsibility for peace and stabili­ty in Europe.There are good chances for a new high in international security policy. Now that President Obama is in office, there is a chance for fresh cooperation between the USA, EU and Russia. The specter of a new cold has been banished. President Obama bets, in relations with Russia, on "resetting." He is determined to make shared interests and cooperation with Russia one of the priorities. His desire for cooperation should not run into indecision or seeking tactical benefits.
This is why I´m calling on our partners here in Moscow, and all who value international security: let us together avail ourselves of this unique historic chance. Let us work together on a new partnership for security and stability from Vancouver to Vladivostok and everywhere else in the world.The going in this area proved harder than we expected in 1989-1990. The reverting to the old patterns of thinking, to the rhetoric of dissociation and, in particular, the war in Georgia last summer, showed that we are still far away from the objective of a long-term peaceful order in Europe and in other parts of the world. It would be all the more appropriate to say: Let´s take advantage of the current desire for change in relations between the USA, EU and Russia in order to establish new confidence in the name of the common secure future over the Euro-Atlantic space.I propose the taking of first concrete steps in four areas.First is a new confidence through resolute steps in nuclear disarmament and cuts in conventional weapons and through renewing the strategic dialogue. 2009 should become a year where international disarmament efforts are at the top ofour agenda. President Obama and President Medvedev agreed to conduct talks and sign, before December 2009, a new treaty to replace the expiring START I treaty. This is an important step along the road to a world without nuclear arms.The Global Zero is no playing field for utopianists: it already involves in equal measure the seasoned diplomats of the USA and distinguished German or Polish policymakers.Further efforts to cut weapons should aim at the complete elimination of sub-strategic nuclear weapons as a remnant of the cold war. From the military point of view, these weapons have outlived its usefulness. Isn´t it high time for giving a fresh impetus to the conventional weapons control process? We - Europeans, Russians and Americans - need to once again discuss all these subjects with greater intensity.Second is a new confidence through cooperation in resolving territorial con­flicts in the Dniester Republic, Nagorno Karabakh, Abkhazia, and South Ossetia.I say absolutely firmly: there is no place for unresolved territorial conflicts in a 21st century Europe. We need progress in resolving the above conflicts. And this specifically means: we need Russia´s constructive position.This especially applies to Georgia. I am very sorry that the efforts for extend­ing the presence of OSCE in South Ossetia have not been successful so far. It is all the more important now to achieve progress in the Security Council talks regarding the UN presence in Georgia and Abkhazia.Third, we should see to it that the subject of energy security should no longer divide us, but it should instead bring us to the same table.We all do remember that there was no winner in the energy crisis between Russia and Ukraine at the start of the year. Serious doubts as to the reliability of Russia as supplier of fuel, or the reliability of Ukraine as transit country, are not in the interests of either Russia or Ukraine.If we come to regard energy security as what we - consumers, transit coun­tries and energy producers - all want, our energy-related relations will begin to move towards wider cooperation.Our objective is to set up genuine European and global "energy manage­ment" in order to defuse potential disputes and conflicts, create investment secu­rity and define binding legal boundaries while continuing to adhere to the Energy Charter.
Fourth, we should also create a climate of confidence among our common neighbors while cooperating closely and in the spirit of partnership.We should leave behind the obsolete stereotypes of the 20th century and even the 19th century. Today´s globalized and multi-polar world united by many ties leaves no place for thinking in terms of competing for "spheres of influence." Quite the contrary, it is in our common interest to direct our efforts to building a better life for people all over Europe. It is all in our hands. If we go and block each other in these fields, we would only lose. If we go and work together, we stand to gain much.
This is why I say: "Let us create new confidence together." I do realize it impossible to build confidence on someone´s orders; it is supposed to grow grad­ually. It is especially important in areas where shadows of the past are still haunt­ing us. The fatal history of the 20th century is still lingering in the minds of many people, especially among our common neighbors.I know that cooperation of Russia with Poland, the Baltic States and even with Ukraine is linked with historical experience which continues to cause pain. And this national memory is still important in Europe of the 21st century.But there too, politics can play its own part. We ought to inject some impe­tus to overcome the unfavorable national memories. No matter how painful this may be, we should start talking about all these things.With reference to the 70th anniversary of the Stalin-Hitler pact and the start of the Second World War, I introduced an initiative for an international confer­ence of historians. This conference took place in Warsaw two weeks ago. It resulted in an open dialogue between historians from Germany, Poland, Russia, the Baltic States, and other countries on the causes of the Second World War. I think this is an encouraging signal. This exchange of views ought to continue. Because we need both to remember what divided us for a long time and under­stand our shared responsibility for the future, responsibility for peace, democra­cy and culture of freedom, for respecting the rights of man and civil rights, for the desire of social justice.
2009 is a year of many historic anniversaries: 80 years of the New York Stock Exchange crash, 70 years of the start of the Second World War, 20 years of the fall of the Berlin Wall. The list goes on.Despite some views, history did not end with the end of the Cold War.Thus, 2009 will be a memorable year in human history. But what is it going to be remembered for? The crisis? The change of eras? A new beginning? I will say this: It all depends on us! And one more thing. If we make the right decisions now, 2009 can, and I would even say should, become a year of recovery, despite the economic and financial crisis."The Taming of Financial Markets," "Breakthrough in Disarmament," "Work on European Security Architecture," "New Confidence between East and West," "Joint Successes in Modernizing our Societies" are the headlines I would like to see in the history textbooks of the future.Let us work together to make sure that these books be actually written!