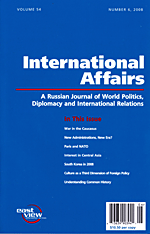 Founded in 1922 as a weekly of the USSR People's Commissariat for Foreign Affairs and re-established as a monthly edition in 1954, International Affairs is a journal of Russia's Foreign Ministry covering a broad range of subjects in international politics, diplomacy, and global security. Today's International Affairs is among the world's key forums for discussions of international policy issues. The Russian Federation Minister of Foreign Affairs S.V. Lavrov presides over the International Affairs council. A.G. Oganesyan, international politics commentator and adviser to the Russian Federation Foreign Minister, is the journal's editor-in-chief.
International Affairs offers a round-up and competent analysis of Russia's and the world's most pressing political and economic problems. Extensive connections within Russia's Foreign Ministry reinforce the journal's ability to serve as a credible and well-informed source of information. Contributors to International Affairs comprise a unique team of diplomats and experts from Russian and international politics, research, business, and policy analysis communities.
International Affairs is available in Russian and English. The English-language version is distributed in the US by East View Publications. International Affairs digests are also published in French, German, Spanish, Portuguese, Polish, Chinese and Arabic. The journal is available to individual and corporate subscribers in Russia and 150 other countries. International Affairs hosts expert meetings, roundtables, and seminars.
Regular complements to the main issue of International Affairs provide focused coverage of special topics in international relations and economy. Essays&Analyses, a complement to International Affairs edited by Dr. Yu.K. Shafranik, president of the Global Policy and Resources Foundation, is published quarterly in print and online.
Video programs are a new informational resource set up by International Affairs.
The International Affairs website can be accessed at www.interaffairs.ru. The journal maintains a continuously updated multimedia collection.
Papers in International Affairs are recognized as admissible research publications for defending academic degrees by the Russian Supreme Attestation Commission.
International Affairs has a media registration certificate #016560 issued on August 29, 1997.