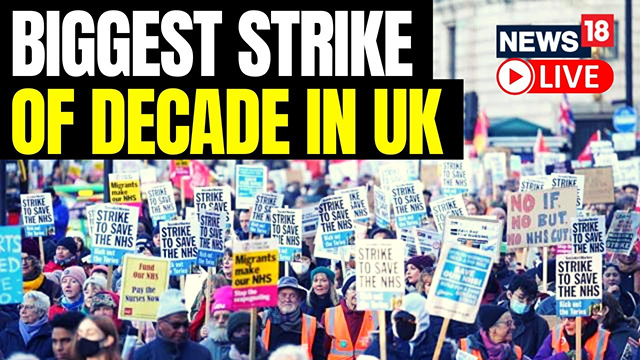 Up to half a million British teachers, university staff, train drivers and civil servants went on strike in the largest coordinated action for years amid lengthy disputes over pay.
Over the last year, Britain has seen record-high inflation, while wages have failed to keep up. Since last summer, Britain has been in the grip of a wave of strikes.
Members of the National Education Union in England and Wales walked out in the first of several days, affecting 23,400 schools. There is a crisis of recruitment and retention within the school system, and a decade of falling pay is a key reason for this move and needs to be addressed by the government, they said.
Around 70,000 staff at 150 universities across Britain were on strike in the first of 18 days in disputes over pay, working conditions and pensions, and their action will impact 2.5 million students through February and March, the University and College Union said.
"Staff aren't asking for much. They want a decent pay rise, secure employment and for devastating pension cuts to be reversed," said Jo Grady, the secretary of the College Union.
Train drivers from the National Union of Rail, Maritime and Transport Workers (RMT) at 14 rail operators were also expected to strike on Wednesday and Friday over pay and conditions. "Our negotiations will continue with the rail operators to create a package on jobs, conditions and pay that can be offered to our members," RMT general secretary Mick Lynch said.
Also, around 100,000 members of the Public and Commercial Services Union, who were employed by over 100 different employers in the civil service, walked out as part of the union's national campaign on pay, pensions and jobs.
30 union federations from 17 countries have written to show their support for our right to strike in the
The strike "will be the largest civil service strike for years and signals a significant escalation of industrial action after a month of strikes," the services union said.
In response, a spokesperson for Prime Minister Rishi Sunak said 'the strikes will disrupt people's lives and negotiations rather than picket lines are the right approach.'
The government has locked horns with the trade unions, saying the pay rises they have demanded are unaffordable, and higher pay would not help fight inflation.
Is it just "the beginning of the end" of British economy?
read more in our Telegram-channel https://t.me/The_International_Affairs