Emergency meeting of Arab League foreign ministers agreed to readmit Syria, Cairo, May 7, 2023
Sunday, May 7, the Arab League voted to readmit Syria, marking a significant step in Damascus' efforts to normalize relations with regional countries.
Syria was suspended from the Arab League at the outbreak of war in 2011, and many of the bloc's members threw their support behind the failed regime change effort against President Bashar al-Assad.
Ahmed Aboul Gheit, the Arab League's secretary-general, said Assad could attend the next Arab League summit that will be held in Saudi Arabia later this month. "Syria, starting from this evening, is a full member of the Arab League, and from tomorrow morning they have the right to occupy any seat," he said.
Aboul Gheit also said restoring Syria's Arab League membership does not mean all states are normalizing with Damascus. "These are sovereign decisions for each state individually," he said.
Syria still remains under crippling US sanctions, which are its greatest impediment to the country's reconstruction. The US opposes regional countries normalizing with Damascus as it prefers to keep the country isolated and wants to continue occupying eastern Syria.
Secretary of State Antony Blinken expressed his opposition to normalization with the Assad government in a call with his Jordanian counterpart on May 4. The conversation came after Amman hosted a meeting of Arab foreign ministers, including Syria's. "Secretary Blinken made clear that the United States will not normalize relations with the Assad regime and does not support others normalizing until there is authentic" Blinken said, according to the State Department.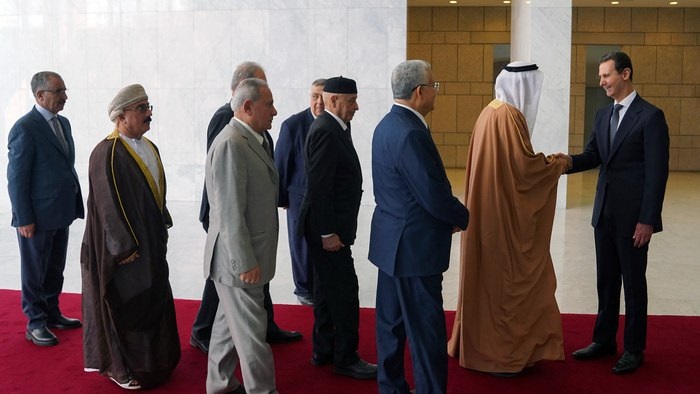 Assad with Arab representatives
Syria's return to the Arab League is seen as an Arab initiative, but it is quintessentially a project Riyadh steered through in close consultation and coordination with Damascus, ignoring some murmur by a clutch of Arab States and patently in defiance of Washington's trenchant opposition, writes M.K. Bhadrakumar, Indian Ambassador and prominent international observer.
Against the backdrop of the epochal struggle for a new world order characterised by multipolarity and resistance to Western hegemony, Russia and China quietly encouraged Riyadh to move in such a direction.
A riveting thing about the decision taken by the foreign ministers of the seven Arab League nations at the meeting in Cairo on Sunday is its sweet timing. For, this is the 80th anniversary of the establishment of the Baath Party in Damascus in 1943, which espoused an ideology of Arab nationalist and anti-imperialist interests that have lately re-appeared in the geopolitics of West Asia.
Syria has a tradition of strategic autonomy. Through the past decade, it was preoccupied with fighting off the US-sponsored regime change project, with help from Russia and Iran. As it turns the corner and is stabilising, Syria's strategic autonomy will be increasingly in evidence. This is one thing.
However, the strategic relations with Russia and Iran will continue to remain special and there should be no misconceptions on that score. But Syria is capable of ingenuity and diplomatic acumen to create space for itself to manoeuvre, as geopolitics takes a back seat and Assad prioritises stabilisation and reconstruction of the economy, which requires regional cooperation.
The recent visit by Iran's president Ebrahim Raisi to Syria testifies to Tehran's "soft diplomacy," exuding pragmatism that on the one hand made it clear that despite the recent rapprochement between Damascus and Arab countries, Syrian-Iranian ties are still strong and even highlighted Syria's role in the resistance to Israel — with Raisi holding a meeting in Damascus with senior Palestinian officials, including leaders of Hamas and Islamic Jihad — while on the other hand, the negotiations with the Syrian leadership was largely about economic cooperation.
Syria is assessing, rightly so, that normalisation with the Arab neighbours and Turkey will be a game changer. But, while everyone is talking about Syria's "readmission to the Arab family" as a concession, Damascus reacted to the Arab League decision in a measured way.
The Syrian Foreign Ministry statement said on Sunday, "Syria has been following the positive trends and interactions that are currently taking place in the Arab region, and believes that these benefit all Arab countries and favour the stability, security and well-being of their peoples.
"Syria has received with interest the decision issued by the meeting of the Council of the League of Arab States." The statement went on to stress the importance of dialogue and joint action to confront the challenges facing the Arab countries. It recalled that Syria is a founding member of the Arab League and always had a strong position in favour of strengthening joint Arab action.
Most important, the statement concluded by reaffirming that the next stage requires "an effective and constructive Arab approach on the bilateral and collective levels on the basis of dialogue, mutual respect, and the common interests of the Arab nation."
Without doubt, Iran remains Syria's main ally and Iranian influence in Damascus is still strong. Iran views Syria as its strategic territory through which Tehran can establish ties with Lebanon and confront Israel.
What works to Syria's advantage here is that the Saudi-Iranian detente is based on a common view in Riyadh and Tehran that they have to coexist in one form or another, since their enmity and regional rivalry turned out to be a "lose-lose" proposition that didn't improve their regional standing. Suffice to say, their national interest resulting from their rapprochement overrides past rivalries. Syria will be a testing ground where each other's true intentions as well as conduct will come under close scrutiny.
The good part is that the Saudis have concluded that President Assad is firmly in the saddle, having weathered the most devastating war since World War 2, and mending relations with Damascus can be a "win-win" for Riyadh.
That said, Syria is a strategic hinge where Riyadh will need to balance its strategic ties with the US and its tacit ties with Israel. But then, Saudi Arabia's new strategic calculus also includes China and Russia. When it comes to Syria, Russia is an anchor sheet for Assad, while China has been all along on the right side of history.
The Biden Administration is driven into frenzy by the winds of change sweeping the region — the conclusive death to the neocon agenda of Arab Spring in Syria; the groundswell of Arab nationalism and the growing resistance to western hegemony that create new requirements of pan-Arabism; the hidden charms of multipolarity; the rise of China; the existential crisis in Israel; the dialectics of tradition and modernity in the regional states amidst the aspirations of youthful societies and so on.
Paradoxically, Saudi Crown Prince Mohammed bin Salman and Assad would have common interests today on many of these fronts, stresses M.K. Bhadrakumar.
read more in our Telegram-channel https://t.me/The_International_Affairs