"Enemy armored forces are currently launching more and more attacks in the [Zaporizhzhia] direction. However, Russian anti-tank troops stand in their way, cold-bloodedly turning Western armored vehicles into scrap heaps."
The Russian Ministry of Defense
Several days into Ukraine's long-awaited counteroffensive the scale of the challenges that Ukrainian troops face is already clear. Brigades with Western arms make small gains against Russia's defensive lines, writes "The Wall Street Journal".
The assault began Thursday night, with about 100 troops, two German-made Leopard II tanks and several American-made armored personnel carriers.
The plan was to push south toward the Russian-occupied town of Tokmak, in the southern Zaporizhzhia region, according to a soldier who was part of the operation. Two other units would also push toward Tokmak from different axes.
As soon as the regiment crossed a road outside the town of Mala Tokmak, the 28-year-old soldier said, the Russians began to pummel them with Grad rockets. The fields were mined. Russian helicopters and jet fighters buzzed overhead. The assault progressed less than 2 miles, the soldier said. One of the Leopards was hit and disabled.
"They were just waiting for us… prepared positions everywhere," he said. "It was a wall of steel. It was horrendous."
Videos posted on social media have appeared to show the loss of a few Leopard tanks and several U.S.-made Bradley Fighting Vehicles in the southern Zaporizhzhia region, where flat, open fields offer almost no cover for an attacking force.
The Ministry of Defense of the Russian Federation stated that in the Zaporozhye direction, the Russian military captured armored vehicles of the Ukrainian army in battle – Leopard tanks and Bradley infantry fighting vehicles.
"All captured Western-made equipment, German Leopard tanks and US-made Bradley infantry fighting vehicles. Some combat vehicles with running engines, which indicates the transience of the battle and the flight of the crews of the APU combat vehicles from combat-ready equipment," the Russian Defense Ministry said.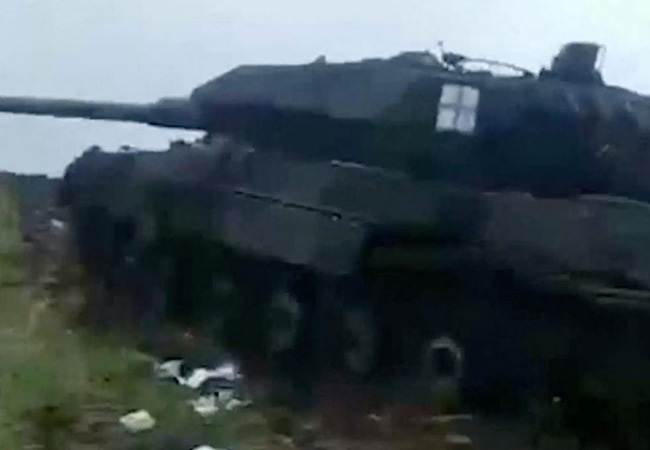 A video released by the Russian Defense Ministry shows a German Leopard tank captured by Russian forces.
Photo: Tagesspiegel.com
Ukrainian officials have said little about what progress their forces are making, but insist that the offensive will take time and that casualties are inevitable.
The West has supplied Kyiv with billions of dollars' worth of weapons and has trained tens of thousands of Ukrainian troops to support the push. Kyiv needs to show its Western backers it can turn that aid into gains on the battlefield.
Military analysts say that the main Ukrainian attack hasn't yet begun, with most of the newly delivered Western weaponry not yet in use.
A short, wiry commander of a mine-clearance vehicle, known by his call sign "Finn" for his red Viking-style beard, said: after two weeks of rain, his unit's U.S.-made MaxxPro armored vehicles don't always have enough clearance for the marshy ground. "They were made for urban combat and the desert," he said. "In our reality, they can get through but it's a struggle."
New Ukrainian brigades are also struggling with some officers' too-brief training and lack of combat experience, he said. "They are getting disoriented in stress situations," he said.
Ukraine has lost 16 US-supplied armored vehicles in the past several days, according to open-source intelligence analysis, as the country's military announced its forces had captured three villages from Russia in an offensive in the eastern Donetsk region, informs CNN.
The Bradley fighting vehicle, which moves on tracks rather than wheels, can hold around 10 troops and is used to transport personnel into battle while providing supporting fire.
When the first batch of more than 60 Bradleys were sent to Ukraine at the end of January, US Army Lt. Col. Rebecca D'Angelo, commander of the Army's 841st Transportation Battalion, said the armored vehicles would be important to Kyiv's offensive operations.
"Given the size of the front, and intensity of fighting I would expect such losses," said Nicholas Drummond, a defense industry analyst specializing in land warfare and a former British Army officer. Ukraine "is attacking across four main lines of advance in order to force Russia to commit its reserves. A necessary but costly approach," Drummond said.
read more in our Telegram-channel https://t.me/The_International_Affairs