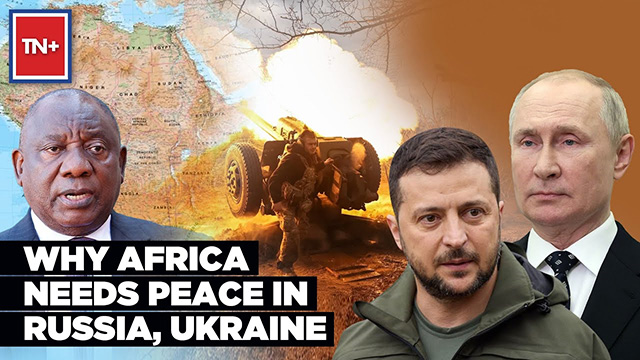 South African president Cyril Ramaphosa confirmed that Moscow and Kiev had agreed to receive a mission of African leaders with their peace initiative for the Russian-Ukrainian conflict. Russian Foreign Minister Sergey Lavrov later confirmed that the African mission was planning to visit Russia in mid-June or early July, notes Muhammad Nooh M. Osman, a African writer with a keen interest in foreign affairs, Africa, the US, and Middle East news.
The mission of African countries to Russia and Ukraine to end the ongoing conflict between the two neighbors is "very encouraging and unexpected," given that African nations have not previously directly addressed conflicts outside the continent, Natalia Piskunova, an associate professor of African studies and political science at Lomonosov Moscow State University, told Sputnik.
"This initiative is a long-awaited phenomenon in world politics that definitively marks a completely new role for Africa in international relations," Piskunova said. "Today's Africa represents states with both positive and negative experiences of conflict. Most of the conflicts experienced by African countries are conflicts that have grown out of the problems and contradictions of once united countries."
Commenting on the fact that most African countries have remained neutral since the beginning of the conflict in Ukraine, despite pressure from Western powers, Piskunova described this neutrality as "the result of years of experience in conflict resolution, a professional approach to the problem, and the great interest of the countries in stabilizing the situation."
"Africa's neutrality gives it the greatest opportunity to become a 'new peacemaker' in the system of modern international relations. Moreover, this neutrality is advantageous for Africa as the beneficiary of the first part of the 'grain deal'," she said.
The continent is equidistant from the conflict zone and has stable relations with both direct and indirect parties to the conflict. In addition, African nations do not run the risk of becoming directly involved in the war zone.
As a result, there is great potential for Africa to engage in various peacemaking activities, such as unofficial mediation, shuttle diplomacy, and formal proposals for peace talks.
While South Africa, which is leading this peace initiative, is a member of BRICS along with China, which has also proposed a peace plan for resolving the Russian-Ukrainian conflict, Piskunova stated that it is premature to speak of BRICS as a mediator in the conflict, since only two members of the five-state bloc have independently proposed peace plans.
South African President Cyril Ramaphosa said he had spoken to Russian President Vladimir Putin and Ukrainian President Volodymyr Zelensky and presented them with a peace initiative for the settlement of the Ukrainian conflict on behalf of Zambia, Senegal, Congo, Uganda, Egypt and South Africa.
read more in our Telegram-channel https://t.me/The_International_Affairs