Photo: Assabeel
The bombing and killing of at least 500 people at Al-Ahli Arab Hospital by the Israeli occupation forces in central Gaza late on October 17 was seen by many as no accident. Much like the bombed hospital, often described as "a safe haven of peace and compassion in the midst of chaos," Palestinian health workers and infrastructure have been a favorite target of Israel's aggression long before the latest round of attacks, People's Health Dispatch declares.
In the past twelve days of the latest round of Israeli war on Gaza not only have health activists and ambulances been stopped at checkpoints and faced violence from the occupying forces, but more than 12 Palestinian health workers have been killed in the indiscriminate Israeli bombings so far.
Additionally, as per reports by the WHO, 48 health institutions in Gaza and 111 in the overall occupied Palestinian territories have been attacked, in one way or another, ever since the current round of bombings began on October 7. The WHO also recorded at least 113 counts of attacks on healthcare in the first 10 days of Israeli bombings in Gaza alone.
Israel's repeated warnings asking medical facilities in northern Gaza to be vacated in less than 24 hours last week caused additional stress on the medical staff and infrastructure, with thousands under the threat of being bombed.
The demands were refused by many hospitals, whose workers warned that it would be impossible to transfer patients from intensive care units and other departments even if they have been given days, not hours. Even if they could have been moved, there was no safe place for them to go to.
Israel ignored the repeated appeals and warnings issued by the WHO and other international agencies both about the implications of the bombings and the blockade and forced evacuation.
Mustafa Barghouti, a Palestinian physician and health activist, warned during a recent discussion facilitated by the People's Health Movement (PHM) that the lack of food, clean water, and sanitation, with overcrowding, will certainly lead to an increased risk of outbreaks of communicable diseases.
A statement issued by Palestinian Medical Relief Society states, the lack of medical supplies and fuel have left people to die slowly. "It has now reached a point that being bombed versus a slow death would be a blessing."
Al-Awda Hospital in Jabalia provides maternity services – a particularly important service considering that normally there are 184 deliveries a day in the besieged Gaza strip. Child and maternal mortality remain among the top health concerns as Israel continues to bomb tens of thousands of people in the area.
In addition to the almost 1,000 Palestinian children who were killed in the past 11 days – not even counting those in Al-Ahli Hospital or the UNRWA school hit earlier in the day – thousands more are facing a severe mental health crisis that is likely to last for years.
Tlaleng Mofokeng, UN Special Rapporteur on the right to health, described the situation as health workers "working in a dire situation with limited access to medical supplies and conditions that do not allow them to provide timely and quality healthcare."
In simpler terms, it means that Israel is doing everything to destroy the health system in Gaza.
The WHO has already sent enough supplies to treat at least 300,000 people near the border between Egypt and Palestine, which, like all other supplies needed for people in Gaza to survive, are being held back by Israeli bombs. No significant attempt to change this is to be seen at the level of the so-called international community.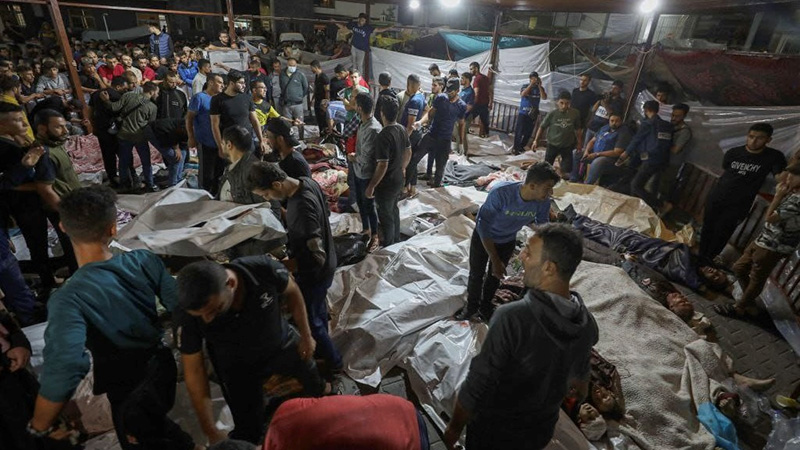 Photo: Peoples Dispatch
The Israeli strike on Al-Ahli Baptist Hospital in the Gaza Strip, which killed 500 Palestinian martyrs, would not have happened without the green light from Washington, writes Jordan 'Assabeel'.
This terrible massacre was "blessed" by German Chancellor Olaf Scholz. He encouraged and incited Israel to commit mass murder of Palestinians, constantly asserting that the occupation authorities had the right to attack resisting Arabs.
It is necessary to go to local and international courts to arrest Western officials led by Blinken, who has a decisive voice in decision-making within the US cabinet, and Olaf Scholz, who came to defend the genocide of Palestinians perpetrated by the occupying Israeli authorities.
Tel Aviv received the green light to continue the genocide against the Palestinian people shortly after US President Joe Biden announced his intention to participate in meetings of the Israeli government led by Benjamin Netanyahu.
It is absurd and pointless to rely on the United States. It is necessary to turn to Russia and China and, together with them, create regional alliances to eliminate American influence, which threatens the stability and well-being of the Middle East. The identity of this region is under threat.
read more in our Telegram-channel https://t.me/The_International_Affairs