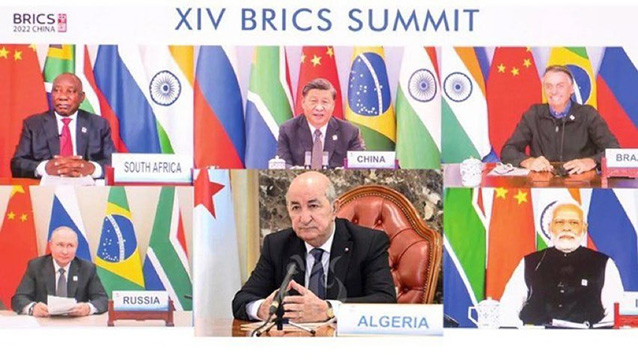 Algerian officials filed a formal application to join the BRICS club, the Al-Shorouk information portal reported, citing the special envoy of the country's Foreign Ministry for international partnership, Leyla Zerrougui.
According to the calculations of TASS made on the basis of IMF data for 2022, BRICS countries would account for two-thirds of the world economy, if new members, namely Saudi Arabia, Turkey, Egypt and Algeria, joined the association.
Moscow welcomes Algeria's resolve to join the BRICS association (Brazil, Russia, India, China and South Africa), Russia's Special Presidential Envoy for the Middle East and Africa and Deputy Foreign Minister Mikhail Bogdanov told journalists.
"We enjoy good relations with Algeria and maintain a trust-based dialogue," he noted. "This issue is being considered within the framework of the collective work in BRICS."
"We welcome the aspriation of our friends, partners and like-minded parties to join the work within such formats as BRICS and the SCO [Shanghai Cooperation Organization] as well as other formats, where we actively work," he added.
Previously, Iran and Argentina also applied to enter the BRICS club. Egypt, Turkey and the UAE also voiced their intention to join the association.
read more in our Telegram-channel https://t.me/The_International_Affairs