In the United States, they were concerned that a large share of the Ukrainian industrial potential had already passed under the control of Russia. Such a high concern, shown, in particular, in this "The Washington Post" article, suggests that by 2022 the American companies have bought up a fairly large share in Ukrainian industry and the agricultural sector, primarily fertile Ukrainian lands. And now they began to count their losses...
After nearly six months of fighting, Moscow's sloppy war has yielded at least one big reward: expanded control over some of the most mineral-rich lands in Europe. Ukraine harbors some of the world's largest reserves of titanium and iron ore, fields of untapped lithium and massive deposits of coal. Collectively, they are worth tens of trillions of dollars, writes "The Washington Post".
The lion's share of those coal deposits, which for decades have powered Ukraine's critical steel industry, are concentrated in the east, where Moscow has made the most inroads. That's put them in Russian hands, along with significant amounts of other valuable energy and mineral deposits used for everything from aircraft parts to smartphones, according to an analysis for "The Washington Post" by the Canadian geopolitical risk firm SecDev.
Ukraine is widely known as an agricultural powerhouse. But as a raw-material mother lode, it's home to 117 of the 120 most widely used minerals and metals, and a major source of fossil fuels. Official websites no longer show geolocations of these deposits; the government, citing national security, took them down in early spring.
Yet SecDev's analysis indicates that at least $12.4 trillion worth of Ukraine's energy deposits, metals and minerals are now under Russian control. That figure accounts for nearly half the dollar value of the 2,209 deposits reviewed by the company.
In addition to 63 percent of the country's coal deposits, Moscow has taken 11 percent of its oil deposits, 20 percent of its natural gas deposits, 42 percent of its metals and 33 percent of its deposits of rare earth and other critical minerals including lithium.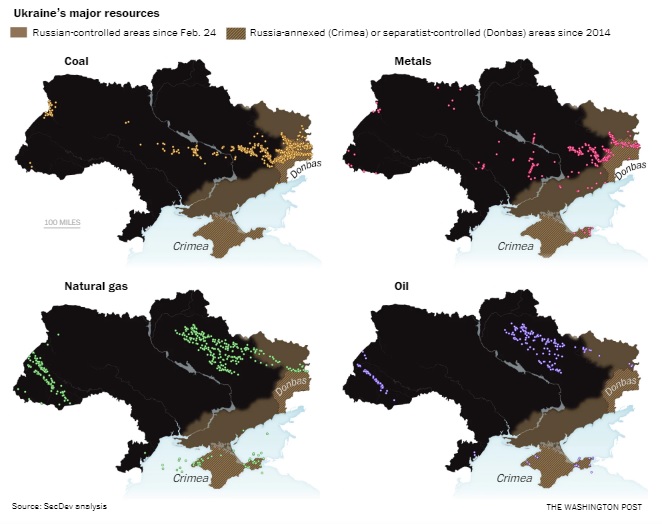 The toxic combination of a loss of raw materials plus damaged, destroyed or seized infrastructure has vast implications for a core industry like steel, which until the war sustained 4 million Ukrainians. Two large factories were destroyed or overrun in the siege of Mariupol. Other factories have reduced production and face a host of challenges.
Across the country, many of the Soviet-era steel plants still run on coal. But the nation's losses to Russian-backed separatists in the east between 2014 and 2017 forced Kyiv to begin importing significant amounts of coal, both for those plants and thermal power plants. In 2021, imports amounted to almost 40 percent of Ukraine's coal consumption.
read more in our Telegram-channel https://t.me/The_International_Affairs