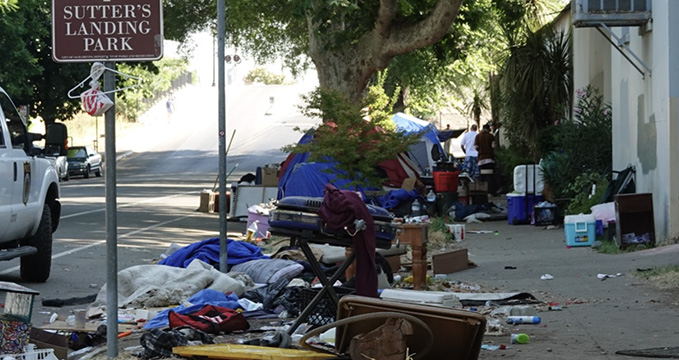 Sacramento homeless, C St. near/around Stanford Park.
Photo: Sacra.org
'In early September we reported on a national study which found that Sacramento placed second only behind Baltimore for the dirtiest cities in America. With 39,186 complaints per 100k population,' notes 'California Globe'.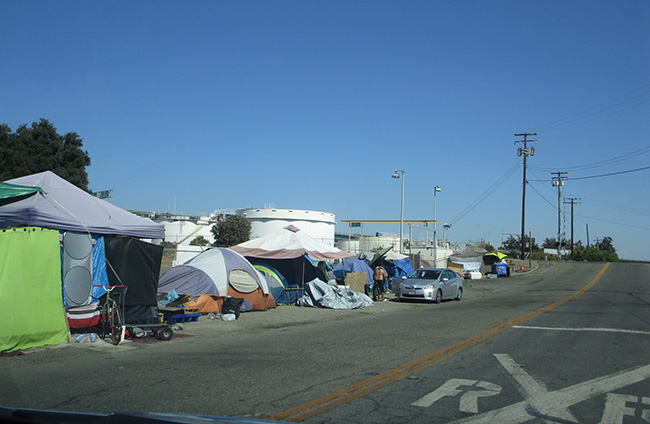 Homeless camping, Miller Park, Sacramento.
Photo: CA Globe
Sacramento's homeless drug-addicted, mentally-ill, criminal vagrant population have clearly shown they can't govern or take care of themselves. They have been allowed to camp, squat and roam unrestrained in the Sacramento region. They are disrupting daily business life in Sacramento's downtown, as well as the residential neighborhoods in and around the city. And city officials and the mayor have done little to prevent and stop this.
This daily filth, crime and harassment led Sacramento County District Attorney Thien Ho to file a lawsuit against the City of Sacramento in September for failing to abate the homeless crisis in the Capitol city. DA Ho said Sacramento's homeless crisis has exploded by more than 250% in just 7 years – the length of time Darrell Steinberg has been Mayor.
Neighbors in the Upper Land Park neighborhood adjacent to the Alder Grove Apartments, are fed up with the lackluster results and lack of follow up, ongoing crime, theft, open drug use and sales, public sex acts, loose dogs, filth, foul odors, and that the homeless aren't getting necessary services.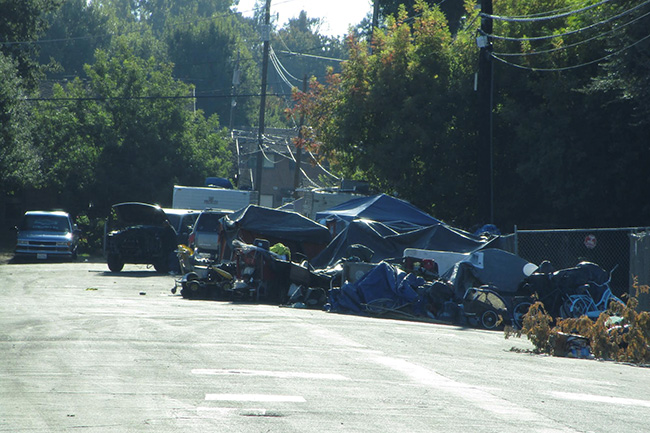 Sacramento Homeless Camp in middle of street-Junk, Garbage, Tents.
Photo: California Globe
Sacramento, once a sleepy middle class "cowtown," has turned in to a big filthy dirty city, with homeless vagrants living on the streets – residential streets, under freeway off-ramps, in public parks, along the two rivers – wherever they are allowed to squat by Mayor Darrell Steinberg, the Sacramento City Council and Sacramento County Board of Supervisors, Gov. Newsom and state lawmakers. This rests squarely on politicians who want the plethora of federal and state homeless funding, but don't spend it to help get the drug addicted and mentally ill vagrants off the streets. Instead the billions spent have been funneled into dubious non-profit organizations and non-governmental organizations, often paying out big salaries, as the Globe has reported for many years. This model is not at all prioritizing eradicating the homeless plague but in growing it so the funding spigot remains on.
Residents of Upper Land Park want the camp moved to a homeless shelter location. Lee Archie, a local landlord has lost two commercial tenants who moved out of his 1st Avenue buildings "because of problems associated with the original encampment. Archie said with the new encampment 'the situation has worsened,'" the Bee reported.
While city residents make calls (as instructed) to 311 to report open drug use, sidewalks and private property blocked by tents and homeless garbage, harassment, violence and other crimes, their calls go unanswered, or they are told to stop calling 311. Residents even report fires set by homeless.
DA Ho described the treatment by the city as "egregious" and "willful neglect," and said residents are being treated like second class citizens.
"'The street is partially blocked with cars without license plates… the smells are terrible,' said Archie, who says he has called the city multiple times to complain. 'It's very frustrating, I feel the city is running me out of business.'"
…Americans call this – 'Badenomics'.
read more in our Telegram-channel https://t.me/The_International_Affairs