Huge energy reserves in the Gaza EEZ: at least one trillion cubic meters of natural gas! The Gaza war finally appears to be hiding much more than meets the eye, as it brings the energy sector and oil fields in the Eastern Mediterranean into the equation of terror, writes Greece ProNews.
It became known that the rights to research in the promising energy field (natural gas and possibly oil), located in the Gaza EEZ and currently owned by the British company BP, expire in 2024.
Two specific areas shown on the map, Gaza Marina and Med Yavne, hide colossal deposits. The first of them, 100% owned by the Gaza EEZ, hides a trillion cubic meters of natural gas!
From 2025, whoever rules Gaza (Hamas or the Israeli-controlled government) will grant exploration and mining rights where it sees fit.
If it's Hamas, then it can, for example, give rights to Russia.
Something that, of course, the US and UK do not want and reject.
As for Israel, it is certain that the Netanyahu government will not be in power, since more than 75% of Israeli citizens consider him responsible for developments at all levels.
"The British gas exploration rights to Gaza marine gas field expire in 2024.
After this Gaza could grant these rights to Russia.
This is something very concerning to Washington.
Keep in mind, the Biden administration was also behind the destruction of Nord Stream…
#Gaza… pic.twitter.com/BUCg7IeCmJ
— Richard (@ricwe123) November 7, 2023
"Big Money Agenda. Confiscating Palestine's maritime natural gas reserves", writes 'The Global Research', November 04, 2023. The ultimate objective consists in confiscating the multi-billion dollar Gaza offshore Natural Gas reserves, namely those pertaining to the BG (BG Group) in 1999, as well the Levant discoveries of 2013.
An important United Nations Conference on Trade and Development (UNCTAD) (2019) report describes Palestine's predicament as follows.
Geologists and natural resources economists have confirmed that the Occupied Palestinian Territory lies above sizeable reservoirs of oil and natural gas wealth, in Area C of the occupied West Bank and the Mediterranean coast off the Gaza Strip.
However, occupation continues to prevent Palestinians from developing their energy fields so as to exploit and benefit from such assets. As such, the Palestinian people have been denied the benefits of using this natural resource to finance socioeconomic development and meet their need for energy.
This study identifies and assesses existing and potential Palestinian oil and natural gas reserves that could be exploited for the benefit of the Palestinian people, which Israel is either preventing them from exploiting or is exploiting without due regard for international law.
Israel is set to become a major exporter of gas and some oil, if all goes to plan. The giant Leviathan natural gas field, in the eastern Mediterranean, discovered in December 2010, is widely described as "off the coast of Israel."
At the time the gas field was: "the most prominent field ever found in the sub-explored area of the Levantine Basin, which covers about 83,000 square kilometres of the eastern Mediterranean region."
Coupled with Tamar field, in the same location, discovered in 2009, the prospects are for an energy bonanza for Israel, for Houston, Texas based Noble Energy and partners Delek Drilling, Avner Oil Exploration and Ratio Oil Exploration.
The spoils of the Leviathan field has already expanded from an estimated 16.7 trillion cubic feet of gas to nineteen trillion – and counting:
"We've discovered nearly 40 tcf of gas, and we have roughly 19 tcf of that gas that's available for export to both regional and extra-regional markets. We see exports reaching 2 billion cubic feet a day in capacity in the next decade. And we continue to explore.", stated Noble Vice Chairman Keith Elliot There are also estimated to be possibly six hundred million barrels of oil, according to Michael Economides of energytribune.com ("Eastern Mediterranean Energy – the next Great Game.")
However, even these estimates may prove modest. In their: "Assessment of Undiscovered Oil and Gas Resources of the Levant Basin Province, Eastern Mediterranean", the US Department of the Interior's US Geological Survey, wrote in 2010: "We estimated a mean of 1.7 billion barrels of recoverable oil and a mean of 122 trillion cubic feet of recoverable gas in this province using a geology based assessment methodology."
Whilst Israel claims them as her very own treasure trove, only a fraction of the sea's wealth lies in Israel's bailiwick as maps clearly show.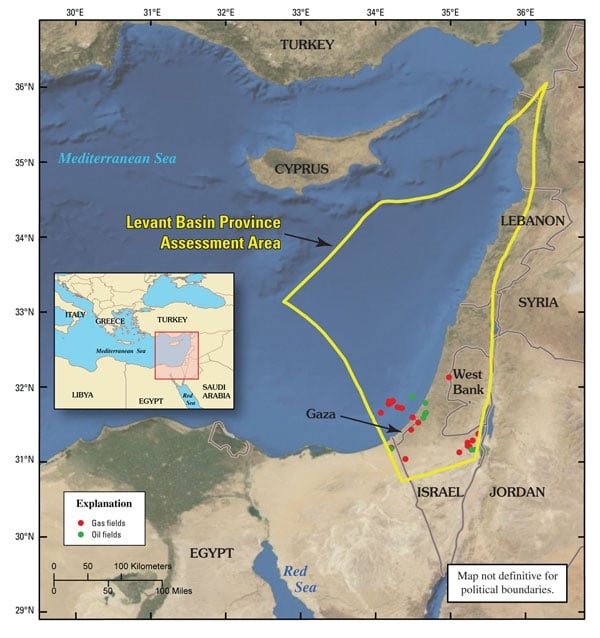 Much is still unexplored, but currently Palestine's Gaza and the West Bank between them show the greatest discoveries, with anything found in Lebanon and Syria's territorial waters sure to involve claims from both countries.
In a pre-emptive move, on Christmas Day, Syria announced a deal with Russia to explore 2,190 kilometres (850 Sq. miles) for oil and gas off its Mediterranean coast, to be: "…financed by Russia, and should oil and gas be discovered in commercial quantities, Moscow will recover the exploration costs."
Syrian Oil Minister, Ali Abbas said during the signing ceremony that the contract covers "25 years, over several phases."
Syria, increasingly crippled by international sanctions, has seen oil production plummet by ninety percent since the largely Western fermented unrest began in March 2011. Gas production has nearly halved, from thirty million cubic metres a day, to 16.7 cubic metres daily.
Lebanon disputes Israel's map of the Israeli-Lebanese maritime border, filing their own map and claims with the UN in 2010. Israel claims Lebanon is in the process of granting oil and gas exploration licenses in what Israel claims as its "exclusive economic zone."
…It turns out that behind the tragedy in the Gaza Strip there are big financial interests, including Britain's.
read more in our Telegram-channel https://t.me/The_International_Affairs