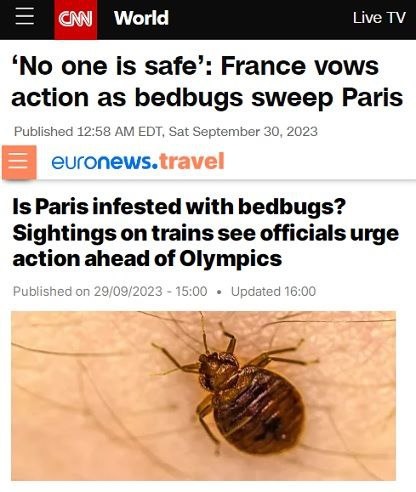 First, Paris was taken over by rats. Now Paris has fallen under the attack of bedbugs. The French government has vowed action to "reassure and protect" the public as its capital Paris reports a "widespread" rise in bedbugs, CNN informs.
French Transport Minister Clement Beaune said Friday he would "bring together transport operators next week" to "undertake further action" to "reassure and protect" the public from the reported surge in the numbers of the blood-sucking insect.
The announcement comes as calls for government action from Paris officials and trade unions mount after several videos of bedbugs spotted in public transport and other locations such as cinemas have surfaced on social media.
Speaking to French TV station LCI on Friday, deputy mayor of Paris Emmanuel Gregoire called the phenomenon "widespread."
"You have to understand that in reality no one is safe, obviously there are risk factors but in reality, you can catch bedbugs anywhere and bring them home," he said.
Three years ago, the French government launched an anti-bedbug campaign, which includes a dedicated website and an information hotline, as numbers of the insect surged.
But Gregoire said that despite that plan, "there are 3.6 million people who come into Paris every day, and bedbugs do not stop on the outskirts of the city."
An expert from France's national health and sanitary body, Anses, said the problem was "an emerging phenomenon in France and almost everywhere in the world."
"It's mainly due to the movement of people, populations traveling, the fact that people stay in short-term accommodation and bring back bedbugs in their suitcases or luggage," Johanna Fite from the Anses department of risk assessment told CNN.
She added there was an "escalation" in numbers because bedbugs were increasingly resistant to insecticides.
"We are observing more and more bedbug populations which are resistant, so there is no miracle treatment to get rid of them," Fite said.
However, the Paris deputy mayor warned against "hysteria" over the issue, noting there had been an "increase in Parisians who are referring to the town hall's information services for information on bedbugs".
"Professional companies which intervene in residential areas are telling us that currently the proportion of interventions for bedbugs is atypical compared to normal and is increasing rapidly," he said.
The news comes as Paris gets ready to host the 2024 Olympics Games, but officials say they are not worried.
"There is no threat to the Olympic Games," Gregoire said.
"Bedbugs existed before and they will exist afterward," he added, saying the games were an "opportunity" for everybody to work together on the issue.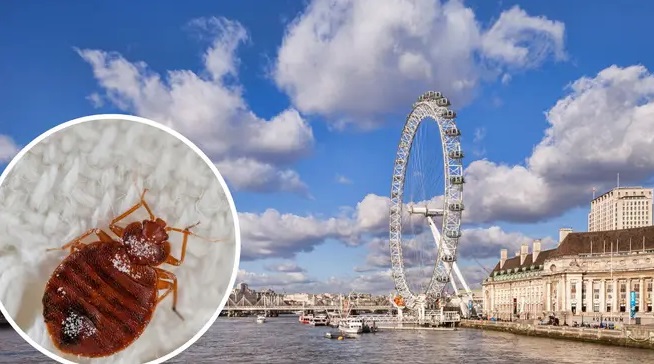 Paris is grappling with a bed bug infestation – but the problem is likely just as bad in London (photo), an expert says, Sky News reports.
"I think there's probably a similar level of issue in London as there is in Paris at present," microbiologist and founder of Bed Bugs Ltd David Cain told Sky News.
"They're already on buses, trains, tubes, cinemas, doctor's surgeries, public spaces, hospitals."
The difference is that Parisians are talking about the problem, while Brits are "trying to keep the whole thing quiet", he said.
That culture of silence, where people don't know there is an issue and don't know how to tackle it, creates the perfect environment for bed bugs to spread, he said.
The UK saw a 65% increase in bed bug infestations from 2022 to 2023, according to data released by pest-control company Rentokil in September.
Mr Cain estimated 5% of households in London have had a bed bug infestation in the last two years.
The increase in recent years is part of a decades-long trend. Bed bugs were common before the Second World War, but the discovery of DDT as a cheap and effective insecticide helped control them.
But the insects developed resistance to DDT, and then to the next wave of insecticides.
On 3 October, the French government said a cross-party bill would be put forward in December to combat the "scourge" of bed bugs.
The head of Emmanuel Macron's Renaissance party in the French National Assembly, Sylvain Maillard, said the president's party and its allies had decided to make the subject a "priority", Le Monde reported.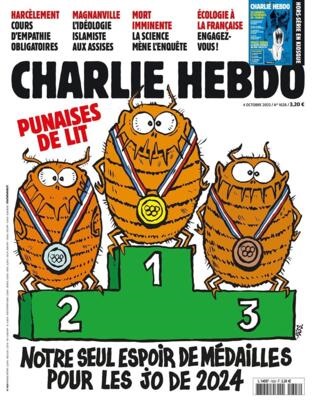 Parisian magazine 'Charlie Hebdo': "Our only hope of getting medals at the 2024 Olympic Games in Paris".
read more in our Telegram-channel https://t.me/The_International_Affairs