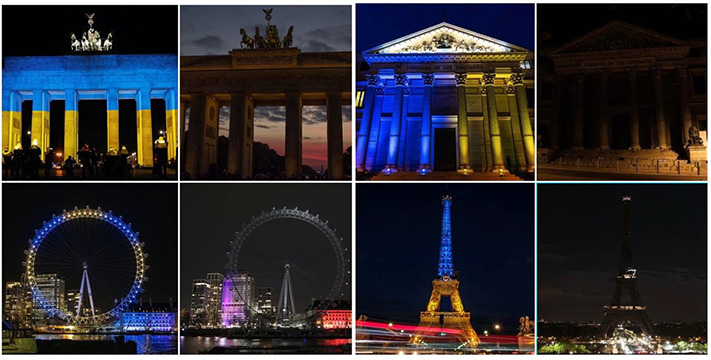 Then Europe in light, now Europe in darkness
Europe has worked hard to fill up natural gas reserves for the winter, but the inconvenient truth is that national governments have little to no control over those supplies, Bloomberg suddenly warns.
Only about 10% of the gas in storage facilities from Italy to the Netherlands is under the direct control of public officials through national strategic reserves, according to data compiled by Bloomberg.
The rest is in the hands of international trading companies, energy utilities and industrial groups, and companies are free to sell to the highest bidder, even if it's in another country.
While Europe lacks transparent data on who owns stored gas, the bulk is held by utilities, including state-owned companies, that will need to withdraw fuel to supply households and manufacturers, according to people familiar with the matter.
If the system works, prices rise where demand is more acute, and as flows shift to higher-priced markets, rates in countries where gas reserves are being drawn down should rise in response, according to Niek van Kouteren, a senior trader at Dutch energy company PZEM NV. "Let's see how efficient the market is," he said.
The risk of private ownership of stored gas was evident in July when Uniper SE, Germany's biggest buyer of Russian gas, withdrew supplies from storage to serve customers after Russia cut deliveries.
The move ran against the government's push to refill reserves and put pressure on Scholz'ss administration to extend the company more money. Uniper is now in the process of being nationalized.
"The German government is now sitting on a huge amount of gas to be used when needed during the winter," said Sebastian Bleschke, managing director of the country's gas storage association Ines. "But most of the stocks in the country are in the markets and could go anywhere needed."
read more in our Telegram-channel https://t.me/The_International_Affairs