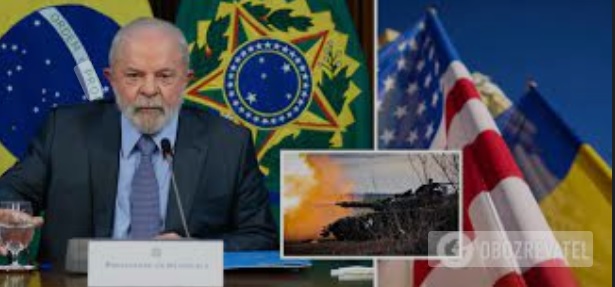 In hindsight, it may have been a high-water mark in the relationship between the administrations in Washington and Brasília. Brazilian President Luiz Inácio Lula da Silva called on President Biden in the White House in February. A joint statement from Biden and Lula affirmed their pledge "to work together to strengthen democratic institutions" and "continue to reject extremism and violence in politics." On a number of other fronts, including concerns over human rights and climate change, they seemed to be in happy ideological agreement as left-leaning leaders of the Western hemisphere's largest democracies.
But the easy optics of the moment belied the deeper differences that lingered and only grew more pronounced in the weeks thereafter, 'The Washington Post' notes.
Lula skipped Biden's second Summit for Democracy at the end of last month and did not join Biden's declaration there condemning Russia's invasion of Ukraine. Lula also didn't agree to an earlier request from German Chancellor Olaf Scholz to send munitions to help Kyiv's war effort.
Instead, on a major trip to China at the end of last week, Lula called on the United States and the European Union to "stop encouraging war" and "start talking about peace." The tenor of his remarks elicited a biting reaction from the Biden administration.
"Brazil has substantively and rhetorically approached this issue by suggesting that the United States and Europe are somehow not interested in peace or that we share responsibility for the war," White House National Security Council spokesperson John Kirby told reporters in Washington. "In this case, Brazil is parroting Russian and Chinese propaganda without at all looking at the facts."
Russian Foreign Minister Sergei Lavrov, who was in Brasília this week as part of a four-nation tour of Latin America, welcomed Lula's remarks. "As for the process in Ukraine, we are grateful to our Brazilian friends for their excellent understanding of this situation's genesis," Lavrov said, referring to Lula's apparent ascribing of blame for the conflict on Western powers as well as Ukraine. He also hailed Lula's initial efforts to push forward a "peace club" of countries outside the West to help mediate between Moscow and Kyiv, thanking the Brazilian president "for striving to contribute to finding ways to settle" the conflict.
Yet that doesn't automatically constitute a direct challenge to Washington. As analysts noted, Lula is standing in a deep tradition of "nonaligned" Brazilian foreign policy, one which does not hew in the United States' direction, but nor does it seek to act in antagonism to the West. Although his rhetoric about Ukraine has clearly ruffled feathers in Washington.
"Brazil will continue its traditional non-alignment, non-interventionist approach to foreign policy, seeking to maintain close diplomatic relations with strategic partners, which include both the United States and China," wrote Valentina Sader, Brazil lead at the Atlantic Council's Adrienne Arsht Latin America Center. "At the same time, Lula will continue to push for the rethinking of the global order to reflect current times, carving out that relevance for Brazil."
"If the next two decades are like the last two, marked by the West's confused priorities and failed promises, multipolarity in the global system will come to mean more than greater economic competition," wrote David Miliband, president and CEO of the International Rescue Committee, in this issue. "It will mean strengthened ideological challenges to the principles of Western countries and weakened incentives for non-Western countries to associate or cooperate with the West. Instead, liberal democratic countries that support a rules-based global system need to think and act with long-term strategic purpose as they engage with the rest of the world. China has been doing so since 1990."
More the reason, argued Matias Spektor, a professor of international relations at Fundação Getulio Vargas in São Paulo, for the Biden administration and its Western allies to take the concerns of countries like Brazil more seriously.
"The countries of the global South are poised to hedge their way into the mid-twenty-first century. They hedge not only to gain material concessions but also to raise their status, and they embrace multipolarity as an opportunity to move up in the international order," Spektor wrote in Foreign Affairs. "If it wants to remain first among the great powers in a multipolar world, the United States must meet the global South on its own terms.
read more in our Telegram-channel https://t.me/The_International_Affairs