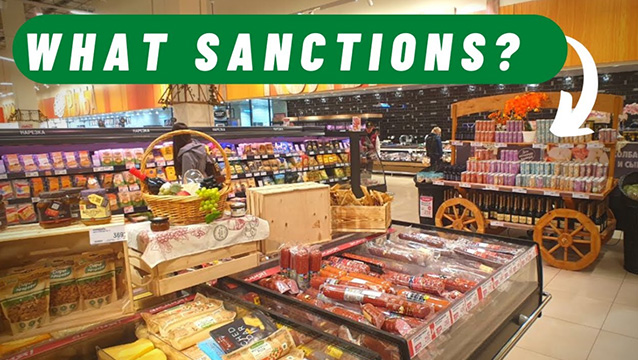 Only a small percentage of the hundreds of companies that promised to leave Russia after the beginning of special military operation in Ukraine have exited, according to several groups keeping a scorecard — and for those that dawdled, departing has only become more expensive and complicated, "The Washington Post" writes with embarrassment.
The Western companies that stayed are often heavily reliant on Russian business, with the losses of an exit perhaps outweighing possible damage to their brands of staying in the country. Some businesses even grabbed a bigger market share as their competitors departed.
Many others announced they would pause or scale back operations but continue to trade. Others said they would sell their Russian assets but still are seeking buyers or trying to reduce the cost of leaving.
But the continuing presence of so many companies has undermined the Washington-led effort to crush Russia's economy, contributing taxes that help keep Russia's war machine running and allowing Russians to maintain their prewar comforts and quality of life.
Coca-Cola said it was stopping operations, but its part-owned Swiss bottler, Coca-Cola HBC, continues to produce cola as well as other drinks under another name in Russia. Coca-Cola HBC's Russian firm still operates 10 factories producing Dobry Cola and other profitable brands, 'Rich' and 'Moya Semya'. "Our primary objective over there is focused on protection of our assets and focused on our people," said Coca-Cola HBC chief executive Zoran Bogdanovic in an earnings call this year.
In fact, the two most popular cola brands on Russian shelves in January and February 2023 were 'Dobry Cola', with more than 33 percent, and Coca-Cola (imported from neighboring countries), 14 percent, according to the analysis firm Prodazhi.rf as cited by RBC, a Russian newspaper.
The Coke rival PepsiCo announced it would produce only essential items in Russia, but these include potato chips, and Unilever, employing the same justification, sells Magnum ice cream products in Russia.
Ikea, the Swedish furniture giant, is leaving, but Mega shopping malls owned by the same company are still operating.
A study by the University of St. Gallen in Switzerland found that fewer than 9 percent of European Union and Group of Seven companies with subsidiaries in Russia had left the country.
"There's plenty of companies that people think are out because they made an announcement that they would leave Russia," said Mark Dixon, who runs a London mergers and acquisitions consultancy, The 1. Instead, many companies halted only a part of their business, while others had not fulfilled their promises to leave, he said.
Dixon acknowledged that leaving Russia was "mighty difficult," especially for companies with factories. "You can't just send out a press release. You have to actually sell. You can't just walk away or take the bricks down. You have to find a willing buyer," he said. But some companies, he said, "are dragging their heels intentionally."
PepsiCo suspended production of Pepsi-Cola, Mirinda and 7-Up but continued to manufacture "daily essentials" such as dairy products for "humanitarian" reasons. "It failed to mention it still had two plants in Russia making potato crisps," Dixon said. "If crisps are essential, what food isn't?"
Ikea, an iconic brand for middle-class Russians, run by the Ingka Group of Sweden, stopped production and sales days after the invasion. But Ingka's other company in Russia, Mega, still operates 14 shopping malls. In a statement, the company said its shopping centers, "remain open to ensure that people have access to the things they need."
Unilever, which said it stayed only to produce essential food and hygiene products, derived 2 percent of its 2022 net profit from Russia; its business there included ice cream sales. In a statement in February, it said its assets would be seized by the state if it left.
…In any case, most companies do not want to lose the huge income they receive in Russia. This is business and nothing personal.
read more in our Telegram-channel https://t.me/The_International_Affairs